Top 5 Highlights of 2017 From TD's Chief Environment Officer
Karen Clarke-Whistler, Chief Environment Officer for TD Bank Group, looks back at some of the key milestones of 2017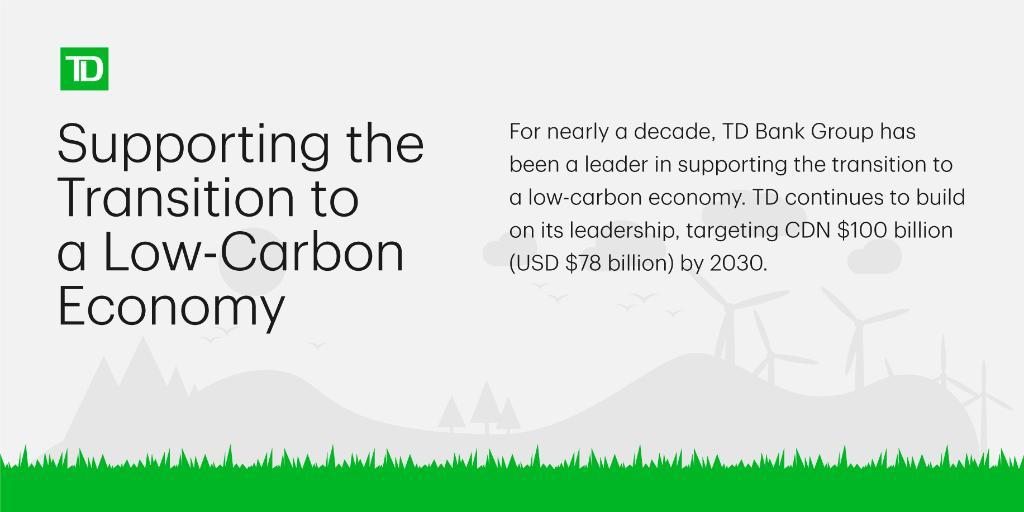 2017 was a transformative year for the environment, with numerous national and regional policies introduced or implemented, such as Canada's federal cap-and-trade policy; a shift in the direction of U.S. climate-action policy with the federal government sharing its intention to withdraw from the Paris Agreement; extreme weather events such as Hurricane Harvey and Irma, and wildfires in the west.
While that may seem daunting, there has been resurgence in the coordinated effort between governments, business and civil society to drive forward the goals and aspirations of the Paris Agreement.
As a financial institution, TD is in a unique position to play a role and I can't help but think about our own journey. For more than 25 years, TD Bank Group has been committed to environmental action. We were the first North American-based bank to be carbon neutral, develop net zero energy branches, and the first Canadian commercial financial institution to issue a green bond.
As a major bank committed to environmental leadership, we recognize that we have a key role to play in accelerating the transition to a low-carbon economy while ensuring that we take a balanced approach to the energy and economic transformation that will accompany it. In 2017, we were able to achieve some key milestones that support this commitment. Here are my top five highlights of the year:
1. TD was the only Canadian bank listed on the DJSI World Index
For the fourth consecutive year, TD Bank Group was listed in the DJSI World Sustainability Index. Recognized as a leader in corporate citizenship from a global pool of 212 banks, TD was the only Canadian bank to be included in the short list of 28 banks.
2. TD targets CDN $100 billion by 2030
We were thrilled to announce a target of $100 billion in low-carbon lending, financing, asset management and other programs by 2030 that will help accelerate the development of a prosperous low-carbon economy. Find out more.
3. TD's inaugural USD green bond was upsized to US$ 1 billion
Initially targeting an issue size of US$500 million, the transaction was upsized to US$1 billion and almost 70% of the issue went to green investors. The second TD Green Bond will help direct capital needed to support low-carbon projects and it was the largest green bond ever issued by a bank. Read more.
4. TD joins in a United Nations pilot to develop a consistent framework for disclosure of climate-related risks in financial markets
TD, along with 10 of the world's leading banks, joined a pioneer project led by the United Nations Environment Programme Finance Initiative (UNEP FI) to help strengthen transparency of climate-related risks in financial markets. The project will help financial institutions to better able identify climate-friendly opportunities and ultimately help create more stability in the financial system.
5. TD helped revitalize over 150 green spaces across Canada
In recognition of Canada's 150th anniversary, TD launched the #TDCommonGround project, an initiative to revitalize over 150 community green spaces for people to connect with one another, nature and their communities. Visit commongroundproject.td.com to learn more.
We recognize that now more than ever we need to understand and address long-term trends related to climate change. Today more than ever the environment is a complex and evolving area of business. But with our solid track record and leadership commitment – we're up for it! We look forward to this new year of working with governments, business and community organizations to uphold and encourage good corporate citizenship, and together can help drive innovative solutions for today's business and environmental issues. TD is ready for 2030.
Karen Clarke-Whistler has been the Chief Environment Officer for TD Bank Group since 2008.