Top 3 Ways to Operationalize an ESG Report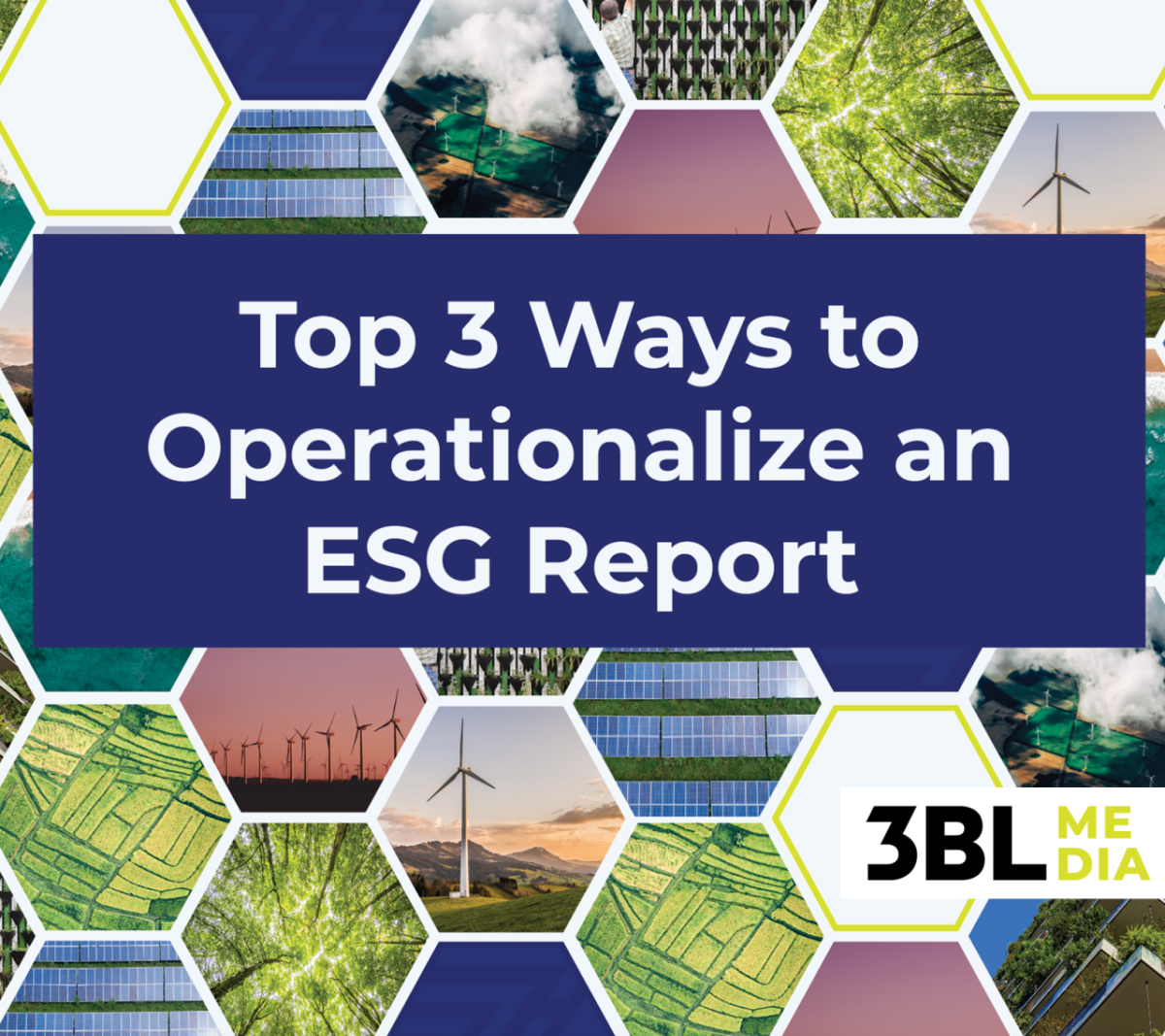 3BL Media breaks down how to operationalize ESG reporting to maximize brand visibility. Explore more of our resources at our Private Equity Hub.
ESG has been the topic of conversation for private equity investors and investor relations directors for years. Taking notes from ESG-forward firms like Blackstone and KKR, many others in private equity are incorporating ESG communications as standard practice.
It can be challenging to understand how to use ESG or sustainability reports beyond their publication. However, those reports contain a trove of information that can be repurposed into derivative content that can be used to attract, engage and inform the stakeholders, limited partners, candidates, and employees who have shared values and comprise a crucial audience for firms.
This guide will help communicators realize more return for the investment the company has made in its ESG program and the associated reporting, and covers the following:
CSR vs. ESG: What's the difference?
Using sustainability reporting to partner with other departments
Deriving content from an ESG report.
CSR vs. ESG: What's the difference?
CSR stands for Corporate Social Responsibility, and ESG is the abbreviation for Environmental, Social, and Governance. Both of these terms represent socially responsible businesses. The key difference is that CSR describes a business's accountability for its social commitments qualitatively, while ESG aims to measure or quantify social efforts.
The ESG report is a rigorous, data-driven report containing risk assessments from the Environmental (such as climate change), Social (such as wars and pandemics), and Governance (like accounting rulemaking and compliance) perspectives.
CSR has garnered its share of skepticism over the years, the main complaint being that CSR serves as nothing more than a thinly veiled promise for corporate branding purposes. However, in today's transparent environment, firms cannot afford the fallout of a damaged reputation with a looming recession, inflation, and the worst IPO market in two decades. With apologies to Shakespeare, the truth will out.
When a brand is committed to ESG principles, on the other hand, it develops a strategy for meeting detailed and measurable KPIs, thus holding the firm accountable in a durable and transparent way.
Beyond taking action and reporting, communicators should also develop a plan for ESG communications. Communication of the details of the ESG report and its associated KPIs will reinforce the firm's long-term commitment to building ESG values into the fabric of its operations.
At the heart of the ESG communication strategy should be the concept of repurposing the data in reports. Here are a few methods to maximize visibility by leveraging this data.
Use Sustainability Reporting as a Tool to Partner with Other Departments
Partnering with other internal stakeholders will help communicators find additional angles for the ESG story, create alignment with other teams and ultimately, help the organization realize more value from its ESG program and reporting. Keep in mind how other groups can benefit from ESG-related communications.
Human Resources' main goal is to drive interest in the company among prospective employees. In addition, HR professionals can use the content on LinkedIn or Twitter from the report as key messaging to talk about the company's mission.
A sales team is always looking for ways to strategically reach potential or current clients and stay top of mind. Sharing key pieces of ESG report through email newsletters, sales letters, or social tools through a company CRM will help make the company stand during the RFP or vendor selection process.
Marketing's role is to keep engagement levels up and drive brand awareness with new and fresh content catered to the target audience. Quality digital assets can be created around data compiled from the ESG reports, such as infographics, statistics, etc., and distributed across social platforms.
If the firm has a philanthropic arm, consider sharing ESG news and data through channels such as email, blogs, and other online communications to related audiences.
Get Creative With Different Types of Content
ESG reports are veritable treasure troves of stories, visuals, and data, and present communicators with the opportunity to create more visibility for the company by repackaging the content in different formats for external consumption across multiple channels.
In addition to easing the burden of content creation for the marketing and communication teams, amplifying the message by repackaging the content helps with uptake, creating a breadcrumb trail of sorts back to the brand and the central message.
Simply put, more touchpoints mean wider reach. Here are some ideas for isolating and communicating elements from an ESG report:
Acknowledgment: Spotlight an employee, charity partner, community member, or client mentioned in the report through social channels or email.
Multimedia content such as photos and video - many studies have shown that the highest performing content on social media is multimedia over text-only posts.
Create a narrative from the sustainability reports and produce short videos that tell the story behind it - whether it be social, governance, or environmental-related achievements or contributions.
Infographics - numbers tell stories, and infographics serve as visual aids.
Schedule webinars - feature the key executives behind the report and discuss their results.
Twitter chats - Hold a public dialogue on topics such as sustainability, social good, or philanthropy without discussing company products or services.
Regular blog posts - Focus on a new section of the sustainability report each month by summarizing it, linking to the appropriate section, and publishing it across multiple channels. This will help maximize visibility and drive traffic to the website consistently.
Distribute Messages to Increase Visibility to a Wider Audience
The ESG report and the associated communications communicators develop represent opportunities to connect with new audiences. Interest in how companies are addressing pressing environmental and social issues is burgeoning. A partner like 3BL Media helps brands reach new audiences who care about responsible business and ESG commitments, delivering the brand's messages to interested journalists, investors, consumers, and influencers, in addition to the ratings and rankings agencies that track and measure corporate ESG activities.
Communicating regularly about the brand's ESG program and its outcomes will expand the audience, keep the brand top of mind amongst stakeholders and help the organization get the most value out of its ESG program and reports.
Speak with one of our experts to learn how to get more visibility of (and ROI from) ESG reports.