'Tobacco at a Cancer Summit': Trump Coal Push Savaged at Climate Conference
The US administration's attempt to portray fossil fuels as vital to reducing poverty and saving US jobs is ridiculed in Bonn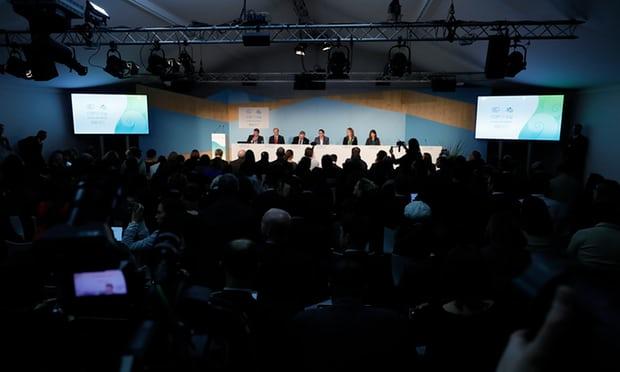 White House officials and business leaders appear at the event, titled The Role of Cleaner and More Efficient Fossil Fuels and Nuclear Power in Climate Mitigation. Photograph: Ronald Wittek/EPA
Originally posted on theguardian.com
By Damian Carrington 
The Trump team was heckled and interrupted by a protest song at the UN's climate change summit in Bonn on Monday after using its only official appearance to say fossil fuels were vital to reducing poverty around the world and to saving jobs in the US.
While Donald Trump's special adviser on energy and environment, David Banks, said cutting emissions was a US priority, "energy security, economic prosperity are higher priorities", he said. "The president has a responsibility to protect jobs and industry across the country."
Other attendees at the summit condemned the argument.
"Promoting coal at a climate summit is like promoting tobacco at a cancer summit," said Michael Bloomberg, the former New York mayor and a UN special envoy for cities and climate change.
To read the full story, click here.