Think F.A.S.T. VR Training: Improving Stroke Education and Saving Lives
Think F.A.S.T. VR Training: Improving Stroke Education and Saving Lives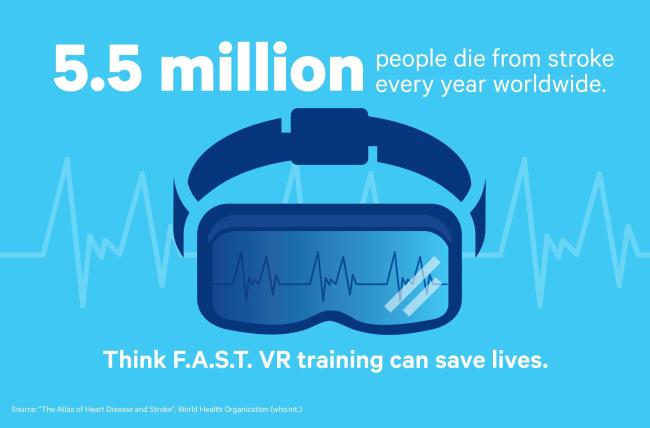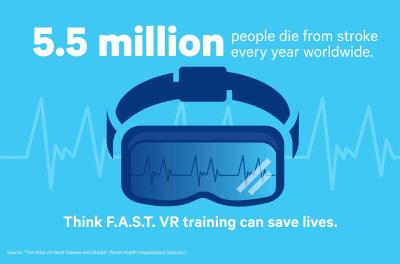 Monday, October 30, 2017 - 11:30am
Strokes can happen to anyone at any time and the number of strokes young people experience is rising. In America, there was a 44% increase in the number of young adults hospitalized due to stroke over the last 10 years. Globally, it's the second-leading cause of death.
Qualcomm Technologies (QTI) is helping medical practitioners and first responders diagnose strokes faster and in turn, reduce the long-term impact of the disease. We've collaborated with VR industry pioneers ForwardXP and Leap Motion as well as Dr. Raj Dahiya, a renowned radiation oncologist and founder of a high complexity diagnostic testing laboratory, to create Think F.A.S.T., a cutting-edge Virtual Reality (VR) application, to demonstrate how VR technology can be utilized to educate people about stroke and ultimately, to save lives. The application leverages the FAST test for stroke diagnoses, endorsed by the American Stroke Association.
Poised to reinvent health care education and training, Think F.A.S.T. immerses anyone from medical students to patients into a medical VR environment where they receive hands-on instructional content that simulates a real-world comprehensive stroke examination. In fact, if you suspect you've experienced a stroke, you can identify your stroke symptoms and self-diagnose your condition, allowing you to rapidly react and seek medical help which could boost your odds of recovery.