Tetra Tech, USAID, and Government of Malawi Increase Access to Secondary Schools
Launching the Secondary Education Expansion for Development (SEED) project to expand classroom space, build new schools, and improve health conditions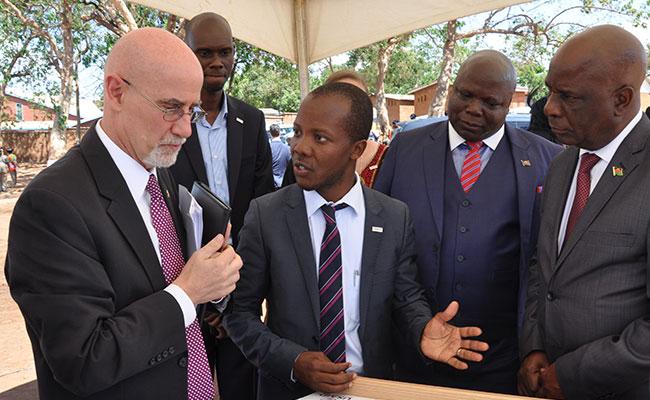 Tetra Tech joined Malawi President Peter Mutharika, U.S. Ambassador Robert Scott, representatives from the U.S. Agency for International Development (USAID), and the Kawale Community to launch the USAID Secondary Education Expansion for Development (SEED) project. In October 2019, Tetra Tech and these leaders launched the USAID SEED Project at Kawale Community Day Secondary School.
Malawi's youth population is growing rapidly. More than 60 percent of secondary school-age students are unable to continue their education because the schools in their vicinity are at double or triple capacity, or there is no secondary school at all. These constraints disproportionally impact girls, who are less likely to continue attending, especially as schools become more congested. The U.S. and Malawi governments are focused on increasing access to and improving the quality of secondary schools throughout Malawi.
The SEED program is based on the compelling idea that improved access to secondary schools significantly improves education and, importantly, health outcomes such as delayed sexual activity and reduced rates of HIV Infection. That's an enormous goal and will be an enormous achievement.

U.S. Ambassador Robert Scott
The first of the SEED Project's two phases will add new classrooms and latrines to urban schools to improve learning and sanitation conditions for students.
"The classroom-to-learner ratio currently stands at 1:70, yet our classrooms were meant to cater to 50 learners only, and navigating congested classrooms is a huge challenge, particularly for girls," said Bernadette Chitwele, the head teacher at Chigoneka Community Day Secondary School, one of 30 existing urban schools that will receive new classroom blocks, expanding their facilities and decongesting classrooms.
In phase two of the SEED project, Tetra Tech, USAID, and the Malawi Ministry of Education, Science, and Technology will construct up to 200 new community day secondary schools, bringing secondary education to every district in Malawi and expanding access to include up to 48,000 more students each year.
"The SEED Project is designing an improved learning space for remote rural schools that do not have electricity or running water," said Tetra Tech's Matt Harder, SEED Project Chief of Party. "The schools need to address hot summer temperatures, ventilation, driving rains during rainy season, sound attenuation, and passive lighting. We are focusing on using local materials, creating facilities that are easy to maintain, and staying within a tight per-school budget."
Tetra Tech's new rural school design will provide an improved learning space that is inclusive of physically challenged students and conducive for learning for adolescent girls. The new schools will reduce walking time for students, which will increase enrollment and attendance rates, leading to opportunities for growth and leadership and furthering Malawi's journey towards self-reliance.
As access to education improves, more students will attend, learn proper health behaviors, and eventually strengthen the social economy.