Tetra Tech Congratulates Its Leadership Academy Graduating Class of 2017
Preparing another set of high-achieving technical leaders to provide our clients with innovative solutions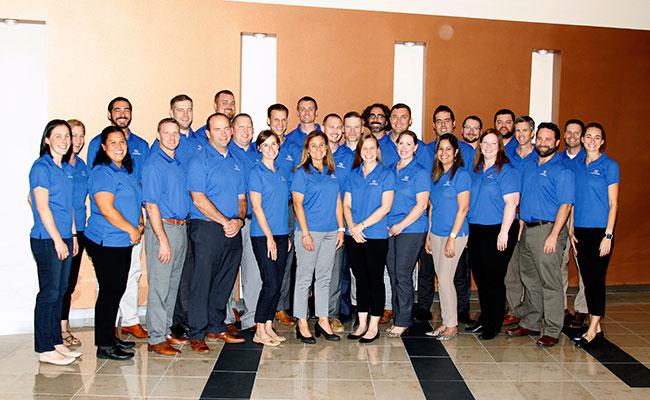 On October 7, 2017, Tetra Tech's Leadership Academy Class of 2017 successfully completed the company's annual corporate professional development program. The Leadership Academy prepares project managers to become outstanding business leaders to better serve their clients.
Participants from across the company completed three intensive modules throughout the year to expand their understanding of Tetra Tech's global operations and hone their operational, financial, and interpersonal skills. Tetra Tech's senior leadership shared insights and facilitated group exercises on topics including financial and risk management, contract terms and conditions, strategic growth planning, business development, and situational leadership. This program is a cornerstone of Tetra Tech's platform of Leading with Science® to provide its clients with industry-leading services. As participants expand their Tetra Tech networks, they can offer their clients additional expertise and local market knowledge, backed by the support and power of a 16,000 employee company.
"One of the most beneficial parts of the academy for me has been gaining a better understanding of my role within Tetra Tech in general," said Kim Yathon, a 2017 Leadership Academy participant from Tetra Tech's Canadian operations. "I have a better understanding of what Tetra Tech's culture is, how we're so varied, how all the different offices work together, and how we unite for a common goal to work together on different projects."
Throughout the year, Leadership Academy participants share and discuss best practices, with each employee contributing personal experience about the best way to approach situations such as contract negotiations. Participants report that learning directly from Tetra Tech's executive management and from other participants encourages them to think creatively to find the best solution for each project, not just what has been done in the past.
"The Leadership Academy reenergizes me, because I'm surrounded by a group of individuals who have the same drive and passion, and we are able to learn from each other," said Grizelda Sarria, a 2017 Leadership Academy participant from Tetra Tech's U.S. operations. "Most importantly, we take the tools that are provided to us, and we are able to adapt them to our own situation and are encouraged to go back and teach others."
The Leadership Academy helps these talented employees better manage both their projects and their employees. During module three, one participant discussed how he used the lessons learned about management styles to adjust how he was leading his project team and help motivate an employee to take on new challenges.
Since the program's inception in 2013, nearly 150 employees have completed the year-long program. Alumni go on to be some of Tetra Tech's top leaders and are tasked with special assignments by Tetra Tech's CEO Dan Batrack.
We congratulate this year's graduates and look forward to seeing the great things they will accomplish for Tetra Tech.