TCS Hosts Special goIT July Monthly Challenge on July 14
Inviting Students to Workshop a Digital Innovation That Address UN SDG #8, Decent Work and Economic Growth.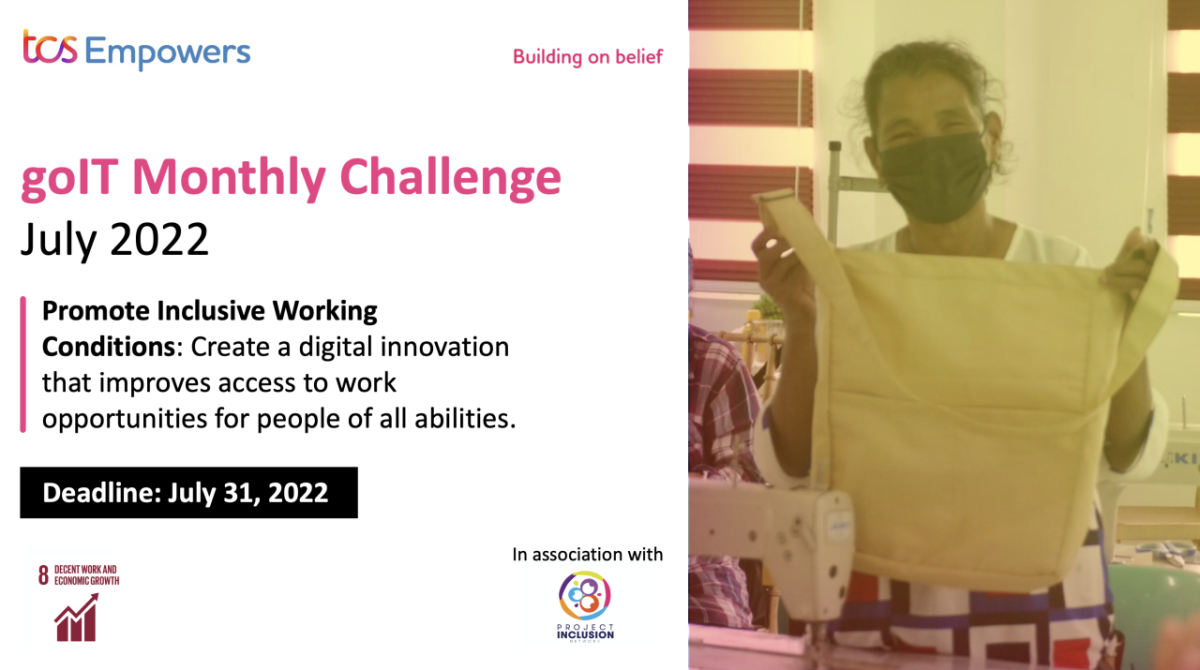 July 14, from 7:30 pm to 8:15 pm EST
Registration here for July 14 and additional dates
Calling all families! Do you have school-aged kids at home and want to challenge them with a project that combines technology AND social impact? Every month, goIT – part of TCS' Corporate Social responsibility team – develops a new opportunity each month for students to ideate digital innovations based on the United Nations Sustainable Development Goals (SDGs). Students from across North America think of creative, tech-based solutions to solve different problems related to a specified SDG. The students are guided by influential organizations who are on the ground doing and supporting the given cause for the month.
On July 14, from 7:30 pm to 8:15 pm EST, TCS is hosting a beginner friendly workshop open to middle schoolers, high schoolers, and their family members to create a digital innovation that improves access to work opportunities for people of all abilities, centered around the United Nations Sustainable Development Group Goal #8: Decent Work and Economic Growth. TCS's has partnered with Project Inclusion Network, an organization that aims to build a nation where the potential of Persons with Disability is realized. It enables communities to improve access to opportunities for Persons with Disability through empowering Persons with Disability, enabling disability inclusion, and engaging strategic sectors of society.
Activities will include:
Introduction to the July's goIT Monthly Challenge in partnership with Project Inclusion Network, Inc. - theme aligned with UN Sustainable Development Goal #8 Decent Work and Economic Growth
Brainstorming potential technology driven solutions to aid in providing resources for those in need
Preparation for next steps to enter the goIT Monthly Challenge contest
Tips and tricks on designing a pitch for their video submission
Watch this month's video to learn more about the challenge: http://on.tcs.com/goIT-ENG