Tapestry's Approach to Biodiversity
Tapestry's Approach to Biodiversity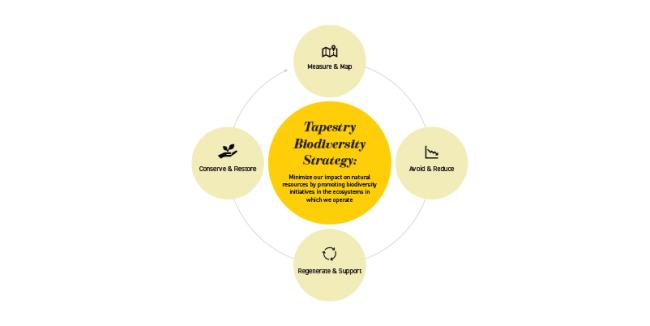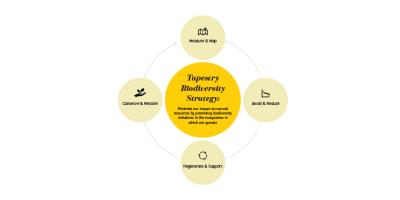 Monday, October 3, 2022 - 12:00pm
Preserving and restoring biodiversity helps to combat climate change and protect vital ecosystems. We're committed to minimizing our impact on biodiversity by continually monitoring and reducing natural resource depletion while supporting restoration initiatives in the ecosystems in which we operate.
Tapestry is a signatory of The Fashion Pact, a coalition of fashion and textile companies working to address global warming, restore biodiversity and protect the oceans. Through this partnership, we are working to achieve umbrella actions for biodiversity, including supporting zero deforestation and sustainable forest management by 2025. We developed an initial biodiversity strategy aligned with recommendations from the Science-Based Targets for Nature and the Accountability Framework. Our goal is to achieve 95% traceability and mapping of our raw materials by 2025, and we are working to identify all low-, medium- and high-risk impacts to biodiversity across our supply chain. We are also working to source more environmentally preferred materials, which will reduce our impact on the natural systems we source from.
In early FY2022, we became a member of the Textile Exchange, which brings together brands, suppliers and companies to create a more sustainable and responsible textile industry. We also completed the Textile Exchange's Biodiversity Benchmark for the first time in FY2021, giving us a baseline to track our year-over-year progress in biodiversity. We aim to report further on our biodiversity strategies and progress in our FY2022 Corporate Responsibility Report.
Regenerative agricultural practices can aid the protection and restoration of biodiversity. We started an effort to source regeneratively grazed hides and are working with suppliers and partners to support soil health and responsible land management practices and aid in the development of regenerative agricultural supply chains.