T. Rowe Price Named to Stonewall's Top 100 List of Leading LGBTQ+ Inclusive Employers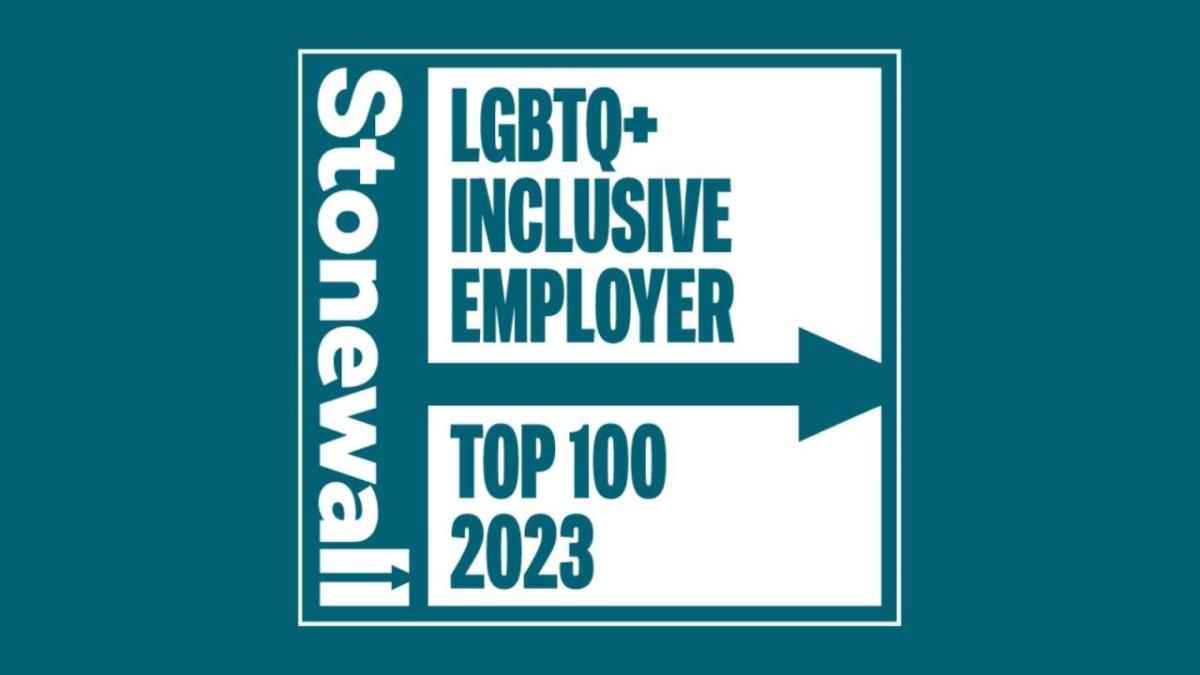 T. Rowe Price was named in Stonewall's Top 100 Employers 2023 list
March 3, 2023 /3BL Media/ - T. Rowe Price was named in Stonewall's Top 100 Employers 2023 list, the UK's leading ranking of employers from public, private and third sectors on how inclusive their workplaces are and their demonstrated efforts to support LGBTQ+ staff and customers. In its first year of inclusion on the Workplace Equality Index 2023, the investment management firm was listed among a number of construction, legal, health, finance and education firms who made the annual index. Stonewall is Europe's largest charity for lesbian, gay, bi, trans and queer rights.
"We are honored to be named in Stonewall's Top 100 Employers list. As we are committed to sustaining and enhancing our inclusive culture for our associates, this recognition affirms our DEI work and our belief that our diverse global workforce is one of our most valuable assets," said Raymone Jackson, head of Diversity, Equity, and Inclusion (DEI).
T. Rowe Price has implemented a three-year, intentional, global DEI strategy designed to expand and strengthen its diverse workforce and sustain an inclusive work environment to provide the best service to its global client base. This strategy is informed by an internal self-ID campaign that provides the firm valuable data on the representation of diverse communities within its workforce. Through its global associate-led PRIDE @ T. Rowe Price business resource group, the firm ensures that LGBTQ+ associates and allies are comfortable bringing their best selves to work every day. This group also supports associate recruitment and engagement efforts and promotes education and awareness initiatives.
In addition to Stonewall, strategic partnerships with organisations such as LGBT Great, PowerToFly, myGwork and Lesbians Who Tech help T. Rowe Price make a positive impact while recruiting diverse talent, engaging associates, creating an inclusive environment and communicating the firm's commitment and progress.
Nancy Kelley, CEO of Stonewall, said, "It's been fantastic to see all of the work put in by T. Rowe Price over the past year to create a workplace where LGBTQ+ staff feel free to thrive as themselves. For many of us, the majority of our time is spent at work, so if we have to hide who we are it can take an enormous personal toll and hold us back from fulfilling our true potential. Creating environments where we can all feel comfortable makes our workplaces a safer, better and friendlier place for everyone and helps staff be proud of who they are."
The Top 100 Employers list is compiled through submissions to a free, voluntary benchmarking tool, the Workplace Equality Index. All submissions are then marked against thorough and standardized criteria and the Top 100 Employers are picked out by Stonewall for their excellent work in creating inclusive workplaces for their LGBTQ+ staff.
# # #
ABOUT T. ROWE PRICE
Founded in 1937, Baltimore-based T. Rowe Price (troweprice.com) is a global investment management organization with USD $1.35 trillion in assets under management as of 31 January 2022. The organization provides a broad array of mutual funds, subadvisory services and separate account management for individual and institutional investors, retirement plans and financial intermediaries. The company also offers a variety of sophisticated investment planning and guidance tools. T. Rowe Price's disciplined, risk-aware investment approach focuses on diversification, style consistency and fundamental research. T. Rowe Price helps clients invest with confidence and can be found on Facebook, Instagram, LinkedIn, Twitter and YouTube. 
ABOUT STONEWALL 
Stonewall is the UK's leading charity for lesbian, gay, bi and trans equality, working to create a world where every lesbian, gay, bi, trans and queer person is free to be themselves–wherever they are. It was founded in 1989 by a small group of people who wanted to break down barriers to equality. Stonewall continues to campaign on LGBT Equality, as well as work with employers and schools to create environments which allow LGBTQ+ people to thrive.
To get involved, visit us at stonewall.org.uk. | Registered charity number 1101255