T. Rowe Price Executives Named to Barron's Top 100 Influential Women in U.S. Finance 2023 List
CFO and Treasurer Jen Dardis and Cheryl Mickel, Head of U.S. Taxable Low Duration Recognized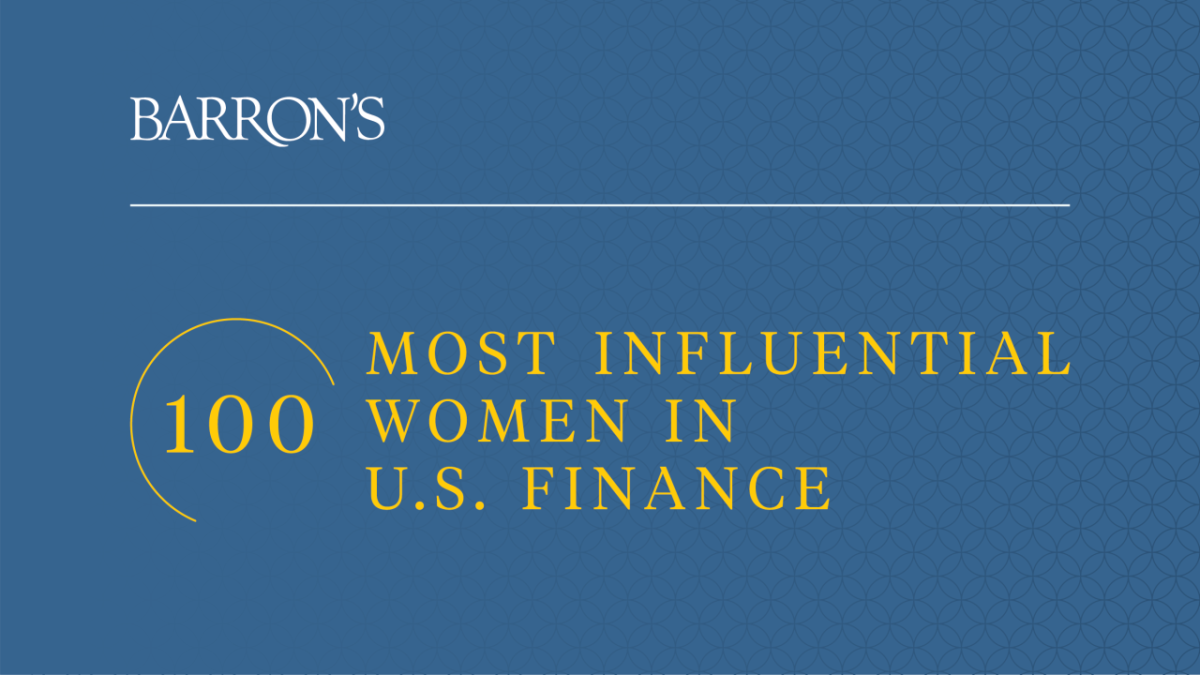 Barron's 100 Most Influential Women in U.S. Finance
BALTIMORE, April 4, 2023 /3BL Media/ - T. Rowe Price (NASDAQ-GS: TROW), a global investment management firm and a leader in retirement services, today announced that CFO and Treasurer Jennifer Dardis and Head of U.S. Taxable Low Duration Cheryl Mickel have been named to Barron's Top 100 Most Influential Women in U.S. Finance 2023 list.
This prestigious recognition honors women who are helping to shape the modern financial services industry and leading it confidently into the future. The list, chosen by a panel of Barron's writers and editors, is based on external and internal nominations and includes executives at major U.S. companies, investment managers and securities analysts, and public servants and policymakers.
"We are proud that Barron's has recognized the contributions of two of our senior leaders," said Rob Sharps, chief executive officer and president, T. Rowe Price Group. "We are grateful for the perspectives and skills that they bring to the leadership of T. Rowe Price and how they enrich our strong culture."
Jen Dardis, CFO and Treasurer 
Dardis is the chief financial officer (CFO) and treasurer of T. Rowe Price Group, Inc., the treasurer of T. Rowe Price Investment Management, and a member of the firm's Management Committee. Her responsibilities include global oversight for the Controller's Group, Global Tax, Procurement, Corporate Strategy, Financial Planning & Analysis, and Investor Relations. She leads a global team of 230.
As the newly appointed CFO, Jen successfully led the firm through its largest acquisition in the firm's history of Oak Hill Advisors (OHA) for $4.2B, which enables the firm to accelerate expansion into alternative investment markets.
Dardis has been with T. Rowe Price since 2006, beginning in the CFO Group in a corporate strategy role, and became head of Corporate Strategy in 2016. Most recently, she was the head of Finance. Before T. Rowe Price, Dardis held positions at Constellation Energy in investor relations, at Energy Merchant in finance and business development, and at SG Cowen in mergers and acquisitions.
She earned a B.A. in economics from the College of William & Mary and an M.B.A. from the University of Virginia, Darden School of Business. Dardis currently serves as chair of The Maryland Food Bank's Board.
Cheryl Mickel, Head of U.S. Taxable Low Duration 
Mickel is the head of the U.S. Taxable Low Duration team and a co-portfolio manager of the US Short Duration Income and Stable Value Intermediate Term Strategies in the T. Rowe Price Global Fixed Income Division. Mickel and her team manage $111B in money market, short-term bond, and stable value strategies for individual and institutional investors as well as T. Rowe Price corporate entities and internal reserve fund assets. She is also a member of the Fixed Income Steering Committee, which is responsible for the general oversight of the fixed income business, including risk management, talent, and strategy performance review.
She began her career at T. Rowe Price in 1989, where her early responsibilities included trading across an array of fixed income markets. In 1997, she became a taxable portfolio manager, and in 2015, she assumed her current role.
Mickel is an inaugural member of T. Rowe Price's Black Leadership Council, established to provide a direct channel of communication between Black associates and T. Rowe Price's Management Committee to ensure that there is active dialogue on matters of importance, such as recruitment, advancement, retention, development, culture, policies, etc. She was an early supporter and remains involved as a member and ally of the firm's business resource groups, which work to maintain our inclusive culture and engage associates in the firm's diversity, equity, and inclusion strategy.
Beyond her professional duties at T. Rowe Price, Cheryl is a trustee of the T. Rowe Price Foundation, the firm's philanthropic arm, which partners with nonprofit organizations to support the communities where we work and beyond. Mickel is also a member of the Baltimore Community Foundation's Investment Committee and a past Women United Executive Council member.
She earned a B.S. in economics from the University of Baltimore and an M.B.A. from Loyola University Maryland. She also has earned the Chartered Financial Analyst® designation.
# # #
ABOUT T. Rowe Price
Founded in 1937, T. Rowe Price (NYSE: TROW) helps people around the world achieve their long-term investment goals. As a recognized global asset management company known for investment excellence, retirement leadership, and independent proprietary research, the firm is built on a culture of integrity that puts its clients' interests first. Investors rely on T. Rowe Price for its active management approach and its broad range of equity, fixed income, retirement, alternatives, and multi-asset investment capabilities. T. Rowe Price manages $1.31 trillion in assets under management as of February 28, 2023, and serves millions of clients globally. T. Rowe Price can be found on Facebook, Instagram, LinkedIn, Twitter, and YouTube, and troweprice.com/newsroom.
Media Contact:
Tiane Harrison  
T. Rowe Price  
tiane.harrison@troweprice.com