Sustainable Facilities at FedEx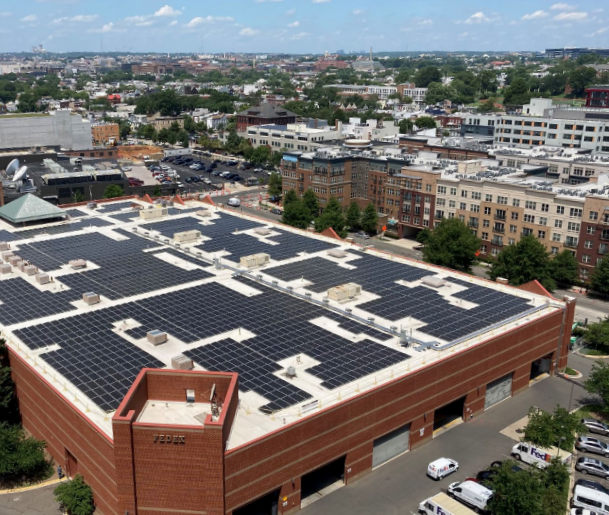 Originally published in FedEx's 2022 ESG Report
We strive to sustainably operate our more than 5,000 air and ground hubs, local stations, freight service centers, and retail locations through continued investments in efficiency, renewable energy, and other energy management programs.
Our facility energy management strategy is more important than ever as our energy demand increases to support electric vehicle deployment. We recognize this challenge, and our Energy SIT is developing a long-term strategy and roadmap in parallel with our electric vehicle transition plan. In alignment with our goal of attaining carbon neutral operations by 2040, this roadmap will outline an approach to reduce our Scope 2 emissions despite the increased electricity demand from vehicle charging. We are looking across our operating companies to forecast energy needs and develop a renewable energy procurement strategy using power purchase agreements, virtual power purchase agreements, and other clean energy instruments.
We increase the efficiency of our facilities through energy management systems that monitor, control, and optimize our lighting, heating, ventilation, and air-conditioning equipment. FedEx Office utilizes energy management systems at over 1,500 stores, and we have reduced energy usage through lighting retrofits at FedEx Office, FedEx Freight, FedEx Express, and FedEx Ground. FedEx Freight has installed LED lighting in one-third of its locations and is evaluating a strategy to retrofit all remaining locations within the next five years. FedEx Office finalized its LED lighting retrofit initiative—covering 71% of stores—with the final locations completed in 2021. Overall, our energy management systems and lighting retrofits saved approximately 208 million kilowatt hours of electricity in FY21.
We are increasing both on-site renewable energy generation and our procurement of renewable energy to further reduce carbon emissions. In FY21, we generated on- and off-site solar energy at a total of 26 global locations across our operating companies.
FedEx Ground has 17 on-site and off-site solar installations and energized its first community solar project in November 2021. At the FedEx Ground headquarters, we installed an almost four-megawatt solar carport system that will produce about 30% of the power used on the Pittsburgh campus. Additionally, FedEx Express installed a one-megawatt community solar system in Washington, D.C. in October 2021.
FedEx Ground has three facilities and FedEx Express has one facility using fuel cell technologies alongside on-site solar or battery storage that provide the foundation for microgrids and support resiliency and emergency preparedness. FedEx Express is also exploring similar microgrid technologies to replace traditional diesel backup energy generators. Additionally, FedEx Ground installed a solar thermal air conditioning system to maintain cooler temperatures at a sorting facility in Florida.
Where appropriate, we adopt the Leadership in Energy and Environmental Design (LEED) standard in the U.S. and the Building Research Establishment Environmental Assessment Method (BREEAM) in Europe to guide efficient facility design. FedEx Express and FedEx Freight seek LEED certification on all new construction, and in total FedEx has 39 LEED-certified facilities and 13 BREEAM-certified facilities across our operating companies.
In addition, we aim to minimize our operational waste footprint. FedEx recognizes that the long-term health of our business is directly connected to the health of the planet and local communities. Each operating company has robust programs and policies in place to help mitigate adverse impacts on the local environment from facility operations and ensure compliance with applicable laws and regulations. To further drive our environmental sustainability progress, our CSO manages our enterprise-wide Environmental Management System and reviews performance on an annual basis. We strive to enhance our environmental performance and FedEx Express facilities in 43 countries have achieved the ISO 14001 environmental management system standard as of FY21.
In addition, we aim to minimize our operational waste footprint. In 2020, the FedEx Sourcing team began implementing a new enterprise-wide waste and recycling managed-service strategy for our U.S. operations to standardize our processes and reduce the amount of waste we send to landfills. To date, we have transitioned over 1,000 U.S. facilities to this new managed service. Overall, 67% of reported solid waste in our global facilities was sent to recyclers in FY21.