The Success of a Turkish Expert Amgen Teach Teacher as a Teacher Trainer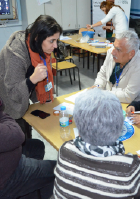 On February 26th, 2019, an expert Amgen Teach teacher, Dilek Yıldırım, together with her team, carried out two inquiry-based implementations as a part of a series of workshops during a STEM training, conducted by the Research and Development Department of İzmir Provincial Directorate of National Education and Line Project. Read on to discover more about the workshops!
During the first workshop "From observation to exploration", the 28 participants were presented with data and were expected to find supporting evidence and to then present their evidence to the entire group. During the second workshop "My Ideas, My Curiosity", participant teachers determined the variables that affect fluid pressure and presented their own set of questions concerning this area. In order to answer research questions, participant teachers, as a group, collected data through the conduct of an experiment. Each group then presented their studies to the other groups.
During the STEM Training Sharing Meeting conducted by the İzmir Provincial Directorate of National Education and Cesme District Directorate of National Education, Dilek Yildirim also conducted an inquiry-based implementation with another team in the course of a 2-day training. A total of 40 teachers from different fields attended the training.
 
Participant teachers showed great interest and enthusiasm in this inquiry-based training and through the inquiry-based implementations were able to question their own content and pedagogical knowledge.