Students Benefit From a Better Learning Environment
Schools and non-profit organizations benefit from an office furniture redistribution program where company donations revitalize classrooms, reduce waste and help the environment.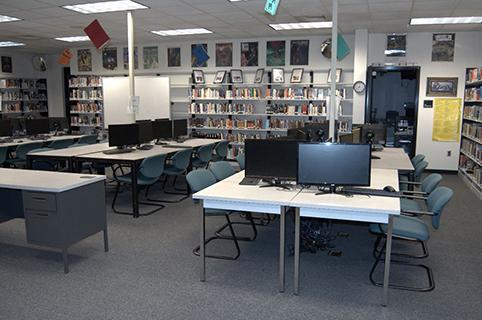 Part of Monessen School District, this library received all seating and some tables from PNC and Green Standards
PNC Point of View Real People. Real Perspective. Real Insights.
Back to school time for many students often means new clothes and supplies. For the students and staff of the Monessen School District – a small, urban public school district south of Pittsburgh, Pennsylvania – returning to school also means upgraded classrooms and facilities with new desks, chairs and bookcases.
The Monessen School District serves nearly 850 students within its three buildings. Many of the classrooms there have not been updated in more than 25 years. Faced with a real need to improve their facilities, school officials have struggled to find room in the budget to buy new furniture.
"This has been a tough year," said Debra Kozar, the Instructional Technology and PIMS Data Coordinator for the school district. "We couldn't purchase anything last year."
With the help of Green Standards, a specialized environmental firm that helps corporations reuse their furniture in a number of ways, including through donations to schools, offices and non-profit organizations, nearly 70 chairs have found new life in the Monessen High School.
"Without these donations, we would have had to find a way to repair wooden chairs that were 35 years old," explained Kozar. "We and our students are so grateful to have this new-to-us furniture."
Repurposing Responsibly
Green Standards works with corporations and other large organizations to repair and redistribute office furniture, equipment and supplies that are broken, have exceeded their expected lifespan or no longer address a company's needs.
Any time a company moves or renovates, much of the corporate interior – furniture, appliances, computers, artwork, supplies – can end up in the landfill. In fact, up to 10 million tons of these materials end up in North American landfills each year, which contributes to carbon emissions and prevents valuable natural resources from being repurposed or recycled.
Since November 2016, PNC and Green Standards have partnered on 16 projects, each one giving new life to schools, offices or non-profit organizations in need. PNC chose to work with Green Standards after careful consideration and defers to Green Standards to select the most eligible non-profit recipients.
"Giving back to the community through the Green Standards program while at the same time helping the environment is a significant goal of the furniture donation strategy at PNC," said Nana Wilberforce of PNC realty services. "PNC strives to reduce our impact on the natural resources that surround us every day."
With the help of Green Standards, PNC has diverted more than 500 tons of materials from the landfill and reduced CO2 emissions by 1,497 metric tonnes. Overall, PNC's environmental contributions are equal to growing 38,305 tree seedlings for 10 years and offset electricity use in 206 homes for 1 year.
"PNC has demonstrated that sustainability matters across its office footprint," said Jonathan Milnes of Green Standards. "By planning ahead and thinking twice about its furniture, PNC will benefit dozens of organizations while practically eliminating this type of waste."
Focus on Learning
In the Monessen school district, both the students and staff have benefitted from PNC's donation of desks, chairs and storage cabinets. They are especially grateful to be receiving a library "makeover," complete with bookshelves and seating.
For many schools, donations like those from PNC enable teachers to focus on lesson planning and childhood education rather than their students' comfort and classroom amenities. In many cases, something as simple as a fresh desk or a sturdy chair can reinvigorate a classroom and ensure that children are in an environment that is conducive to learning.