"Stronger Together: Reflecting on Our Resilience and Fortitude" With Booz Allen's African American Network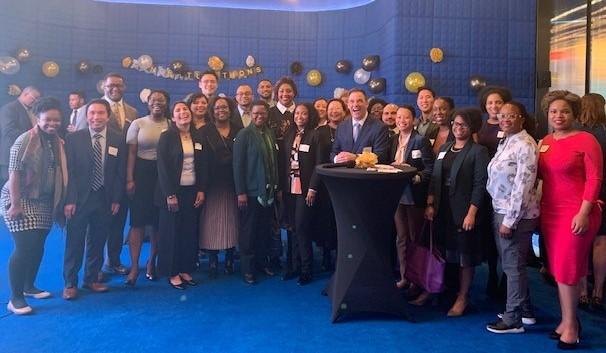 Members of the African American Network (AAN) and the Multicultural Business Resource Group (BRG) gather pre-COVID to celebrate together.
"We must never forget our impact and influence on American culture and history. By pausing to celebrate various events throughout Black History Month, we are reminded of our strength, ingenuity, courage, and resilience. These values have inspired us to achieve greatness thus far and will continue to help us change the world."
Booz Allen Vice President Patricia Porter, executive sponsor of the firm's African American Network
For over 25 years, Booz Allen's African American Network (AAN) has been a powerful presence. It's the largest of the firm's Multicultural Business Resource Groups (BRG) and the third largest among the firm's 14 networks and groups overall.
"We really work to advance the growth potential and success of African Americans at the firm through special programs and activities like mentoring," said Marvette Cofield, AAN Co-Chair and Senior Program Manager, Global Defense Group Strategy & Operations. "At the same time, the firm is really connecting with us to hear what our concerns are to make sure they're putting together and executing a plan that equalizes the playing field."
In 2020, the murders of George Floyd, Breonna Taylor, and too many others expanded AAN's role and made their work more important than ever. "AAN had to pivot: to educate people on what's going on in society and to support our members," said Ebony Thomas, AAN Co-Chair and Organizational Transformation Specialist.
The network took its internal "State of the Culture" conversations to a wider audience, helped the firm select philanthropic partners and set up a race and social equity-based employee giving campaign, hosted Booz Allen's first Juneteenth celebration, and more. This work continues in 2021 with Black History Month.
Thought-provoking content, conversations, and cooking
Under this year's theme of "Stronger Together: Reflecting on Our Resilience and Fortitude," AAN is hosting a range of activities this year, including guest speakers from voting rights group Fair Fight, in-depth virtual discussions about the bestselling book "Between the World and Me" and the New York Times' 1619 Project, and a matching donations campaign for the Innocence Project.
AAN will convene "The Color of Technology," a STEM-focused session that covers "some of the issues we deal with, overcoming your fears, and how we network together to empower each other," said Cofield, a 2019 BEYA Modern Day Technology Leader  "We're the only ones in the room sometimes. How is this different than your counterparts?"
The month's programming also takes a look at life outside of work, with What We're Watching and Reading, a Wellness Corner, and Dine Diaspora—a virtual cooking demo celebrating the history and importance of food in the Black community.
"Every year we try to top the year before and use Black History Month as a platform for education and conversations," said Cofield.
"Having to shift to virtual-only events this year has caused us to be creative," said Thomas. "Why do you want to be on a Webex at 6 p.m.? We want to keep people engaged during the pandemic by creating programming that people want to show up for."
Supporting the growth of employees—and Booz Allen
Engagement is a year-round priority for the network—and a benefit to participation. "One of first connections I made at Booz Allen was with AAN," said Cofield. "I can honestly say that was a component to me getting connected and understanding how to network within the firm."
Cofield, who first co-chaired Booz Allen's Women's Network, became even more involved with AAN through joint activities between the groups and recently became AAN co-chair. AAN activities have long involved professional development, opportunities for growth, and helping members position themselves for promotion.
Then, said Cofield, "2020 brought everything to the forefront and brought a focus on where are we in America? Are we really making the strides that we thought we've made?"
The network's role expanded to facilitating conversations across the firm, working with leadership to shape Booz Allen's Race and Social Equity Agenda, and providing an educational component where people can research and learn on their own.
"We want to support African Americans at the firm and open up a dialogue," Cofield said. "We're part of the overall solution that will make a better firm overall."
Sharing, support, and a sense of belonging
Thomas joined the AAN soon after she arrived at Booz Allen, following positions with Goldman Sachs and Fannie Mae. She assumed leadership roles as the network was revamping its programming with a stronger business focus, aligning the growth of its members with the growth of the firm.
"Booz Allen can be a big place if you don't have a network. We want to make sure people have the resources to be successful here," Thomas said.
Increasingly, these resources include an environment of support and understanding, where employees can be authentic and share their feelings.
Thomas remembers "crying in the car before a meeting" when she learned about the 2016 murder of Philando Castile. "It was hard to hear the news, come to work, and smile."
"George Floyd raised awareness to other people that we were hurting. It allowed us to bring some of that to work and people would understand," Thomas said. But months later, as conversations and current events took a toll, "AAN had to pivot to be there for people when we were stressing in a different way. How do we support our members while educating people on what's going on in society?"
She said that activities like the expanded State of the Culture discussions with firm leadership and Booz Allen's first Juneteenth celebration last summer "show that the firm is committed to what's going on outside the walls of Booz Allen. The firm has leaned on AAN to inform them and make sure they're keeping the thoughts and sentiments of members top of mind."
Learn more about diversity, equity, and inclusion at Booz Allen and the firm's six pillar commitment to advancing racial and social equity.