Strengthening Healthcare for the Future: Abbott's 2030 Global Sustainability Report
Strengthening Healthcare for the Future: Abbott's 2030 Global Sustainability Report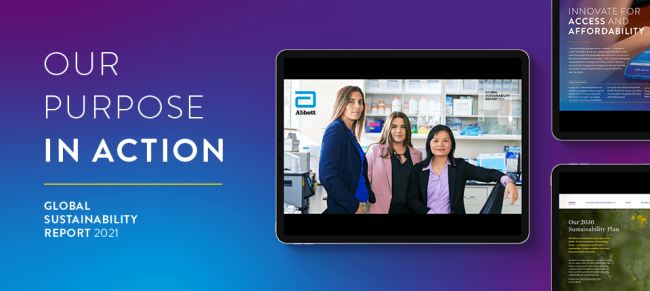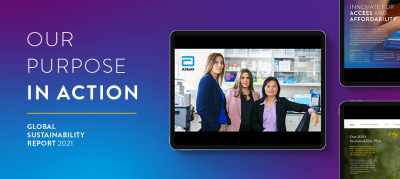 Thursday, June 30, 2022 - 5:20pm
In the face of significant economic, social and health-related challenges around the world, corporate sustainability has never been more important.
Our 2030 Sustainability Plan puts our central purpose of helping people live better, healthier lives at the forefront. We're laying the foundation for transforming our business over the next decade, advancing healthcare while remaining responsive to the pressing issues of today. By innovating for greater access and affordability and breaking down barriers to care, we intend to improve the lives of one in every three people on the planet – that's 3 billion people – every year by 2030.
With the release of Abbott's 2021 Global Sustainability Report, the company highlights its progress over the past year, reaching 2.2 billion people through its products and services.
Check out key 2021 highlights below, and for a deep dive, read the full Global Sustainability Report.
References
1Among patient-applied sensors.
2FreeStyle Libre 3's User Manual.
IMPORTANT SAFETY INFORMATION
FREESTYLE LIBRE 3
Failure to use FreeStyle Libre 3 system as instructed in labeling may result in missing a severe low or high glucose event and/or making a treatment decision, resulting in injury. If glucose alarms and readings do not match symptoms or expectations, use a fingerstick value from a blood glucose meter for treatment decisions. Seek medical attention when appropriate or contact Abbott at 855-632-8658 or FreeStyleLibre.us for safety info.
DEEP BRAIN STIMULATION (DBS) THERAPY: Please read here for important safety information.