Speaker Proposals Now Being Accepted for COMMIT!Forum 2018: Brands Taking Stands – The Long View, Oct. 23-25 in Washington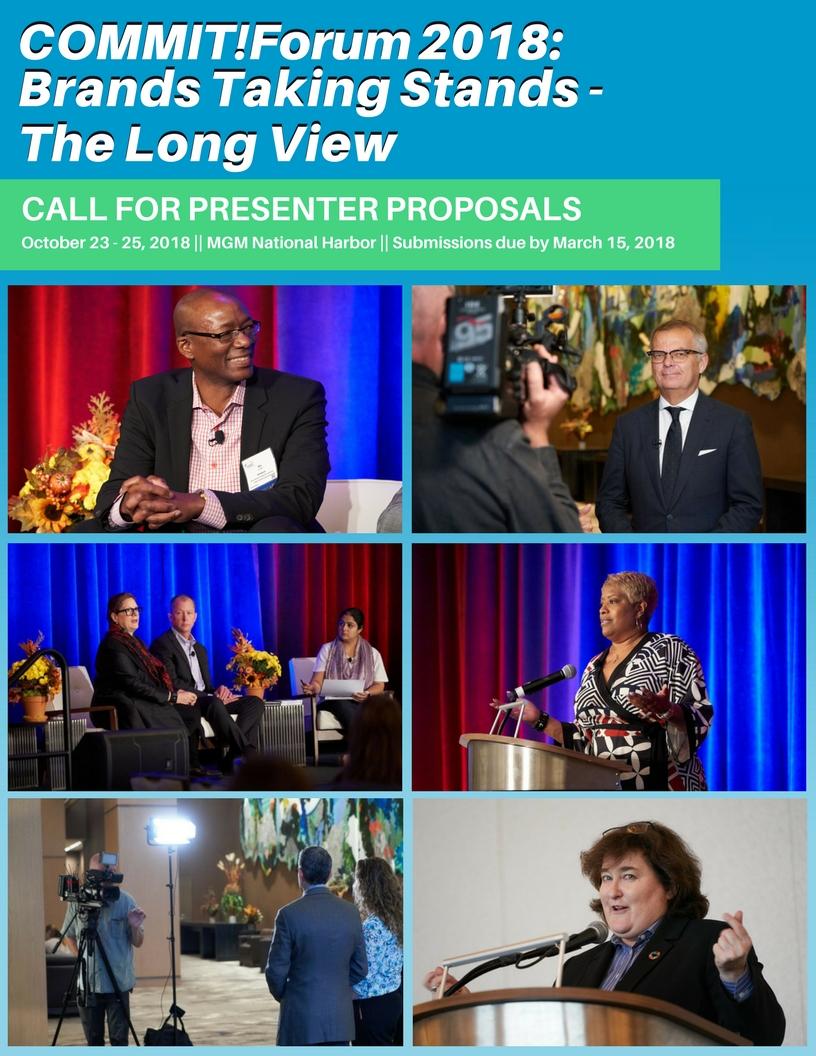 WASHINGTON D.C., January 9, 2018 /3BL Media/ -- The Corporate Responsibility Association and CR Magazine are now accepting presenter proposals for the 2018 COMMIT!Forum conference to be held at MGM National Harbor Oct. 23-25. Submission deadline is March 15.
The theme for COMMIT!Forum 2018 (http://www.commitforum.com) is "Brands Taking Stands -- The Long View," focusing on strategies adopted by the many companies now looking past short-term, quarterly, share-boosting practices that long have dominated corporate culture.  
"Corporate responsibility practitioners are well positioned as companies build for the future, but there is an acute need for peer-to-peer support, research and practical tools to emphasize an environmental, social and governance (ESG) agenda amid relentless pressure from shareholders to to prioritize profit today," said Dave Armon, CEO of the Corporate Responsibility Board, which publishes CR Magazine, manages the Corporate Responsibility Association and produces COMMIT!Forum.
Proposals from prospective speakers, presenters, panelists and other thought leaders should be completed via the COMMIT!Forum site or emailed to info@crboard.com for review. Access the Presenter Prospectus here. Submissions are due by March 15.
Key themes for COMMIT!Forum 2018 conference include:
– Corporate Responsibility No Longer Optional: Best-in-Class Innovation and Business Practices
– Leadership Requirements: The Corporate Vision, Voice and Influence
– Tilting on the Fulcrum: Balancing Short Termism with the Long View
– Corporate Responsibility Brand vs. Corporate Brand
– From Measurement to Meaning: The Timestamp of Corporate Responsibility Outcomes
– Emerging Issues & Emerging Voices
– Connective Issues: A Focus on the Issues Companies Face Regardless of Industry or Sector
COMMIT!Forum will feature two days of dynamic and engaging speakers, panelists, conversations and interviews. In addition, many presenters will use the conference to announce new corporate initiatives or release significant research findings on corporate responsibility, talent acquisition, progress toward the United Nations Sustainable Development Goals (SDGs) and more. Conference attendees bring an array of corporate responsibility experience and expertise as they seek to learn and engage. To maximize the audience experience, the conference agenda will be fast paced and designed to cover a variety of topics and issues.
A key feature of COMMIT!Forum is the Awards and Recognition Dinner where recipients of the Responsible CEO of the Year Awards will be announced. Nominations for this prestigious award may be submitted here.
We welcome submissions by CEOs, CR practitioners and senior leaders on topics related to Brands Taking Stands. If your proposal is accepted, COMMIT!Forum's executive producer will work with prospective presenters to identify where topic fits into the agenda and how to best showcase content at the conference, whether a main stage panel discussion, one-on-one interview, "issue table," break-out session or other format.
View the Presenter Prospectus here. Submissions are due by March 15.
About COMMIT!Forum
Corporate Responsibility Board publishes CR Magazine, manages the Corporate Responsibility Association and produces COMMIT!Forum. The company is a unit of 3BL Media of Northampton, Mass., formed in 2009 to serve corporations, nonprofits, NGOs and service providers active in corporate citizenship and sustainability initiatives. In addition to the 3BL Media news and content distribution platform, the company also operates TriplePundit, CSRwire, Ethical Performance, Justmeans, ReportAlert and Social Earth.
Under CEO Armon, the Corporate Responsibility Board team also includes Lynne Filderman, SVP, Business Integration + Strategic Partnerships and Executive Producer of COMMIT!Forum; John Howell, VP Content for CRA; Jen Boynton, Editor-in-Chief, CR Magazine; Craig Rossein, Business Development Director; and Margie Kuchinski, Events and Marketing Manager.