A Smart Approach to Getting Smarter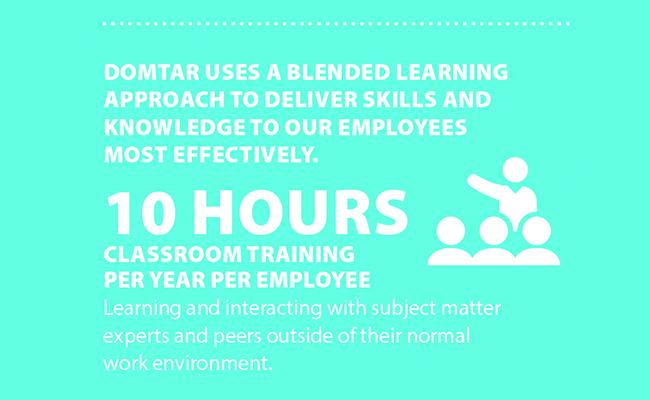 Domtar 2017 Sustainability Report
We believe that investing in the training and development of our employees drives long-term success—especially as advanced manufacturing becomes ever more technically complex.
We also find that creative partnerships are a smart way to make this education more affordable and more available to a community's workforce.
Consider the example of Spencer Greer, who was among several Personal Care employees who took advantage of courses designed by Texas State Technical College (TSTC) to be compatible with Domtar's specific manufacturing equipment.
"I took an advanced Programmable Logic Controller (PLC) course," Spencer said, referring to the complex system that runs the plant's machines. "They covered Siemens and Allen Bradley PLCs, which are the two major manufacturers of PLCs in the world." He said the classes, 14 in all, have helped him diagnose problems more quickly and troubleshoot issues when they arise. "It was a great thing for me to do," he said. "I'm glad I attended."
TSTC, in Waco, Texas, received a grant of over $260,000 administered by the Texas Workforce Commission to provide training for Domtar and another nearby manufacturing company. The funding comes from the state's employer payroll taxes, and is used to provide the workforce training needed by local employers.
This public-private partnership recognizes that by developing the technical skills of current employees and students, we are expanding our pool of talent and encouraging young people to pursue advanced manufacturing careers. 
###
Domtar's 2017 Sustainability Report details the company's endeavor to take a longer term view of creating and preserving value for our shareholders, customers, employees and communities.  For more inspiring stories about Domtar's sustainability efforts, visit the Domtar Newsroom. To view the full 2017 Sustainability Report click here.