See Why Rachel Elizabeth Petherbridge, Amgen Scholars Alumni, Became Interested in Biology
"As of right now, I aim to graduate college, potentially get a master's degree, and definitely pursue a Ph.D., most likely in biological engineering."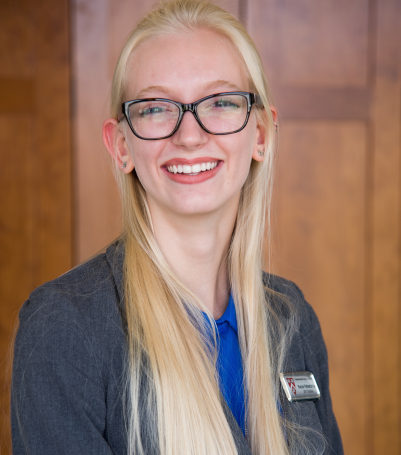 Rachel Elizabeth Petherbridge
Garner, North Carolina
Host University: Harvard University
Home University: Boston University
Amgen Scholar Year: 2017
Major: Biomedical Engineering
Expected Graduation: 2019
Journey to Science
How did you become interested in science?
I became interested in science in 8th grade when I had a really amazing science teacher who forced me to enter the science fair and I actually ended up winning the school science fair and going on to regionals where I won second place. This experience really awakened my love of science. While my project was on astronomy and I am now focused in biological sciences, I have never forgotten that teacher for the initial bout of inspiration. I became interested in molecular biology very easily because I have a genetic disease called oculocutaneous albinism. More exploration into that in my middle school and high school years made me interested in how the body works, how cells work, molecular biology, and eventually biological engineering, which is what I am doing now.
Academic and Professional Ambitions
What's the larger significance of your Amgen Scholars research? What's your ultimate career goal?
I am working on characterizing transposable elements of the human and mouse genomes using CRISPR-related technologies. Transposable elements, also known as "jumping genes," make up 45% of the genome and yet their function in organisms is unknown. These elements transpose or "jump" somewhere else in the genome, most often during development, and sometimes in our germline or somatic cells as we age. Figuring out why our cells allow them to jump so often, especially during development, is important to our understanding of human and mouse biology.
As of right now, I aim to graduate college, potentially get a master's degree, and definitely pursue a Ph.D., most likely in biological engineering. While I love research, I am not sure what I want to do after getting my Ph.D. –  become a postdoc and eventually a principal investigator, go into industry, or work in patent law or public policy. I'm expecting to take opportunities as they appear, and see where it goes!
Why did you apply to the Amgen Scholars Program?
I applied to the Amgen Scholars Program because it looked like an incredible opportunity not just to learn more research techniques, but also to meet and befriend some incredible up and coming scientists.
What aspects of the program did you enjoy most?
While the research was incredible, my favorite part of the Amgen Scholars Program was the people I met. The people I met became "my people"; they are all curious, kind, and very vivacious.  As corny as it sounds, the memories we made are ones I will always cherish.
To learn more about the Amgen Scholars Program, please visit AmgenScholars.com and check out the #AmgenScholars hashtag on Twitter. Follow @AmgenFoundation to stay up to date with all STEM-related news from the Amgen Foundation.