Scotiabank Financial Knowledge: Talking with Kids about Money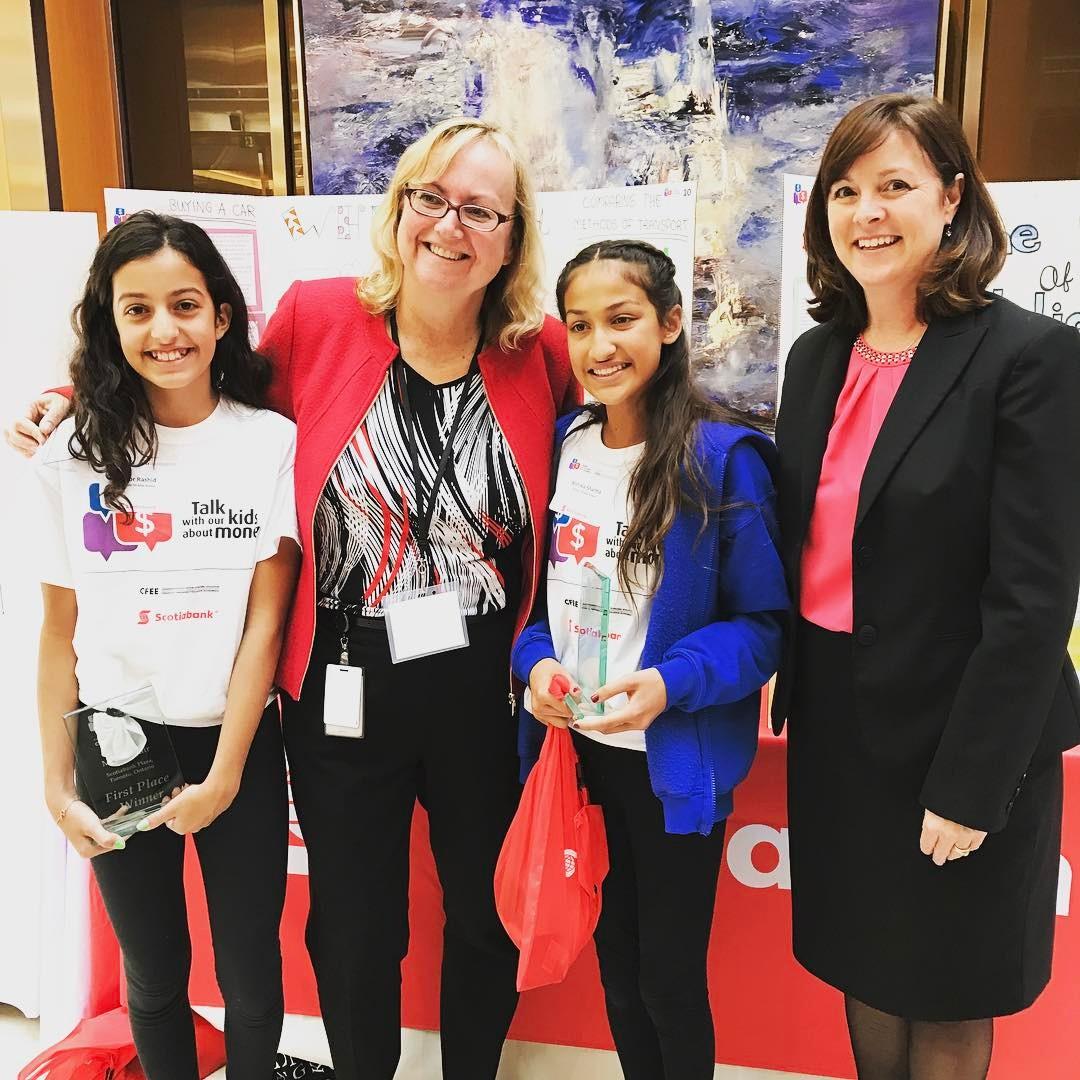 Noor Rashid - Money Fair winner, Terri Williams, Vice President Corporate Social Responsibility, Scotiabank, Annika Sharma - Money Fair winner, and Jane Rooney, Canada's Financial Literacy Leader
Scotiabank's sponsorship of the Canadian Foundation for Economic Education's Talk With Our Kids About Money promotes financial literacy and helped reach over half a million students in 6,000 schools across Canada over the past year.
Financial knowledge is essential to help young people make more informed decisions around money. For Scotiabank, it is important to encourage students to make effective financial decisions and build a 'better future' where customers are empowered with knowledge to be 'better off'.
The following story is part of Scotiabank's Corporate Social Responsibility (CSR) Impact series. The series will highlight various initiatives at the Bank in relation to Scotiabank's CSR priorities and commitments. Read how Scotiabank is addressing the issues that matter most to our stakeholders. 
For elementary school teacher Paul Wisniewski, talking with his students about money is more than part of his math curriculum. It's about setting his students up for a life of success by empowering them with financial knowledge.
Paul, a 7th grade math teacher at St. Gabriel's Catholic Elementary School in Burlington, Ontario, has been teaching kids for 26 years. In his experience, talking about money is a great way to engage students. "Every kid has their favorite subject, but when you talk money, every kid loves it."
Encouraging conversation
Like many other students throughout Canada, this year students in Paul's class participated in the Scotiabank-sponsored program Talk With Our Kids About Money (TWOKAM). Developed by the Canadian Foundation for Economic Education (CFEE), the program seeks to help kids become more knowledgeable about money so they can make better, more informed financial decisions in life with activities and a website that promotes financial knowledge for youth and encourages conversations between parents and children about money. TWOKAM includes an annual Talk with Our Kids About Money Day — in April each year.
Money Fairs
As part of Talk with Our Kids About Money Day, students throughout Canada can participate in Money Fairs in various provinces and locations. Based loosely on the model of a science fair, Money Fairs give students a chance to present findings on financial subjects of their choosing.
Annika Sharma, a seventh grade student at Hilltop Middle School, did a project about the price of transportation in Canada. "Before the money fair, I didn't know how much each car would cost or how much you would need to put into paying interest on a car loan. We took gas prices into account too. Through research, I learned a lot."
Annika determined that transportation often involves a trade-off between cost and convenience. She found that public transit was the least expensive form of transport, but that "it could be hard to use if you had many places to go or lots of things to bring with you." On the other hand, she saw that while cars were much more expensive, many people were willing to pay a premium for them, because of the freedom and convenience they offered.
Learning from each other
In addition to learning about the trade offs associated with transportation, Annika was also able to learn from her classmates' projects: "One of my classmates did a project about keys to money management. It taught me that saving money is really important and not to spend everything that you earn — so I can save up for university as a kid or when I'm older, save up for retirement. And also if something breaks in your house, you'll have the money to quickly get it fixed."
Paul also noticed how his students learned from each other: "Of course, students learned from doing their own research, but they also learned from listening to one another. I'm used to having to lead when I teach, but when we were doing projects for the Money Fair, the students led each other."
Better educated
This year is the first time that Beverly Bolton, an employee who has been with Scotiabank for 38 years, participated in Talk with Our Kids About Money Day. She was impressed by what the program accomplishes: "You can tell that kids come from various backgrounds, and maybe different conversations are going on at home about money and how you spend and how you save. You can see that money really wasn't something they talked about at home or at school. I certainly recognize that it's never too soon to start understanding what money can do for you."
Better off
The partnership between Scotiabank and CFEE on this program sets kids up to become better off — an important step in creating a better financial future for everyone. Says Paul, "The younger we start teaching kids about financial literacy and how to be financially responsible, the better off they will be in the long run."
Beverly agrees, "I think with money regardless of your age, it's never too young to start learning about managing money."
Learn more about Scotiabank's Financial Knowledge CSR Priority