Scotiabank Engages Employees through Experiential Learning for Students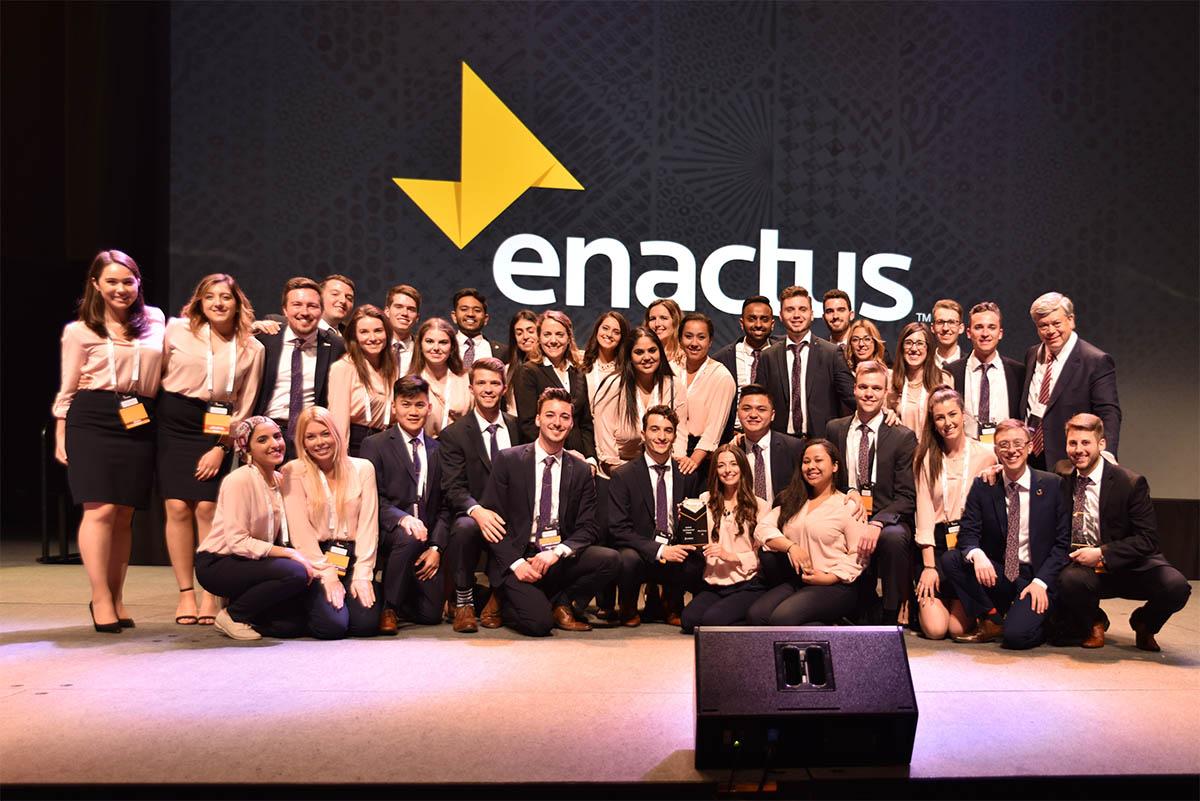 Enactus Windsor students celebrate their win of the Scotiabank Youth Empowerment Challenge in Vancouver.
Scotiabank supports organizations and programs that are committed to helping young people reach their full potential, particularly in the areas of health and well-being and education. The Bank sponsors Enactus Canada's experiential learning platform to develop leadership and entrepreneurial talent. The platform engages university and college students to apply business skills towards addressing social and environmental issues. Since 2016, the Scotiabank Youth Empowerment Challenge has directly impacted more than 31,000 young people, created 665 new businesses, and empowered more than 18,000 young people to receive skill development or workplace training.
The following interview is part of Scotiabank's new Corporate Social Responsibility (CSR) Perspectives series. The series will highlight various initiatives at the Bank through the lens of employees in relation to Scotiabank's CSR priorities and commitments. Read how the work of Scotiabankers is creating meaningful opportunities for the Bank's stakeholders. 
Perspectives
An Inside Perspective with Darren Glazier
Director, Creditor Insurance Distribution, ScotiaLife Financial
Explain how you have helped Scotiabank's commitment to communities?
This year I had the opportunity to sit on a panel of judges for the National Enactus Youth Empowerment Challenge. Teams of university and college students identified a social issue that impacted the opportunities and needs of youth in the community. Then, each group came up with a viable business model to provide a solution to the problem and presented it to us. Every time our panel of Scotiabank judges heard a team presentation and saw the passion and preparation that went into each one, it left us in awe.
                                                   
How did the Enactus Youth Empowerment Challenge relate to Scotiabank's commitment to communities?
There were strong parallels between what the teams at the Enactus Challenge were seeking to do and how the Bank seeks to impact our communities. The innovation brought forth by the groups at the Enactus Challenge sought to improve problems that had a large effect on young people — like youth financial literacy, health issues like clean drinking water, and addiction recovery — and that's a fundamental part of how Scotiabank seeks to improve communities —through our commitment to investing in young people. So it was extremely empowering to see these students thinking about how to address large social issues — using business as a tool to improve communities.
Why do you think that a commitment to communities is important to Scotiabank, customers, and society at large?
It's important that we work to create better communities, because we're part of them. The Bank, our communities, and our customers all depend on each other. Building strong communities provides better opportunities for customers to become better off — and they create a strong customer base and good employees for the Bank.  
What excites you most about the way that Scotiabank is working to invest in the communities in which it operates?
What excites me the most is the way that everyone in the Bank seems to be aligned when it comes to our commitment to communities — from our CEO to our executives to our leadership to our employees in branch. Last year we invested over CAD$70 million and Scotiabankers volunteered over 400,000 hours in support of communities. We take pride in our work in the community, and our track record shows it.
What does Scotiabank's CSR Strategy "Better Future, Better Off" mean to you?
When our communities and customers are given the opportunity to become better off, they can journey toward a better future. When I think about a better future, I think about youth. They are the future. The Bank's commitment to helping communities involves people of all ages — but our youth are an essential part of creating a better future.