Scientific and Technological Breakthroughs are Transforming Global Brands
Mastercard, BanQu, Planet Labs sharing insights at SB'19 Detroit, June 3-6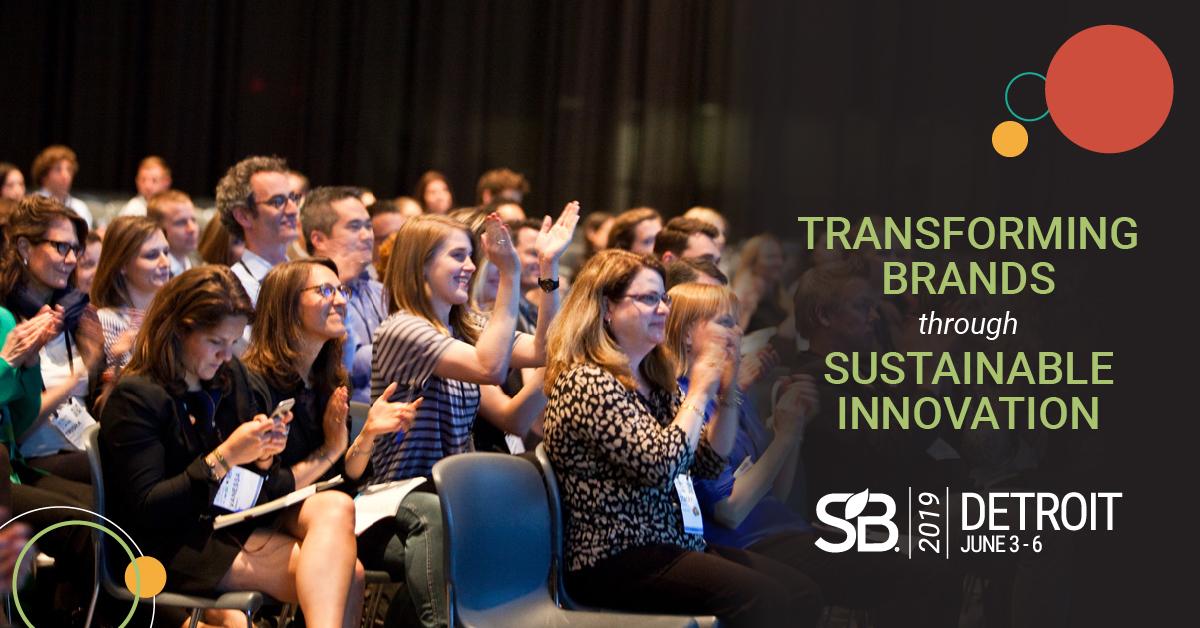 Scientific and Technological Breakthroughs are Transforming Global Brands
SAN FRANCISCO, March 28, 2019 /3BL Media/ – Science and technology are just two of the many driving forces behind the environmental and social innovation needed to protect our planet and improve the lives of individuals. Advances in science and technology are creating opportunities for companies to rethink how they deliver value to their customers in support of new societal aspirations aligned with their views of the Good Life of today. The conference program at SB'19 Detroit will showcase evidence of how these driving forces support brands in their transition to a more sustainable future, allowing them to compete in a changing marketplace.
"Advances in artificial intelligence, blockchain, the use of recycled, organic, and nanotech materials in fashion, home automation, insect proteins, and alternatives to beef are all outcomes of technological advances that are the driving force behind brands that are transforming themselves through sustainable innovation," said KoAnn Skrzyniarz, founder and CEO of Sustainable Brands.  "These cutting-edge technologies are transforming the way that we interact with our planet and the communities in which we live."
Through the art of storytelling, and by sharing insights and community experiences, Sustainable Brands is providing a platform for brands to engage global thought-leaders in their transformation process. The annual Sustainable Brands flagship conference, this year held at the Cobo Center in Detroit, June 3-6, will feature dynamic speakers sharing emerging trends in science and technology that are reshaping the business landscape.  
William McDonough, Chief Executive, McDonough Innovation will speak on a bold new vision for the collection, processing, circularity and productivity of plastic waste.
Ashish Gadnis, Co-Founder & CEO, BanQu, Inc. will speak on applying blockchain to create economic identities for people in extreme poverty and other underserved communities.
Kristina Kloberdanz, CSO, Mastercard will speak on new technologies and partnerships empowering consumers to lead more sustainable lifestyles.
Matt Bondlow, Director of Integrated Media, Scientific American will lead a workshop panel on commitments and initiatives for tackling plastic pollution. He's speaking with leaders from an impressive range of brands -- Dell, Nestlé Waters, HP Inc., Herman Miller and UNIFI.
Tara O'Shea, Director, Forests & Land Use, Planet Labs will speak on the future of satellite-enabled supply chain transparency and forest carbon accounting.
Matthew Davie, Managing Director, Financial Inclusion, Kiva will speak on giving unbanked people digital identity and control over their own credit information.
Anthony Hatinger, Co-Founder, Detroit Ento will speak on growing sustainable cricket protein with locally-reared urban insects.
Christian Shearer, COO, Regen Network will speak on a new system for monitoring regenerative land management practices.
Renee Henze, Global Marketing Director, DuPont will speak on new biomaterials and bioplastics, and market expectations for the foreseeable future.
Heidi Dangelmaier, Founder, Girlapproved will speak on harnessing AI and female intuition to power a lost vector of innovation and impact.
Andrew Savage, VP, Head of Sustainability, Lime will speak on the future of sustainable mobility, electric scooters and covering the last mile.
Several companies featured in the Innovation Expo will be sharing innovative technology solutions and ideas around AI, plastics, circularity, materials and packaging including SAP, Braskem, Trek, UNIFI, Keurig Dr Pepper, BASF, Public Good and others.
"Sustainable Brands delivers insights through thought-leadership and engaging events," said Skrzyniarz.  "At SB'19 Detroit, we will advance the discussion on how new scientific and technological breakthroughs are redefining global brands and improving our quality of life."
Sustainable Brands is proud to recognize the many sponsors already committed to showcasing their brand leadership in Detroit, including Presenting Sponsor BASF and Lead Sponsor National Geographic. Additional sponsors include Procter & Gamble, Vinyl Sustainability Council, Caesars Entertainment, Cone Communications a Porter Novelli Company, Braskem, Cox Automotive, Danone, Detroit Convention Bureau, DTE Energy, EY, Kellogg Company, Nestlé, Salterbaxter MSL, UNIFI, The Dow Chemical Company, Alaska Airlines, Keurig Dr Pepper and others. Newsy is Premier Media Partner and Arizona State University is Premier Affiliate Partner. Additional media and affiliate partners include: 3BL Media, Scientific American, Guardian, Wharton IGEL, The Sustainability Consortium and others.
For further information on the conference program, a growing list of confirmed speakers and sponsors or available sponsorship opportunities, please visit the conference website at SB19Detroit.com or call (415) 626-2212. Registration is now open and global business leaders with innovative solutions are encouraged to participate.
ADDITIONAL DETAILS:
| | |
| --- | --- |
| Who: | 3,000 global professionals in sustainability, business & brand strategy, product design & innovation, CMOs, and marketing leaders driving business innovation towards a sustainable future. |
| What: | SB'19 Detroit: Sustainable Brands global flagship event |
| When: | June 3-6, 2019 |
| Where: | Cobo Center, Detroit MI |
| url: | |
About Sustainable Brands. Sustainable Brands® is the premier global community of brand innovators who are shaping the future of commerce worldwide. Since 2006, our mission has been to inspire, engage and equip today's business and brand innovators to prosper for the near and long term by leading the way to a better future. Digitally published news articles and issues-focused conversation topics, internationally-known conferences and regional events, a robust e-learning library, and peer-to-peer membership groups all facilitate community engagement throughout the year. For more information visit www.SustainableBrands.com.