SCC Honors Republic Services
By Charles Warner, The Union Times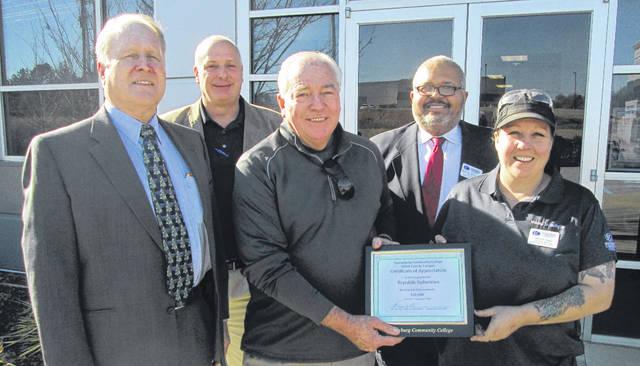 Photo Credit: Charles Warner,The Union Times| Republic Services, LLC Division Manager Tony Davies (center) is presented with a certificate of recognition for Republic in honor of its support of the Spartanburg Community College Union County campus. Over the past two years Republic has provided a total of $40,000 in financial support for the campus through an agreement it has with Union County. The most recent allocation has been used by SCC to add an extension onto the Welding Department of the Union County campus to accommodate the growth of the program and to increase safety. Taking part in the presentation Thursday were SCC President Henry C. Giles Jr. (left), Union County Supervisor Frank Hart (second from left), SCC Union County Campus campus Site Coordinator Isaac McKissick (second from right), and Welding Instructor Cammie Hurst (right).
Originally posted on The Union Times
UNION COUNTY — An agreement between Union County and the company that operates its landfill is not only benefiting the county and the company but is also helping facilitate the growth of the Spartanburg Community College Union County campus which further benefit the county and the company.
In 2016, Union County entered into a new host agreement with Republic Services LLC covering the regional landfill the company operates in the Cross Keys area of the county.