Sanofi Pasteur and VaxServe's Lackawanna County Community Fundraiser Marks 10 Years and Surpasses $1 Million Raised for Local Children and Families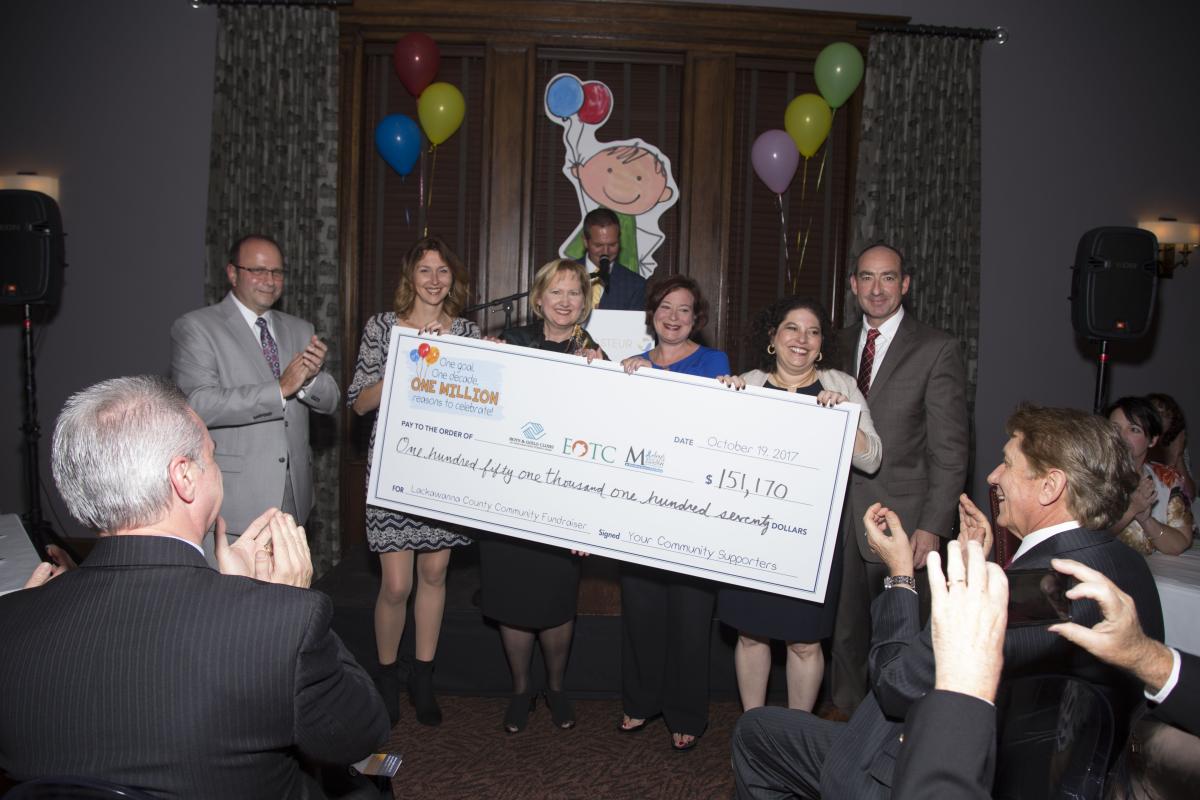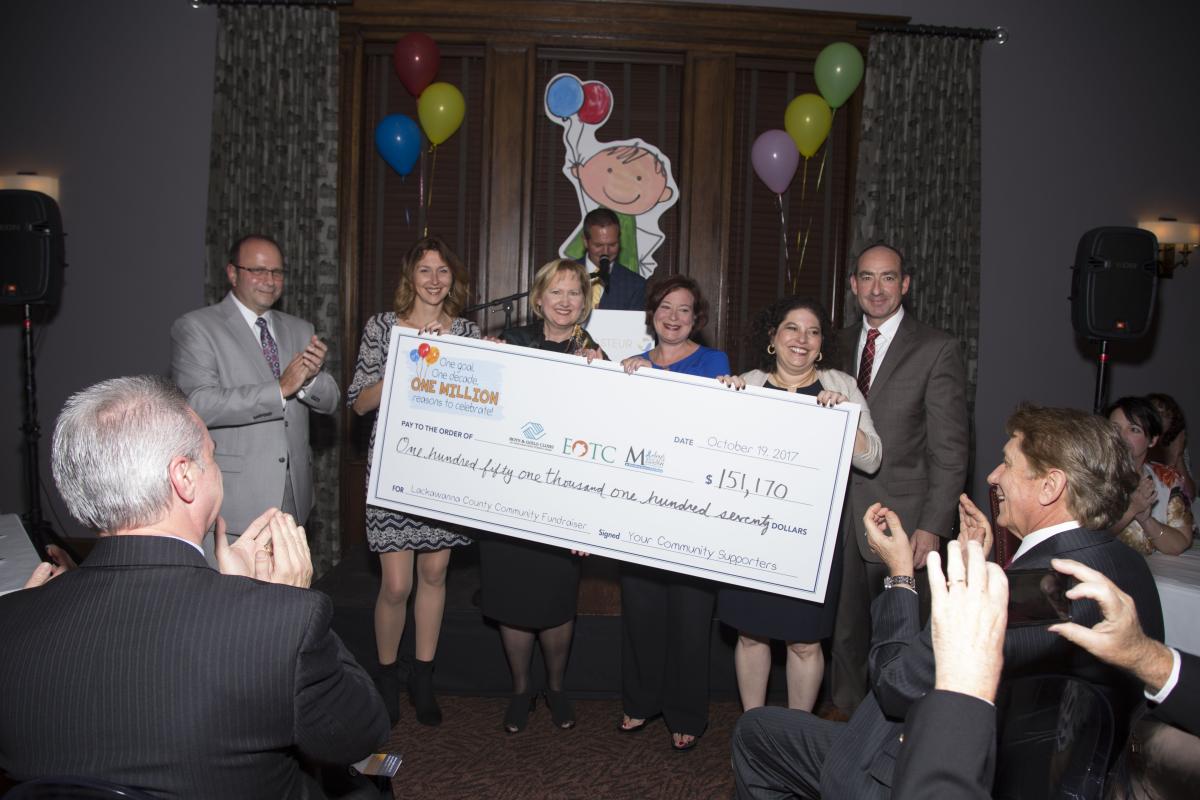 SCRANTON, Pa., October 19, 2017 /3BL Media/ - Tonight, hundreds of community supporters gathered to celebrate a 10-year commitment to helping local Northeast Pennsylvania children and families in need. The Lackawanna County Community Fundraiser is hosted by Sanofi Pasteur, the vaccines division of Sanofi, and VaxServe, a wholly owned subsidiary of Sanofi Pasteur.
The "One goal. One decade. One MILLION reasons to celebrate!" 10th annual event raised critical funds for programs implemented by the Boys & Girls Clubs of Northeast Pennsylvania, the Employment Opportunity Training Center of Northeastern Pennsylvania (EOTC), and Marley's Mission, all located in Lackawanna County. Since 2008, the event has cumulatively raised $1,022,170.
Once again, Sanofi Pasteur and VaxServe covered all event expenses. As a result, 100 percent of ticket sales and sponsorships directly benefitted the three non-profit organizations.
The fundraising total was announced and distributed by company executives Frank Epifano, vice president, North America and Global Finance Commercial Operations, Sanofi Pasteur; Al Thomas, general manager, VaxServe; along with Ellyn Schindler, director, Corporate Social Responsibility and Community Engagement, Sanofi Pasteur, and Josh Hodell, chief meteorologist, Eyewitness News WBRE-TV/WYOU-TV. Sanofi Pasteur has U.S. headquarters in Swiftwater, Pa. (Monroe County), and VaxServe offices are located in Moosic, Pa. (Lackawanna County).  
"Sanofi Pasteur and VaxServe are honored to partner in this especially celebratory 10th year of the Lackawanna County Community Fundraiser, and continue our commitment to these critical organizations," said VaxServe's Thomas.
As part of its celebratory activities, this year's event featured a children's art gallery, which depicted artwork from children serviced by the three non-profit recipients. The art gallery submissions, which can also be viewed online at https://www.oneinamilliontome.org, highlights how each recipient organization is "one in a million" to those they serve.
A fun, yet intimate atmosphere prevailed at POSH as guests were treated to the sounds of the Jim Roberti Trio and enjoyed a variety of delectable food and desserts – all while learning about the life-changing community work being conducted.
"With financial assistance from Sanofi Pasteur, VaxServe, and the community throughout the past 10 years, EOTC continues to provide its Toddler Play and Learn Group. This group, which targets parents who have communicated or demonstrated the need for additional support, teaches critical child-rearing and socialization skills," reported Linda Ciampi, EOTC executive director. "This critical program would not exist without the financial support of the Community Fundraiser."
"This event's support helps allow our organization to continue to serve hundreds of local, at-risk youth on a daily basis," said Tricia Thomas, executive director, Boys & Girls Clubs of Northeastern Pennsylvania. "Our members receive a consistent and reliable place to go after school where they receive help with homework, a nutritionally balanced meal, and a variety of activities and programs." 
"Marley's Mission provides free equine-assisted psychotherapy to children across 14 NEPA counties who have experienced trauma," said April Kemp, founder/program director, Marley's Mission. "Thanks to the Community Fundraiser, we are able to continue our mission to heal one child at a time."
The event's 10th Anniversary Partner ($10,000) was Meshoppen Stone, Inc. The Gold Partner ($6,500) was Relevant Solutions. Silver Partners ($4,500) included CC Young Insurance Agency, Inc., ComServe Systems, LLC, Mary B. Rhodes, Meshoppen Wood Products, POSH at the Scranton Club, and Shalata's Land Clearing. Bronze Partners ($2,500) included A. Rifkin Co., Bayada Home Health Care, Embrovac, Geisinger, LR Costanzo Construction Services Company, Inc., Maple Lawn Associates, Inc., Market Share Development, New York Yankees, PEGA. Build for Change, Posture Interactive, Santarelli and Sons Oil, and Vector Security, Inc. In-kind media sponsors included: Eyewitness News/WBRE/WYOU, King Outdoor, Lamar Outdoor Advertising, and Times Leader.
About Sanofi
Sanofi is dedicated to supporting people through their health challenges. We are a global biopharmaceutical company focused on human health. We prevent illness with vaccines, provide innovative treatments to fight pain and ease suffering. We stand by the few who suffer from rare diseases and the millions with long-term chronic conditions.
With more than 100,000 people in 100 countries, Sanofi is transforming scientific innovation into healthcare solutions around the globe.
Sanofi, Empowering Life
Sanofi Pasteur, the vaccines division of Sanofi, provides more than 1 billion doses of vaccine each year, making it possible to immunize more than 500 million people across the globe. A world leader in the vaccine industry, Sanofi Pasteur produces a portfolio of high quality vaccines that matches its areas of expertise and meets public-health demand. The company's heritage, to create vaccines that protect life, dates back more than a century. Sanofi Pasteur is the largest company entirely dedicated to vaccines. Every day, the company invests more than EUR 1 million in research and development. For more information, please visit: www.sanofipasteur.com or www.sanofipasteur.us
About VaxServe
VaxServe, a Sanofi Pasteur company, is a national healthcare supplier and solutions provider serving primary care physician offices, community immunization providers, immunizing pharmacies, travel clinics and corporations. Since 2000, VaxServe has offered customers professional service while providing a reliable supply of vaccines, injectable and medical/surgical product at competitive prices. For more information, please visit www.vaxserve.com.
Contact:
Ellyn Schindler                                                                                   
Director, North America Corporate Social Responsibility and Community Engagement
Sanofi Pasteur                                                                                     
570-957-2689                                                                            
ellyn.schindler@sanofi.com