Regenerative Retrofit: California's First Living Building.
New book from industry leader in green building performance explores building reuse, water and energy independence, biophilic design, and a carbon-free future.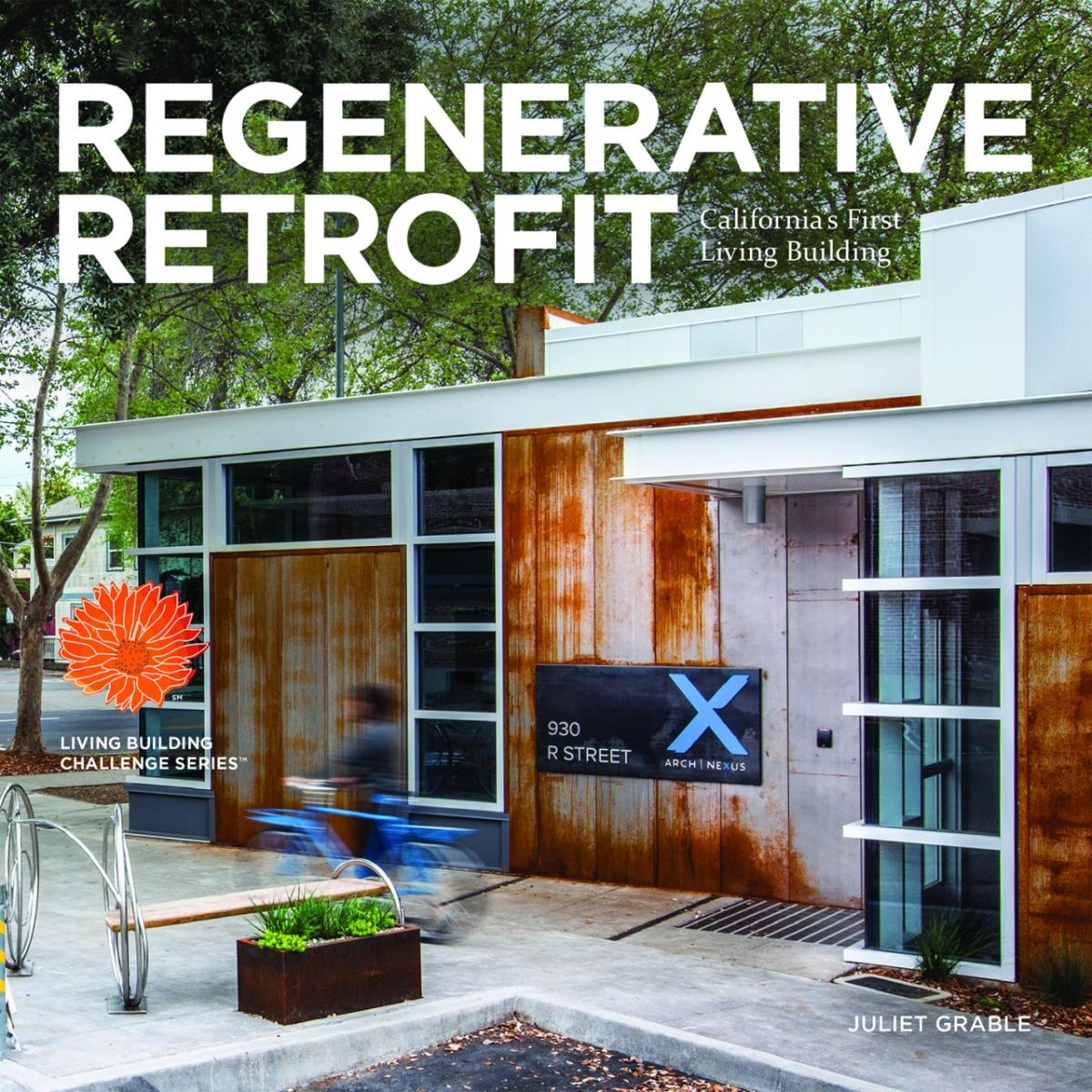 Regenerative Retrofit: California's First Living Building
SEATTLE, Wash., September 23, 2020 /3BL Media/ - Ecotone Publishing, the industry's original green architecture and design publisher, today announced the release of the seventh book in the Living Building Challenge Series titled Regenerative Retrofit: California's First Living Building, researched and written by Juliet Grable.
Regenerative Retrofit details the journey of the renowned architecture firm, Architectural Nexus, and its experiences designing, constructing, owning, and operating California's very first Certified Living Building. The Arch Nexus Sacramento (SAC) building, a 1950s-era warehouse located in Sacramento's bustling R Street Corridor, produces more energy than it consumes, is capable of running solely on captured rainwater, and exemplifies resilient design that connects people to nature and the human community.
Following the success of Arch Nexus SAC, Arch Nexus is also announcing plans to transform its corporate headquarters in Salt Lake City to Utah's first commercial Living Certified Building. The new project builds upon the firm's achievement of creating the first Living Certified Building in California, detailed in Regenerative Retrofit. 
Speaking about the new project, Kenner B. Kingston, Arch Nexus President, said, "When we embarked on the Arch Nexus SAC project, one of our many goals was to harvest regenerative design philosophy and knowledge from California and bring it to the Intermountain West." He continued, "We have been able to do that by working with Community Rebuilds, an outstanding affordable housing group in Moab, Utah, to build four incredible homes that are now in the performance period for Living Building Certification. 
"Today we are pleased to announce that we are ready to realize our goal in the commercial realm–Arch Nexus SLC, our 30,000 square foot headquarters in Salt Lake City, Utah is pursuing Living Building Challenge 4.0 certification! With bidding complete and permitting in progress, please wish us luck as we take this meaningful journey for a second time," Kingston finished.
Chronicling the Arch Nexus SAC office project, Regenerative Retrofit follows a design process rooted in biophilic relationships to place and the collaboration among a stellar team of architects, engineers, builders, and artists who together created a remarkably resilient, low-carbon solution to today's critical climate challenges. It also highlights the key role of "high-performance occupants" who, as stewards of one of the greenest buildings in the world, can make a significant impact to optimize building performance. 
Beautifully illustrated and enlivened with the many voices of those who contributed to the project, Regenerative Retrofit provides inspiration for teams embarking on their Living Building projects, as well as a roadmap for how to preserve and regenerate our legacy buildings for future generations. 
Regenerative Retrofit: California's First Living Building (ISBN 978-0-9972368-9-7) is available online and can be ordered through architecture and building bookstores throughout North America. For more information or to order the book, please visit https://store.living-future.org
About the Author
Juliet Grable is a freelance writer whose work covers a range of topics related to sustainability, regenerative design and construction. She has served as the Managing Editor for Green Builder Magazine, and has contributed to many national and regional publications including Earth Island Journal, Sierra, Audubon, and Home Power.
About Arch Nexus
Architectural Nexus is a multi-disciplinary, people-driven design firm practicing throughout the western United States. By focusing on people rather than buildings, we design projects and create places that not only work well, but also help people be healthy, happy, and productive. Through purposeful design, people are inspired to achieve greatness and be more active stewards of the built and natural environments.
About Ecotone Publishing
Ecotone Publishing is the non-profit publishing arm of the International Living Future Institute (ILFI) and a key component of ILFI's strategy for sharing expert information about green building technologies and design innovations to create a Living Future. As a publisher, Ecotone produces educational case studies, technical knowledge on renewable energy and regenerative and biophilic design, and is the leading source of published information about Living Buildings worldwide. Ecotone also offers professional publishing services to help design firms and organizations document and share their stories, lessons learned, and design solutions with others who are also seeking to address the climate crisis and have a positive impact on their communities.
About the International Living Future Institute
The International Living Future Institute is an environmental NGO committed to catalyzing the transformation toward communities that are socially just, culturally rich, and ecologically restorative. The Institute is premised on the belief that providing a compelling vision for the future is a fundamental requirement for reconciling humanity's relationship with the natural world. The Institute operates the Living Building Challenge, the world's most ambitious, advanced, and holistic performance standard for buildings. It is a hub for many other visionary programs that support the transformation toward a living future. Learn more at www.living-future.org.
Title:         Regenerative Retrofit: California's First Living Building
Release:     September 23, 2020
Series:     Living Building Challenge Series (LBCS) 7th book.
Author:     Juliet Grable
Foreword:     Kathleen Smith
Publisher:     Ecotone Publishing (Imprint of the International Living Future Institute)
ISBN:         978-0-9972368-9-7
List:         $36.95
Pages:     176
Specs:     Softcover, Full Color, Perfect bound, 9"x 9"
Full Electronic Press Kit here with complete PDF of the book, photos and videos.