Reflection, Celebration, and Inclusion: What Juneteenth Means at Booz Allen
Reflection, Celebration, and Inclusion: What Juneteenth Means at Booz Allen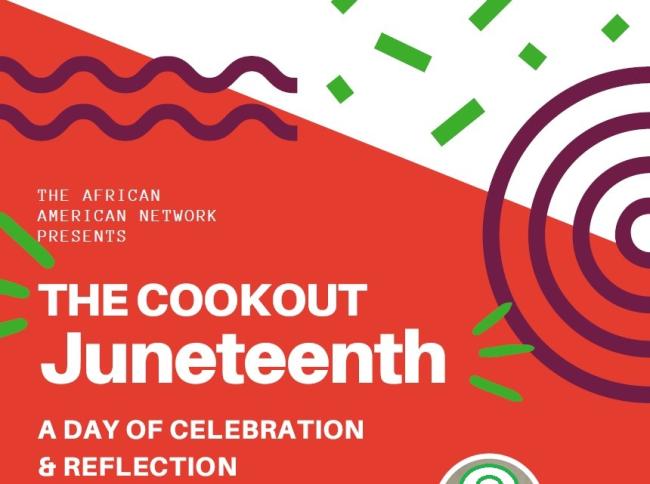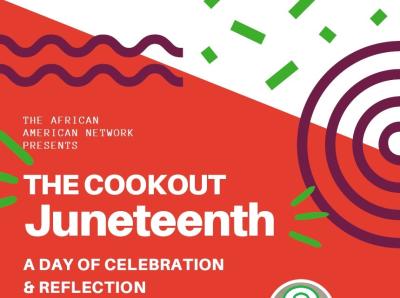 Monday, June 21, 2021 - 8:30am
As the United States officially passed a bill establishing Juneteenth as a federal holiday last week, Booz Allen was busy commemorating and celebrating the day of freedom as a firm. Two events, organized by the firm's African American Network (AAN), brought together employees from across the country to connect, celebrate and reflect. Highlights follow. 
Cooking, sharing, and coming together
Both Booz Allen Juneteenth events were rooted in food and bringing people together around a meal. Earlier in the week, employees joined Chef Sicily Johnson, virtual, cooking demonstration delving into the history of food in the Black community.
On Friday, attendees came together for a large-scale virtual cookout, including Booz Allen President and CEO Horacio Rozanski and Dr. Patricia Reid-Merritt, professor of Africana Studies and Social Work at Stockton University, to learn about, celebrate, and reflect on the holiday and its meaning.
Friday's gathering was "an event that's true to the holiday," said Booz Allen senior associate Ebony Thomas, Chair of Booz Allen's AAN.
"Food and culture are very intertwined in the Black community," said Lead Technologist BeBe Ragsdale, AAN communications co-chair. Associate Marissa Ceaser, AAN chair of special events, noted that "cookouts typically have different generations in attendance. It's a time to reflect on the past and look to the future."
Dr. Charles Johnson-Bey, a senior vice president and a leader in the firm's defense business, spoke at Booz Allen's Juneteenth cookout event and made such a reflection of his own.
"In 2021, as Juneteenth becomes the 12th federal holiday in the United States, I reflect on and celebrate my family members who had been enslaved in Buckingham County, Virginia. It is because of their grit, fortitude, and perseverance that my family thrives today."
Part of a larger commitment
This is the second year that Booz Allen has celebrated Juneteenth as a firm-wide holiday—though employees have long honored the day in their own way. In 2020, the firm established Juneteenth as an optional wellness day for employees to take off, and hosted dialogue sessions and fireside chats—along with fun-focused events—to honor the day—which meant a lot to Thomas. "I knew I was working for a firm that's going to be vocal, outward, and sincere about diversity and recognition," she said. "It feels genuine. It makes us feel seen."
Senior technologist Crystal Simmons talked about the importance of Juneteenth from her perspective as AAN chair of recruiting and retention. "We want to make sure we're creating a safe space for people of color, and Juneteenth is an extension of that."
Recognizing Juneteenth and creating deliberate space for its celebration is central to Booz Allen's overall commitment to diversity, equity, and inclusion, including a multi-pillar agenda to advancing race and social equity.
"Juneteenth is not just holding an event. It ties to our business. It's becoming part of our culture," said, Booz Allen Vice President and AAN Executive Sponsor Patricia Porter. 
Keeping the momentum going
Simmons noted that Juneteenth at Booz Allen has been "a proven example of inclusion and progress in real time."
"People are looking to learn more," Thomas said, citing a flurry of emails leading up to the 2021 event. "This event serves as a platform for us to bring others into the conversation, answer their questions, and be a resource to our colleagues and allies across the firm."
AAN even created a comprehensive resource guide for those looking to learn more about African American culture, its history, and its challenges. It includes:
A compendium of news articles and essays
Books and audio books for adults and children
Movie and TV show recommendations
People to follow on Facebook, Instagram, and Twitter
Community organizations for information, volunteer opportunities, and donations
Through such conversations and resources, "we're making the discussion and work a habit, a ritual, and a necessity across the firm," Ragsdale said.
"For me, Juneteenth is about action," Ceaser said, "putting action behind everyone's words and keeping the momentum going."
Other Booz Allen employees shared what the holiday means to them:
"Juneteenth is a pivotal time for all Americans to reflect on the importance of having a free society, where all people, including African Americans, are able to exercise the freedoms expected of citizens of the United States," said Stephanie Moore, senior lead engineer.
Jazminia Griffith, lead technologist, shared, "Juneteenth is the true celebration of independence and freedom for me. It's bittersweet to recognize that America celebrated its independence for 89 years before ALL people on this land were considered free; however, it is a privilege to hold space to honor the resilience, beauty, and strength of my ancestors."
"For me, Juneteenth is a symbol of the nation's complicated history and speaks to the delayed justices we still witness today," said Nyshia Taylor, senior consultant. "Yet, it also underscores my ancestors' unequivocal aptitude to rise above unimaginable circumstances."
"Juneteenth is American History. It is both a painful reminder and a celebration for how far we've come and it will live on through generations even if absent from our history books," shared Kristin Jarrett, lead associate.
Learn more about diversity, equity, and inclusion at Booz Allen and check out Booz Allen's Unstoppable Together podcast episode, The Ongoing Fight for Equality: A Discussion of Juneteenth.