Red Lake Partners to Achieve Research and Development Results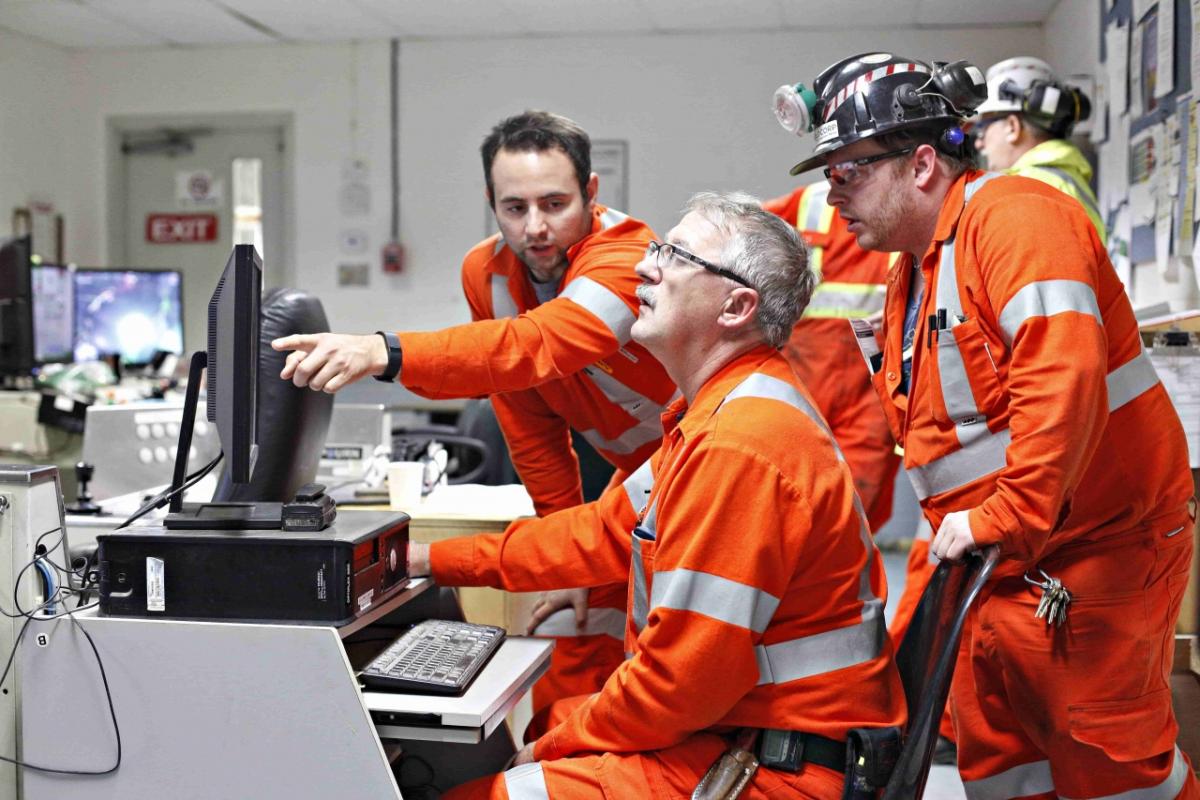 Goldcorp is embracing innovation to make our operations safer, more productive and to help reduce our impact on the environment. We partner with like-minded suppliers and organizations to find innovative solutions to some of the challenges our industry faces.
One such collaboration between Goldcorp's Red Lake Gold Mines (RLGM) and the Natural Sciences and Engineering Research Council of Canada (NSERC) is producing promising results.  NSERC are engaged with universities and the mining industry in many projects to better understand equipment safety and maintenance, especially with new intelligent predictive maintenance strategies, as well as dealing with environmental concerns to improve the extraction process of metals.
An area of interest is the development of new technologies and maintenance tools to properly detect failing equipment. Mining equipment represents huge capital costs and failures can cause operational delays, lost production and reduce efficiencies.  Additionally, maintenance can consume up to 15% of an equipment's total operating time.
One RLGM and NSERC project, an intelligent system for fault diagnostics in mining equipment, is led by Professor Wilson Wang from the Department of Mechanical Engineering at Lakehead University in Thunder Bay, Ontario. It aims to recognize machinery defects at the earliest stage to prevent further degradation or malfunction, and to reduce maintenance costs associated with the unnecessary downtime for traditional or routine preventive maintenance. Costs can be further reduced by quickly identifying the damaged component without examining the vast number of machinery parts involved. RLGM's excellent maintenance department offers the project support, performing routine condition monitoring, maintenance and repair operations of different types of mining equipment, and in-kind contributions consisting of technical guidance on the overall project direction along with participation in the research and technology development.
Another NSERC project entitled "Mine Safety System Using Wireless Sensor Networks", is led by Professor Salama Ikki, also from Lakehead University. One aim of this project will be to cultivate highly specialized expertise to develop wireless systems, and build local competence with well-trained graduates who are proficient in the advanced and complex fields that are emerging in mining.
An additional area of NSERC's research and development is with Professor Pedram Fatehi at Lakehead University's Chemical department, regarding dispersants to treat waste effluents and improve the thickening performance of mineral processes. Lignin-based chemicals are potentially less expensive and more efficient than oil-based chemicals. Tall oil lignin-based flocculants can be heavily used in thickeners for improving the settling ability of solid particles in gold extraction process and in treating tailing pond effluents. The use of lignin-based flocculants can potentially reduce operational costs and the environmental footprint of our industry.
RLGM and NSERC are also working on "Development of nanocomposite adsorbents for arsenic removal" with Professor Zhibin Ye at Concordia University in Montreal.  This research could be very beneficial in the removal and disposal of arsenic from gold mine effluent streams at our sites. The work will involve development of metal oxide nanocomposite adsorbent technology that has shown favourable results for arsenic adsorption.  This may translate into a cost-effective and efficient solution for arsenic removal at mining sites. It will also entail reusing water from tailings facilities, reducing the use of fresh water and bring Goldcorp closer to its goal of H2Zero.
Also in development is an electrolytic cell for cyanide destruction. The research is conducted with Professor Eduard Guerra, Bharti School of Engineering, and Professor Jeffrey L. Shepherd, Chemistry and Biochemistry Department, Laurentian University, Sudbury on "Development of an Electrolytic Cell for Cyanide Destruction". Currently RLGM is using the INCO Process which is expensive as it requires a detoxification agent – specifically So2. The new proposed method is the electrochemical route to destroy cyanide complexes using a cell that is similar to those used in zinc electrowinning.
Goldcorp and RLGM are enthusiastic about the potential benefits of these research and development projects and will look for further opportunities for collaboration with Canadian universities to find new and innovative solutions to challenges in our industry.