Ramping Up RNG Potential in the Pacific Northwest
Enbridge, Divert break ground in Washington State to convert wasted food into renewable natural gas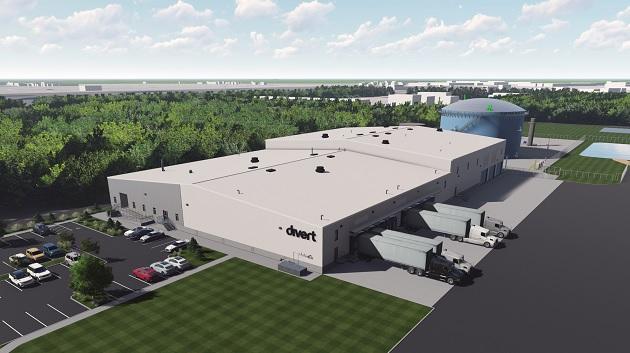 Artist's rendition of the Divert facility in Longview, WA, expected to enter service by the end of 2024, which will convert 100,000 tons of wasted food through the use of digesters into carbon-negative renewable natural gas.
At Enbridge, the energy transition is happening now.
On this day, now means 11 a.m. PT, in the city of Longview, Washington, confluence of the Cowlitz and Columbia Rivers and home to forests, mountains, industry and small businesses, baseball's Cowlitz Black Bears and the Nutty Narrows Bridge, an 18-metre (60-foot) suspension bridge that protects our bushy-tailed friends from road traffic.
And soon to be home to Washington State's first-of-its-kind Integrated Diversion and Energy Facility, where 100,000 tons of wasted food will annually be converted by digesters into carbon-negative renewable natural gas (RNG).
Upon the anticipated closing of the financing transaction, Enbridge and Divert, Inc. will be proponents of the US$100-million, 66,000-square-foot plant. The parties officially broke ground on the project this morning alongside state and municipal dignitaries.
The proposed development stems from an alliance formed in March, when Enbridge acquired a 10% stake in Concord, MA-based Divert and the two announced a $1-billion infrastructure development agreement aimed at growing supply of RNG, lowering GHG emissions and helping solve the alarming, global issue of how society manages wasted food. The Longview facility is the first endeavor to emerge from this infrastructure development agreement.
The plant, expected to be fully operational by the end of 2024, will employ up to 40 people, including plant managers, technicians and drivers. Customers will include food retailers, as well as industrial partners and manufacturers, among others.
Importantly, the operation will be able to offset up to 23,000 metric tons of CO2 a year at full processing capacity, the equivalent to removing 5,000 gas-powered cars from the road annually.
Washington State generates more than 2.7 million tons of wasted food annually, of which approximately one million ton goes to landfill (with 47% of that still edible food). In Oregon, 1.11 million tons of wasted food were generated in 2021, with nearly 30% going to landfill. As wasted food decomposes, it creates methane. In the larger picture, estimates identify wasted food as creating about 10% of greenhouse gas emissions globally.
The Longview facility will help commercial waste generators in the U.S. Pacific Northwest comply with Washington's HB 1799 legislation and Organics Management Law, as well as Oregon Metro's Food Scraps Policy.
"We're excited to see Longview start construction," says Caitlin Tessin, Vice President of Strategy and Market Innovation at Enbridge. "Since Divert and Enbridge announced our infrastructure agreement for up to $1 billion earlier this year, Divert has continued to lead the industry in solutions to mitigate wasted food and greenhouse gas emissions across the U.S. and is lined up to play an important role in Enbridge's energy transition strategy."
Notes Ryan Begin, Divert's CEO and co-founder: "Divert is at the forefront of the fight against wasted food, driving significant progress across the U.S., and now a first for the state of Washington.
Adds Begin: "Leveraging 16 years of leadership and knowledge in the industry, our company is eager to support businesses across Washington and Oregon in preventing waste and complying with food waste legislation. This is an important moment for Divert and the Pacific Northwest in driving transformative change for the industry and solidifying our commitment to a waste-free world."
Renewable energy, including RNG, is an important and growing business for Enbridge, which has been investing in renewables and lower-carbon infrastructure for more than 20 years.
We've invested more than $6 billion in renewable technologies since 2002 and have committed billions more in renewables and low-carbon solutions through 2025. Our portfolio of renewable energy assets—including wind, solar, RNG, hydrogen and carbon capture—helps to avoid more than 2 million tons of CO2 emissions annually.
Enbridge's gas utility, Enbridge Gas, is actively involved in seven Canadian RNG projects operating or under construction, with an additional 50+ projects in various stages of development.