Qurate Retail Group Earns Perfect Score in LGBTQ+ Workplace Equality Index
Qurate Retail Group Earns Perfect Score in LGBTQ+ Workplace Equality Index
The retail leader again earns 100 on the Human Rights Campaign Foundation's annual assessment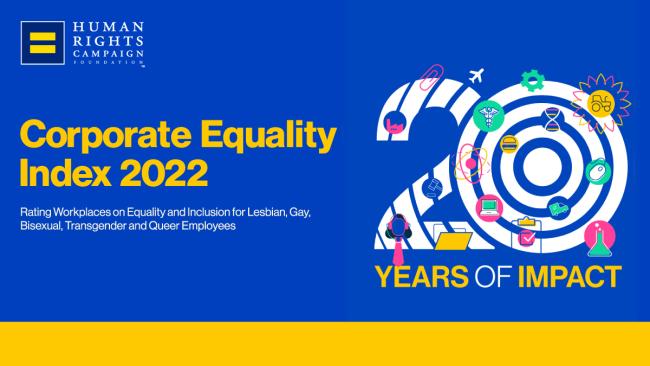 Thursday, January 27, 2022 - 9:05am
WEST CHESTER, Pa., January 27, 2021 /3BL Media/ - Qurate Retail GroupSM, which includes retail brands QVC®, HSN®, Zulily®, Ballard Designs®, Frontgate®, Garnet Hill®, and Grandin Road®, has received a score of 100 on the Human Rights Campaign Foundation's 2022 Corporate Equality Index, the nation's foremost benchmarking survey and report measuring corporate policies and practices related to LGBTQ+ workplace equality. This perfect score earns Qurate Retail Group the designation as one of the "Best Places to Work for LGBTQ+ Equality."
"At Qurate Retail Group we champion empowerment and belonging for all by celebrating people of all identities, both within our own organization and in all the communities we touch," said David Gerbitz, Chief People Officer, Qurate Retail Group. "This reflects our team's commitment to our corporate Principles, which include Drive Progress, Act With Empathy, Be Brave, Embrace the Future, and Do What's Right. We are proud to be recognized by the Human Rights Campaign Foundation yet again for our support of the LGBTQ+ community and diversity, equity and inclusion."
The Corporate Equality Index (CEI) rates companies on four central pillars:
Non-discrimination policies across business entities,
Equitable benefits for LGBTQ+ workers and their families,
Efforts to support an inclusive culture, and
Corporate social responsibility.
"When the Human Rights Campaign Foundation created the Corporate Equality Index 20 years ago, we dreamed that LGBTQ+ workers—from the factory floor to corporate headquarters, in big cities and small towns—could have access to the policies and benefits needed to thrive and live life authentically," said Jay Brown, Human Rights Campaign Senior Vice President of Programs, Research and Training. "We are proud that the Corporate Equality Index paved the way to that reality for countless LGBTQ+ workers in America and abroad. But there is still more to do, which is why we are raising the bar yet again to create more equitable workplaces and a better tomorrow for LGBTQ+ workers everywhere. Congratulations to Qurate Retail Group for achieving the title of 'best places to work for LGBTQ+ equality' and working to advance inclusion in the workplace."
Companies rated in the CEI include Fortune magazine's 500 largest publicly traded businesses, American Lawyer magazine's top 200 revenue-grossing law firms (AmLaw 200), and hundreds of publicly and privately held mid- to large-sized businesses.
The full report is available online at www.hrc.org/cei.
About Qurate Retail Group
Qurate Retail GroupSM comprises seven leading retail brands – QVC®, HSN®, Zulily®, Ballard Designs®, Frontgate®, Garnet Hill® and Grandin Road® – all dedicated to providing a more human way to shop. Qurate Retail Group is the largest player in video commerce ("vCommerce"), which includes video-driven shopping across linear TV, ecommerce sites, digital streaming and social platforms. The retailer reaches more than 200 million homes worldwide via 14 television networks and reaches millions more via multiple streaming services, social pages, mobile apps, websites, print catalogs and in-store destinations. Qurate Retail Group combines shopping and entertainment to curate products, experiences, conversations and communities for millions of highly discerning shoppers. Headquartered in West Chester, Pa., Qurate Retail Group has 26,400 team members in the U.S., the U.K., Germany, Japan, Italy, Poland and China. For more information, visit www.qurateretailgroup.com, follow @QurateRetailGrp on Facebook, Instagram or Twitter, or follow Qurate Retail Group on YouTube or LinkedIn.
Qurate Retail, Inc. (NASDAQ: QRTEA, QRTEB, QRTEP) includes the Qurate Retail Group portfolio of brands as well as other minority interests and green energy investments.
###