Quest Diagnostics' Initiatives for Returning to the "Business of Play"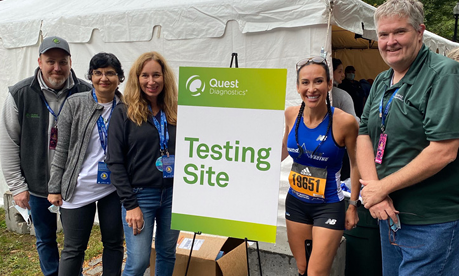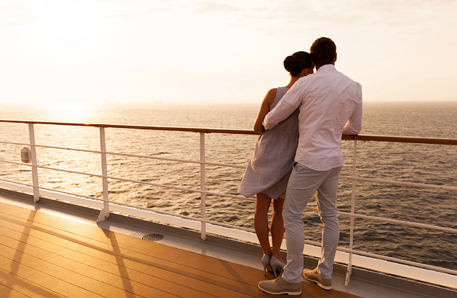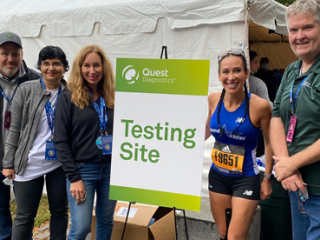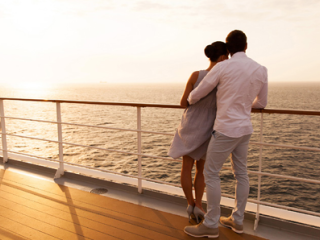 Originally published in Quest Diagnostics 2021 Corporate Responsibility Report
More than 2 years following the onset of the COVID-19 pandemic, Americans are eager to resume something like normal life again.
This not only means returning to work and to school: perhaps just as importantly, it also means returning to recreation. Several innovative partnerships are allowing Quest to help people safely return to the activities they love. Here are a few examples.
Quest plays key role in the return of the world's oldest marathon
After being canceled for the first time in its 124-year history due to the COVID-19 pandemic in 2020, runners were once again able to participate in the 2021 Boston Marathon. As the virus continued to race across the country with the introduction of new variants, the 125th running of the marathon faced multiple health and safety challenges. As part of the protocols mandated by the Boston Athletic Association (BAA), the 10,000 athletes as well as organizers, volunteers, and staff were all required to show either proof of vaccination or a current negative COVID-19 test within 72 hours of the race.
At the request of the BAA, Quest was selected to be the sole on-site testing provider offering COVID-19 testing. To provide this high volume of testing, Quest employees were specially trained to work at the race's starting point as registration representatives, specimen collection observers, testers, supervisors, and support staff, playing a crucial role in providing a safer environment for runners, staff, and volunteers alike.
"Quest's involvement in the Boston Marathon was crucial. Without providing a safe environment for runners, the Boston Athletic Association would not be able to conduct this historic race. My eyes well up with tears when I think about the extraordinary job and effort our Quest Diagnostics team took to operate this testing event. "

Gillian Plummer Director, Product Management, Sports Diagnostics
A safe return to the high seas
In mid-March 2020, the CDC issued a "no-sail order" for cruise ships due to the COVID-19 pandemic. It wasn't until more than a year later, in summer 2021, that the CDC allowed cruise lines to resume operations.
Ensuring a safe return to cruise ships required establishing best practices for health and safety.
As part of these efforts, Quest Diagnostics partnered with Carnival Corporation and Royal Caribbean, the 2 largest cruise lines in the US, to make pre-board COVID-19 testing more accessible and convenient for guests, offering the reassurance of a trusted national laboratory provider.
Regardless of COVID-19 vaccination status, all cruise passengers must present negative COVID-19 test results 2-3 days before embarking. In establishing their program, Carnival, Royal Caribbean, and Quest understood the importance of testing passengers before they arrived at their ports—thereby avoiding port congestion and the costs and frustration that could result from receiving positive COVID-19 tests at port, preventing guests from being allowed to board.
Instead, the Carnival, Royal Caribbean, and Quest testing programs help to streamline pre-cruise preparation. By offering passengers the convenience of receiving quality COVID-19 testing close to home, the program makes testing available at more than 2,200 Quest Diagnostics patient service centers and select Walmart locations, Giant Eagle drive-throughs, and other retail pharmacy testing locations throughout the US.
A return to "Tennis Paradise"
Referred to as "Tennis Paradise" by the tennis community, the BNP Paribas Tennis Open is a professional men's and women's tennis tournament in Indian Wells, CA traditionally held in March. Due to the COVID-19 pandemic, the organizers canceled the 2020 tournament and rescheduled for October 6 to 17, 2021, turning to Quest for assistance.
Returning safely to the courts and courtside required a multifaceted effort. Quest employees registered all tournament participants and attendees and collected PCR and antigen samples (resulting in >4,500 samples) from all in attendance, including world-class players, coaches, family members, international media, tournament officials, and even VIP world champion tennis legend Billie Jean King. Quest employees tested antigen samples directly on-site and provided results in fewer than 20 minutes. They also sent PCR samples out daily to Quest's lab in San Juan Capistrano, CA.
This was the third world-class tennis event in 2021 for which Quest served as the testing lab for the Association of Tennis Professionals (ATP) and the Women's Tennis Association (WTA) — as part of its ongoing commitment to form innovative partnerships to enhance health, safety, and well- being in all walks of life.
Our continued safe return to all we love
As we learn to live with the ongoing challenges of COVID-19 and its endemic presence, Quest will continue to develop innovative partnerships to help us all return safely to the recreational activities that form such an important part of our lives.