The Purpose of Community Day at Paramount
"Our employees can give back, come together, and be a part of something bigger."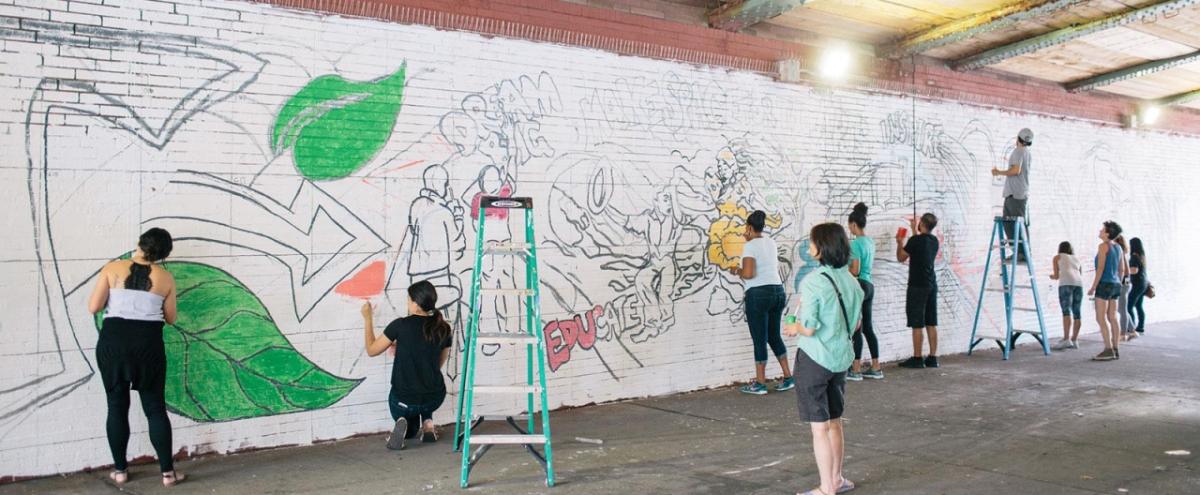 By Crystal Barnes | Senior Vice President, Social Responsibility & Environmental Social and Governance (ESG), Paramount
It starts with you.
That's the theme of this year's Community Day at Paramount Global. We want our employees to do the work, get involved in their communities, and take time beyond their day-to-day to make a difference. The hope is that the day helps to inspire our employees to find ways to become involved in their communities.
We're celebrating our 26th consecutive Community Day this year—and the first with in-person opportunities since Viacom and CBS merged in 2019. In 2020, we held our first virtual community day and were able to partner with more than 75 community organizations in over 20 regions. As we get back to in-person immersion in our local communities, we continue to take advantage of virtual opportunities that enable employees from around the globe to partner together.
Because it also starts with us. As a company, giving back is a part of Paramount's DNA. So while our employees can volunteer, come together, and be a part of something bigger on June 16 (and other dates around the world for our international employees), our commitment to service extends beyond a single occurrence.
For example, in 2021, we announced the expansion of BET's Content for Change into a companywide, cross-brand initiative that seeks to use the power of our content creation ecosystem to dismantle the narratives that enable intolerance, stereotypes, and systemic racism to continue. Content for Change is just one way we're continuing to build on our legacy and elevate the voices of the communities we serve.
Extending Our Partnerships
Community Day is made possible through our partnerships with more than 75 organizations, building recognition and equity for our employees through volunteer opportunities. In 2020, we logged more than 7,500 virtual volunteer hours. Our goal is to increase our hours this year as our partnerships and participation expand.
For established partnerships, the day is a chance to further solidify our relationship. For new partners, Community Day is a chance to learn more about an organization through our employees' experience and explore potential ways to deepen our engagement.
Some of this year's volunteer opportunities through our partners that I'm excited about include:
City Tutors (NY): The City Tutors (CT) is an NYC-wide volunteer tutoring and a mentoring hub that ensures historically underserved communities have equitable access to resources that are fundamental to educational and professional success. For Community Day, we'll invite CUNY students to receive professional coaching (industry advice, networking, and interviewing advice) from Paramount professionals. We break participants out into smaller breakout rooms, normally 2 professionals and 2 students per room, for more intimate and individualized support. 90% of the students are people of color, 50% are Black or Hispanic. Many are the first in their families to go to college, and support and advice from industry insiders is the support that they need.
Working for Women (NY): Working for Women invests dollars and skills from businesses into nonprofits supporting women who want to enter and stay in the workforce to become financially independent. We're partnering together to offer a Media & Entertainment Career Exploration with employees from across Paramount for Community Day. Paramount employees will share their personal journeys of working in the Media & Entertainment sector and discuss the wins and obstacles along the way.
Common Impact: In small group-style brainstorming sessions, employees will help nonprofit partners ideate around a challenge they are currently facing.
The nonprofit partners in these sessions include:

Witness Change uses visual storytelling to support excluded people as they reclaim their narratives and improve their lives. Paramount employees will analyze the marketing and communications for the 1000 Dreams campaign, which seeks to change prevailing refugee narratives through the stories of 1000 refugees across Europe, and recommend messaging for the campaign.
Drag Story Hour NYC offers literary and creative programming led by drag queens. Since its launch in 2016, it has expanded its programming to Spanish, Cantonese, and French, and has developed programming for neurodiverse kids and seniors. Paramount volunteers will help DSH NYC create a press kit that could raise awareness around the organization's fundraising campaigns, facilitate audience expansion, and grow broader awareness of the NYC chapter's work.
Fresh Films uses the fun of film to connect with teens across the nation. They want to build out their alumni engagement strategy to better communicate with their alumni network which is largely made up of women, and Black and brown youth between 18-35 years old. Paramount employees will help Fresh Films brainstorm ways to activate their alumni in meaningful ways and develop a framework to assess their alumni engagement strategy.

Hungarian Food Bank: In our Budapest office, we partnered with the food bank to distribute surplus food to families in need, thus saving food while reducing hunger, malnutrition, and food waste.
Unitaf: In Israel, our employees collaborated with Unitaf, a program started by The Yehuda Tribitch Fund for Social Involvement in 2005. It works with refugee and status-less women to provide early childhood programs for the status-less community in Israel.
Paramount Community Day is a testament to the investment our company has in its people and its communities. It's a single day that encourages us to give back for the other 364 days each year—creating a profound impact on the direction, passion, and ambition of our company and our employees.