Pro Bono Challenge Spotlights: OCJ Kids
by Marjie Bland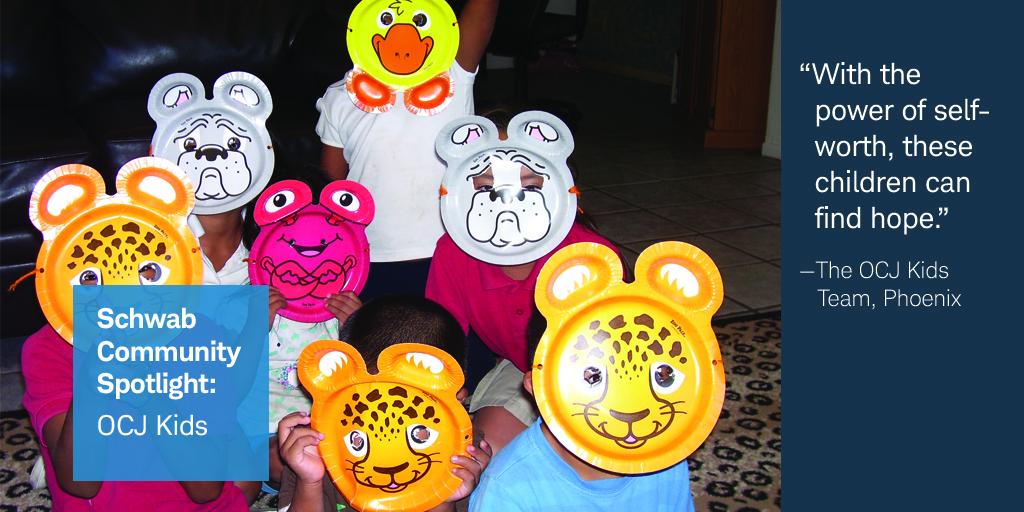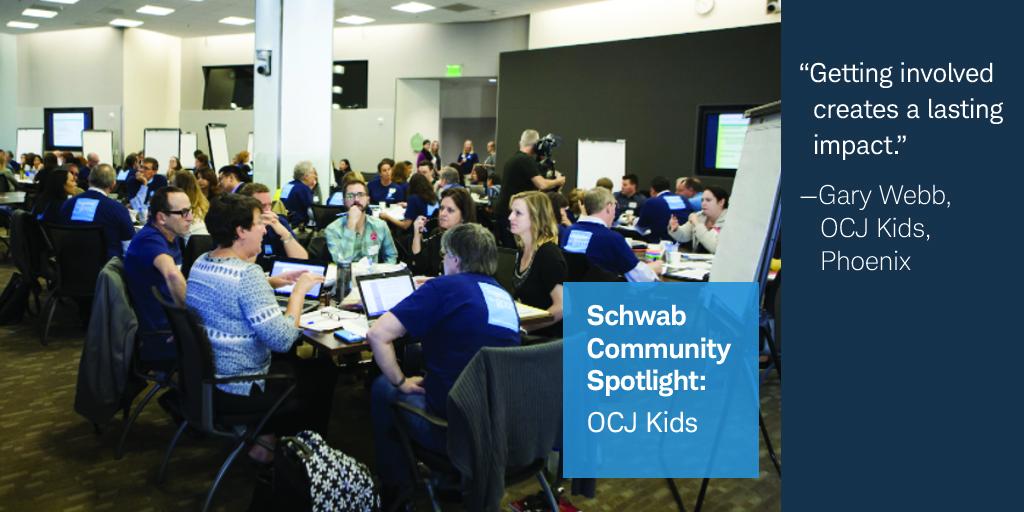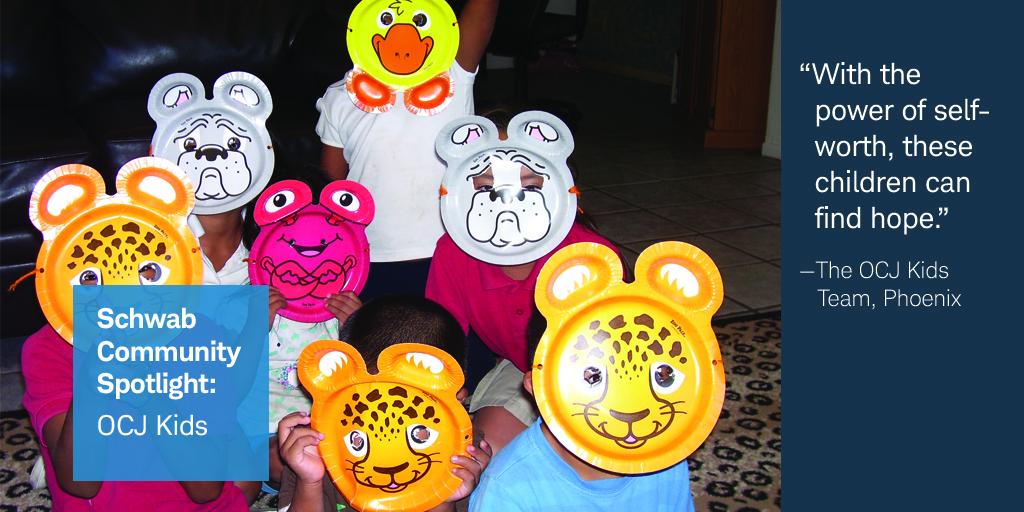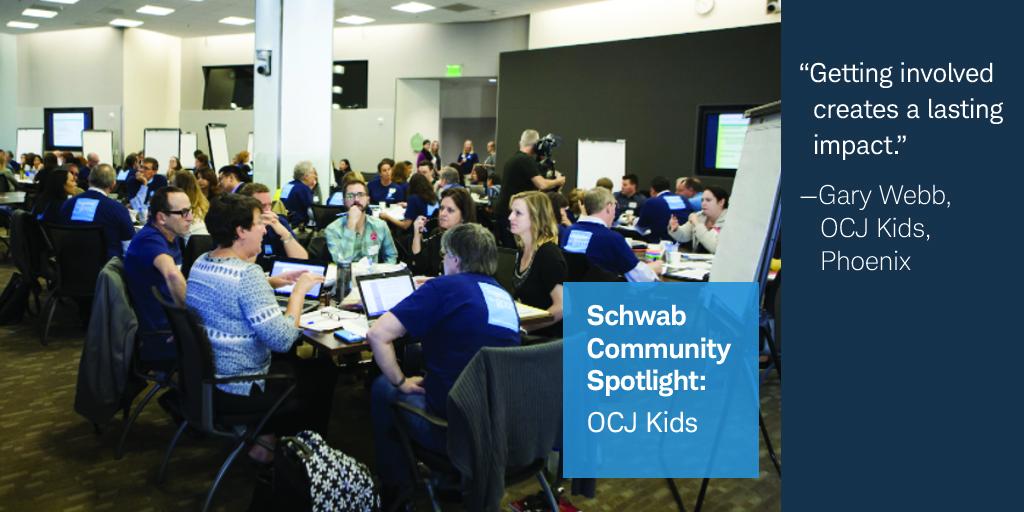 In 2016, 59 nonprofit organizations participated in the Charles Schwab Pro Bono Challenge—a skills-based flash consulting event where Schwab employees utilize their talents and expertise to support local nonprofit organizations in building capacity to serve the community.  The projects spanned across 8 regions, engaged 318 employee volunteers and generated almost half a million dollars in social return on investment to the nonprofit participants. Talk about impact!
"We aim to go deep with these deserving organizations," said Carrie Schwab-Pomerantz, President of Charles Schwab Foundation.  "Offering our collective skills to build their capacity through our Pro Bono Challenge events is one more way we can help strengthen these organizations, and really amplify their impact on the clients they serve."
We interviewed three nonprofit organizations that participated in the 2016 Pro Bono Challenge to understand the underlying organizational challenge, how the team addressed the challenge and what the ultimate impact was. We will be sharing their stories over the course of Pro Bono Week that all demonstrate the unique and sustainable impact that skills-based volunteering can have on the nonprofit community. We look forward to having these nonprofits join us again for the 2017 Pro Bono Challenge!
OCJ Kids, a nonprofit that provides services, resources, and caring adults to address the needs of at-risk youth and foster children in Phoenix, has participated in the Pro Bono Challenge since 2015. They offer on-campus after-school programs, community-based youth centers, mentorship programs, and enrichment activities. In 2012, they launched the Transition Success Center (TSC) project, providing much-needed supplies to children in the foster system, such as hygiene products, suitcases, sleeping items, clothes.
Gary Webb, Founder of OCJ Kids, shares his take on this project and how it has impacted his organization.
What was your project for the 2016 Charles Schwab Pro Bono Challenge?
OCJ Kids has experienced significant growth since our launch. In Arizona alone, we partner with hundreds of foster cares and resource centers. We needed something to unify the operations of our Transition Success Centers (TSC), which is one of our key initiatives. Many OCJ Kids centers are run by community volunteers, with one individual designated as the TSC Manager. We did not have any formal, documented policies or procedures to guide the program consistently across locations and we needed support in developing these materials to increase efficiency, accountability, and improve the consistency of management across various sites.  
Our goal for the Pro Bono Challenge project was to develop an operations manual that would help unify the work of the TSCs. We needed something that defined what a TSC was, how the program is laid out, key roles and responsibilities, the expectations of managers, and general best practices.
How did the team help support this goal?
The Schwab team was great! At the event, our team helped us organize and outline the entire manual. They gave us insights into what content to include, how to structure the manual, and then guided us through how to fill in all the details.  
They brought fresh eyes to our work from a business perspective, which was so helpful. Many times you can get caught up in the details of the specific items, and it's difficult to take a step back to look at the big picture. Our volunteers brought an outside perspective that enabled us to create a resource that was relevant to different audiences.
Following the Pro Bono Challenge, we continued to work on the manual as an organization. We added in additional content and details to really fill in the rest of the document. The volunteer team continued to support us by reviewing and providing edits and suggestions as we went.
How have you used the manual? What was the impact on your organization?
The impact has been tremendous. We have distributed the manual to all of our resource centers in Arizona, Mississippi, Louisiana, and Indiana, and are using it as a step-by-step guide for any new centers being opened. We're now able to approach any potential partner with a clear understanding of how to launch and support a Transition Success Center. The manual has everything someone could need – from tracking forms to flowcharts. I don't have to spend time walking each center through the operations anymore.
Each of our current centers use the manual, and we're also using it in our training. We use the report templates to track and report on our activities, which will help us as we work to secure funding in the future. It has truly affected and improved almost every facet of our organization.
What's next for OCJ Kids?
We will continue to add to and update the operations manual. It's going to be a living document that grows with our organization. We've also continued to stay in touch with our team from Charles Schwab by inviting them to events and keeping them posted on our progress. We look forward to the 2017 Pro Bono Challenge, in which we're hoping to gain some insights in developing our corporate partnership strategy!
Follow the Pro Bono Challenge on Twitter at #schwab4good