Port Angeles Safeway Wins Governor's Award
Port Angeles Safeway Wins Governor's Award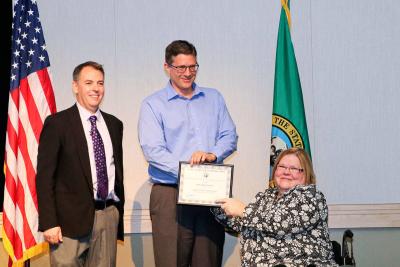 Monday, November 13, 2017 - 7:45am
The Port Angeles Safeway on Lincoln Street was honored as the Governor's 2017 Medium Private Employer of the Year for its efforts in hiring people with disabilities.
Mike LaGrange, who manages the store, said he was honored to receive the award. "It was amazing and it was humbling to listen to all the people with disabilities and understand what they overcame and what it means to them," LaGrange said.
The Safeway employs 13 people with developmental disabilities who are supported by community organizations, making up nearly 10 percent of the approximately 160 employees.
Continue reading on Peninsula Daily News
Learn more about our efforts to support people with disabilities in our Annual Sustainability Update