P&G Exec and XU Alum Embodies Black History as an Advocate for Change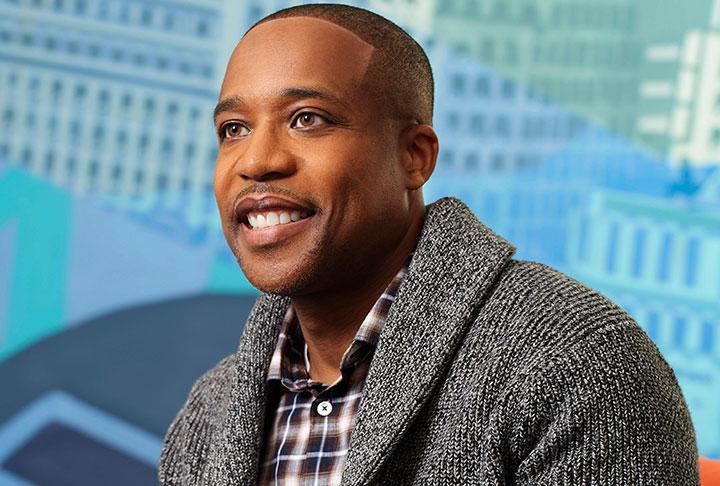 Originally published by Xavier University
As the chief communications officer at P&G, it's understandable that '97 Xavier grad, Damon Jones, is a believer in maximizing the power of voice.
"I've always been passionate about the individual voice and the collective voice," said Jones. "I like to focus on how I can make what I believe as an individual clear and how I can align with other people that share those same values."
Jones hails from Southfield, a small town about a mile and half outside of Detroit, Michigan. In high school, he was incredibly active in extracurriculars, a mentality that carried over into his time at Xavier. In between classes as a communications major and business minor, Jones participated in fundraising, various student activities on campus and, inevitably, student government.
"While I was growing up, my mother was heavily involved in the United Auto Workers Union, which gave me my first taste of politics," said Jones. "Seeing her push for change birthed a streak of activism inside me. It taught me to never be afraid to vocalize and act on what I thought was right."
Jones proceeded to volunteer and work in local government campaigns while still in high school, so it was only natural for his inclination toward politics to grow as a Xavier student. Eventually his hobby would turn into history as Jones became the only student to date to serve two consecutive terms as the president of Xavier's Student Government Association. Shortly after leaving Xavier, he began his 23-year rise to P&G glory swiftly moving from managerial positions to executive director roles, all laying the foundation for his current position. Along the way, he still made time for politics, which for him, equated to advocacy for change.
In 2008, he spent a year as the communications director for The Democratic National Convention supporting then-presidential canditate Barak Obama in his first election. Jones carried the "Yes We Can" mindset back into his career at P&G, bringing fresh perspectives based in forward progression.
"I spend a lot of my time thinking about how we can essentially bring Jesuit values to life, which is basically leaving the world a better place than you found it," Jones said. "Most of my work sits at the intersection of simply doing good and doing good business."
Jones leads what he publicly refers to as P&G's advocacy portfolio. His role as P&G's chief communications officer just so happens to make him the spokesperson for the world's number one advertiser. Staying true to the adage that to whom much is given, much is expected, the responsibility of discovering how to best utilize the company's behemoth standing to make a positive impact falls on his shoulders.
"We have a lot of influence in the industry," said Jones. "My goal is to use that influence as a force for growth and for good by ensuring that our work drives racial equity, gender equality and equal representation for every group."
In 2020, Jones became the first Black exec to top PRWeek's annual Power List. For some, positions of power can be alluring because of the power itself. For Jones, he's made it clear he's more drawn to the power to make a difference that comes with the position. It's evident his motivation is to do more than just succeed. He wants to set a new standard for the black experience.
"I think Black History Month is an opportunity to celebrate accomplishments of who we actually are," said Jones. "Too often we think of the black experience as either struggle or the other extreme of an elite standard of excellence. Not everyone is Beyoncé or Jay-Z, but there are regular people out there making history in their communities. I believe there's a standard of everyday blackness that we can normalize."
In all the different ways he has embodied black history thus far, from the political arena to the global stage of the world's largest consumer goods conglomerate, there's one thing in which Jones has remained indisputably constant. He makes way for change.
Watch a video recording of Jone's most recent Xavier event, Power Playing with Damon Jones, Chief Communications Officer at Procter & Gamble.
By Laurent Che, Content Producer in the Office of Marketing and Communications