Owens Corning's Paroc's Take-Back Model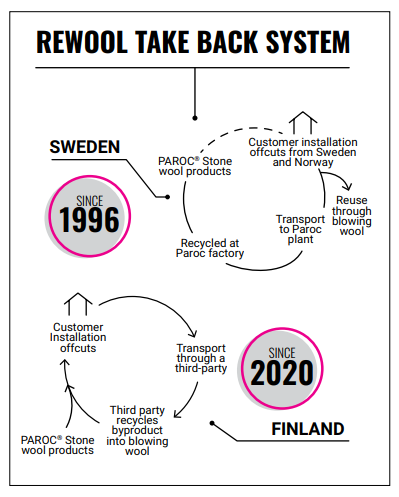 Originally published in Owens Corning's 2021 Sustainability Report
One essential component of the circular economy involves the establishment of take-back models, in which manufacturers accept responsibility for downstream waste from customers using their products. For Owens Corning, this can include waste generated during construction, subsequent fabrication, or installation, as well as protective packaging.
Owens Corning Paroc, our European mineral wool business, has a long-standing commitment to take-back models, dating back to 1996 (before the company was acquired by Owens Corning). They developed the Rewool program, a customer take-back model for their mineral wool. Leftovers from trimming stone wool insulation during installation, which would have once gone to a landfill, are now collected and recycled for future use.
Their take-back model required technological innovation throughout the process, from when and how the material is collected in bags, containers, or compressed bales, through storing, pretreatment, and the final recycling procedure. In developing this process, the team worked to ensure that it was safe, easy to work with, and efficient. For example, in one business model, stone wool cut-off is pretreated by grinding it, then it is fed directly back into new products, eliminating processes that would involve additional resources, such as remelting.
In recent years, Owens Corning Paroc's take-back model has continued to improve, and we are expanding by entering agreements with partners for support in collection and logistics to increase efficiency and flexibility in our model. The model was expanded into Finland in 2020, where customer waste from installation is processed and recycled into blowing wool. Our recycling partner reported that about 5,000 MT (mainly stone wool and a small amount of glass wool) was recycled in 2021, of which approximately 120 metric tons were attributable to Paroc. We are working with our customers to tailor the model to suit the specific needs of the building sites, including those striving to achieve zero waste-to-landfill. In October 2021, our Swedish takeback model was expanded, enabling us to recycle offcuts from customers in Norway. Byproduct is transported via a third-party waste handling company from Norway to one of our facilities in Sweden for recycling. This is an ongoing project for Paroc, one that shows a great deal of promise for the circular economy and will serve as a learning-pilot for implementation in our other markets.