Our Sustainability Strategy
Our Sustainability Strategy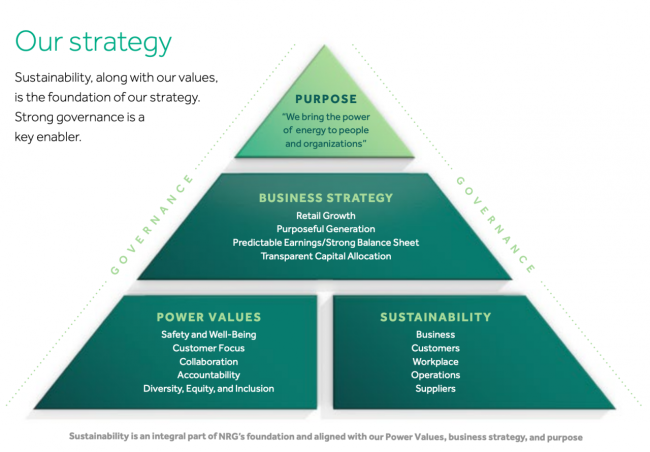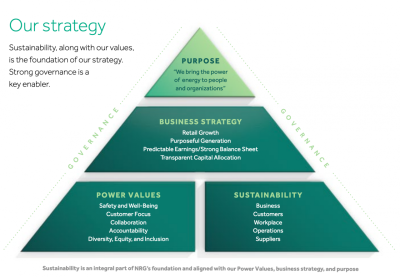 Monday, July 12, 2021 - 12:30pm
Sustainability is a philosophy that underpins and facilitates value creation across our business and for all our stakeholders. It is an integral piece of our corporate strategy and ties directly to business success, reduced risk, and enhanced reputational value. Our sustainability philosophy spans five comprehensive, key pillars – business, customers, workplace, operations, and suppliers – that help embed it into the culture and fabric of our organization. 
Sustainable Business
This pillar guides our company in the foundational aspects of strong sustainability leadership. It includes governance, transparency, reporting, and stakeholder engagement.
Sustainable customers
A key aspect of our sustainability strategy is providing solutions for our customers and helping to lead the transition to a more sustainable future. Our goals are to provide greater clean energy choices in ever more locations, closer to our customers, and to help reduce the overall environmental and societal impacts associated with the energy use of our customers
Sustainable workplace
The key to our success in working toward and achieving our goals across the value chain is having a strong, healthy, and engaged workforce. Our commitment to a sustainable workforce at NRG includes a focus on safety; health and wellness; pay equity; diversity, equity, and inclusion; and employee engagement, as well as environmentally conscious workplaces. 
Sustainable operations
NRG is committed to reducing environmental impacts across all operations. This commitment includes achieving our science-based greenhouse gas reduction targets and improving environmental performance across all facilities.
Sustainable suppliers
It is important for companies to address sustainability in their entire value chain. NRG is actively working to measure and ultimately reduce environmental impact in our supply chain through collaboration and transparency.