One Year of the GRI Standards: in Numbers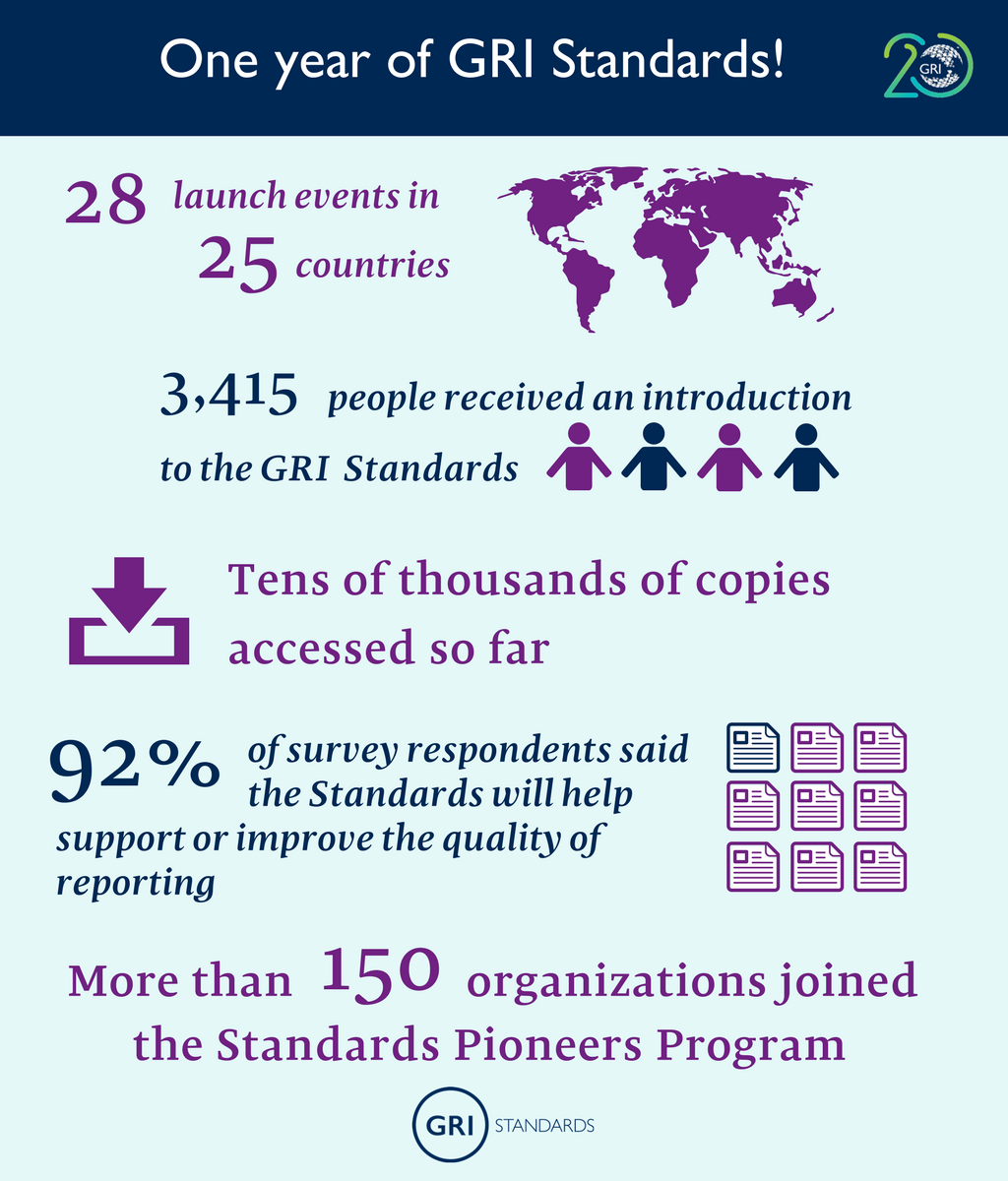 ​Launched in October 2016, the GRI Sustainability Reporting Standards are the latest evolution of GRI's reporting framework, which has been developed through a robust multi-stakeholder process. The GRI Standards replace the G4 Guidelines, which will be phased out by 30 June 2018. Here's a recap of what has happened since the launch last year. 
With 28 launch events in 25 countries, 3,415 people around the world had a first-hand introduction to the GRI Standards, and tens of thousands more have accessed them since they were launched. 92% of the launch event attendants that answered GRI's survey said the GRI Standards will help support or improve the quality of reporting; 46% of attendees were already reporting based on GRI; and 66% said their organization will adopt the GRI Standards.
A new era in reporting
More than 150 organizations around the world have already joined the Standards Pioneers program, showing their express support and commitment to the GRI Standards and the future of sustainability disclosure. The Standards Pioneers program gives GOLD Community members direct access to GRI staff and exclusive resources while producing their first report based on the GRI Standards. 
For some, transitioning to the GRI Standards supports their broader reporting efforts. The European Investment Bank commented: "Organizations are expected to do more than just issue a standalone sustainability report once a year. Reporting is not only about transparency but also about timeliness and meeting the needs of various stakeholders; we have the firm intention to apply the new GRI Standards to do this. In order to streamline sustainability reporting, we need more than awareness and knowledge – we need clarity, a common language and the potential for alignment between the different frameworks that exist around the world. GRI, through its new Standards, is well placed to provide these things, making streamlining a real possibility."
The GRI Standards consist of a modular, interrelated structure, and represent the global best practice for reporting on a range of economic, environmental and social impacts. The structure and content are already helping shape the sustainability strategies and reporting practices of many organizations: there are currently 270 sustainability reports based on the GRI Standards registered in the GRI Sustainability Disclosure Database.
Keeping the Standards up to date
Just one year in, the Global Sustainability Standards Board (GSSB) has started to deliver its continuous improvement commitment, which will guarantee that the GRI Standards continue to reflect global best practice and transparency expectations. Two Standards are already being updated to be in line with today's context and reporting practices. Projects to update GRI 303: Water, and GRI 403: Occupational Health and Safety started in late 2016 and the new Standards are expected to be released in 2018. Work will soon commence to update the Human Rights-related Standards, and 2018 will also see projects to review Disclosures on tax and payments to governments, GRI 306: Effluents and Waste, and three economic-related Standards: GRI 201, GRI 202 and GRI 203.
The modular structure not only makes the Standards easier to keep up-to-date, but it has also been well-received because it makes the reporting process more efficient. KERAMIDA, a global provider of environmental, health & safety, sustainability, and remediation consulting and engineering services, commented:
"KERAMIDA is pleased to participate in GRI's Standards Pioneer Program with other GRI Gold Community members, as early adopters of the newly-launched GRI Standards. The improved reporting structure of the GRI Standards and its clarification of key concepts and disclosures will advance our shared goal of leading the implementation of this universal reporting framework."
To find out more about the Standards, get started reporting and get involved, visit the GRI Standards website.