O-I Glass Sustainability Report 2021: A Message from CEO Andres A. Lopez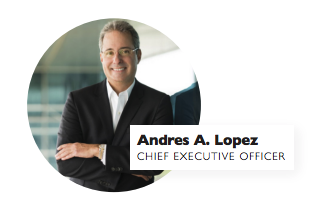 Originally published in O-I Glass Sustainability Report 2021
At O-I, our vision is to be the most innovative, sustainable, and chosen supplier of brand-building packaging solutions. 
While we believe glass packaging is already the most sustainable packaging solution, sustainability at O-I is about more than what we make. It is also about how we make it. It is about the interconnected ecosystem that involves our suppliers, our customers, our people, and the communities where we operate. It is about achieving balance between our operations and the products we make with the current and future needs of our communities, the planet, and our collective prosperity. At O-I, the journey to this balance—sustainability—is grounded in resilience, innovation, and the ever-present challenge to transform what we do. 
The global challenges posed by the likes of climate change, socio-economic disparities, and social justice issues—all exacerbated by COVID-19—are pressing reminders that we must constantly examine our approach to sustainability and the delicate balance that can exist among people, the planet, and prosperity. In 2020, we conducted such an examination and took bold action. We not only refreshed our business strategy, but also structurally elevated sustainability to a global function and expanded our sustainability ambitions. We enhanced matters from our approach to governance and management of sustainability to the number of initiatives and quantitative goals. We are excited to share our elevated ambitions and what they mean for O-I and its stakeholders.
We have about 25,000 employees across 20 countries and 72 facilities. Every day, these skilled artisans transform four natural ingredients—sand, soda ash, limestone, and recycled glass—into millions of different containers that engage consumers and bring our customers' visions for their products to life. Our finished products preserve and protect what they carry and do not have product-contact issues. They will not harm people, the earth, or oceans and can be infinitely recycled. In this report, you will see how our passionate people and the innovative processes behind remarkable products fit into our sustainable future.
As you will learn in these pages, we have been busy driving innovations to improve the sustainability of our process and product. You will see examples of how we innovated to lower our CO2 emissions intensity by transforming combustion byproducts into a heat source for the surrounding community. There are examples of how we lower energy and emissions through the use of recycled glass, process improvements, and advanced gas-oxygen-fueled furnaces. We are commercializing an innovative decorating technology to enhance labeling and reduce waste. We are creating lighter containers and a transformative array of new designs meant to help brands connect emotionally with consumers. We are most excited about sharing how we are reimagining and reinventing the glass-making process to not only be more sustainable but also to disrupt how glass packaging solutions are provided. 
None of this would be possible without our people and the communities that support our business. We are as focused on transforming our culture and our communities as much as we focus on innovating glass packaging. Our worldwide safety and well-being programs for employees reflect our commitment to balance. Part of our expanded ambitions focus on ensuring we have diverse, inclusive, and purposeful workplaces where people feel welcomed. We demonstrate our commitment to building sustainable communities by rewarding volunteer service and actively contributing to communities where we operate around the globe. For more than 80 years, the O-I Charities Foundation has supported the arts, education, the environment, and social good with millions in grants. Creating collective prosperity through a positive impact on our communities is integrated into O-I's DNA. We intend to carry on these traditions and have elevated our aspirations here too. 
As we strive for a more sustainable future for O-I, our stakeholders, and communities, we hope you will be inspired by what you learn in this report. 
As we strive for a more sustainable future for O-I, our stakeholders, and communities, we hope you will be inspired by what you learn in this report. 
Read the full report here.