Novartis Access and Government of Cameroon Sign Memorandum of Understanding to Fight Chronic Diseases
Novartis reaches agreement with Cameroon to supply medicines against chronic diseases for the poorest populations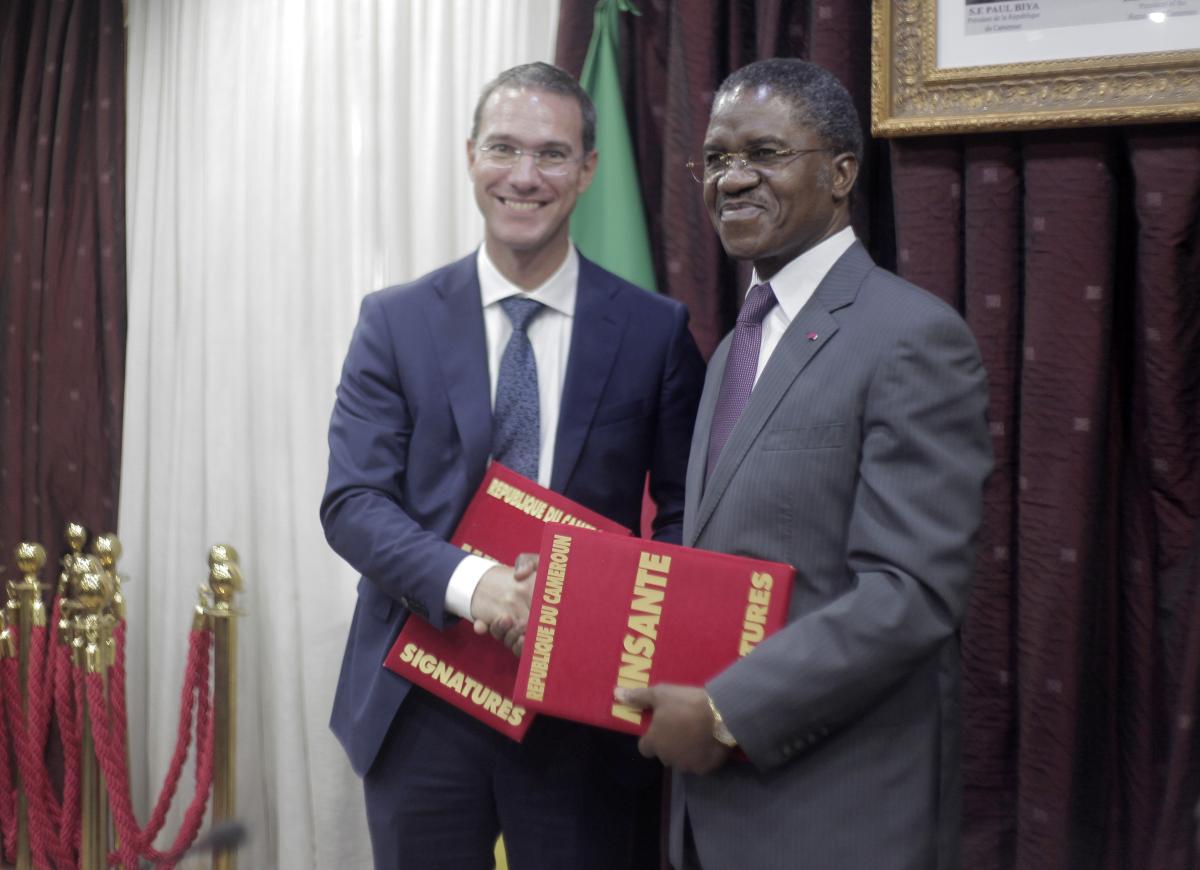 BASEL, Switzerland, September 28, 2017 /3BL Media/ - We are pleased to announce that Novartis and the Ministry of Public Health of Cameroon have signed a Memorandum of Understanding to implement Novartis Access in Cameroon. The collaboration also includes capacity-building activities with the Cameroon Baptist Convention Health Services (CBCHS) on community awareness. Initially, Novartis Access medicines will be made available through CBCHS hospitals and clinics. The objective is to extend the program to other faith-based organizations across the country.
Novartis Access provides a portfolio of high-quality medicines targeting four key noncommunicable disease areas (NCDs): cardiovascular diseases, diabetes, respiratory illnesses, and breast cancer. This portfolio covers the world's most frequently prescribed medicines for chronic diseases.
"Cameroon is increasingly affected by the burden of noncommunicable diseases," said André Mama Fouda, Minister of Public Health of the Republic of Cameroon. "The government has established prevention and control programs for chronic diseases, and having access to high-quality treatments at low cost is critical to success. This collaboration with Novartis is part of the solution."
According to the WHO, chronic diseases cause 31%1 of all deaths every year in Cameroon, and a survey by the CBCHS showed consultations for NCDs at some of their health facilities rose by over 40% between 2011 and 20152.
"We are pleased to help Cameroonian patients better manage their chronic conditions," said Dr. Harald Nusser, Head of Novartis Social Business. "We believe new approaches such as Novartis Access that bring governments, the private sector and social sector together are needed to expand access to medicines and healthcare delivery."
Beyond medicines, the collaboration will also offer activities to strengthen healthcare systems in Cameroon, for example by training healthcare professionals on NCD screening, diagnosis and treatment, quality assurance and by providing community education and awareness.
"This month, CBCHS and Novartis will kick off a Know Your Numbers campaign to encourage individuals to know their vital health numbers through community awareness and screenings," said Prof. Tih Pius Muffih, Director of CBCHS. "Activities such as this campaign are needed to ensure we combat NCDs effectively, thanks to stronger healthcare systems and high-quality medicines."
The campaign will take place in seven health districts in five regions, reaching a potential population of 1 million people with education and NCD health checks.
Cameroon becomes the sixth country (after Kenya, Ethiopia, Rwanda, Pakistan and Uganda) to launch Novartis Access. First treatments have already started reaching patients in Western Cameroon.
About Novartis Access
Novartis Access includes 15 generic and patented medicines to address cardiovascular diseases, diabetes, respiratory illnesses, and breast cancer. The portfolio is offered to governments, NGOs and other public-sector healthcare providers in low and lower middle income countries for USD 1 per treatment, per month*. The medicines in the portfolio have been selected based on their medical relevance: they are either on or pertain to a class included in the WHO Model List of Essential Medicines, or belong to the most frequently prescribed medicines in these disease areas. Novartis Access launched in 2015 and we strive to reach 30 countries over the coming years depending on government and stakeholder demand. Novartis Access is the latest addition to our company's efforts to enhance access to healthcare for patients at every level of income. It is integrated in Novartis Social Business, a unit which includes the Novartis Malaria Initiative and the Novartis Healthy Family programs. This unit is operationally managed by Sandoz, the Novartis generics and biosimilars division. For more information, please visit http://socialbusiness.novartis.com.
* The USD 1 price does not include costs for freight, insurance and potential taxes. 
About Novartis
Novartis provides innovative healthcare solutions that address the evolving needs of patients and societies. Headquartered in Basel, Switzerland, Novartis offers a diversified portfolio to best meet these needs: innovative medicines, cost-saving generic and biosimilar pharmaceuticals and eye care. Novartis has leading positions globally in each of these areas. In 2016, the Group achieved net sales of USD 48.5 billion, while R&D throughout the Group amounted to approximately USD 9.0 billion. Novartis Group companies employ approximately 119,000 full-time-equivalent associates. Novartis products are sold in approximately 155 countries around the world. For more information, please visit http://www.novartis.com.
Novartis is on Twitter. Sign up to follow @Novartis at http://twitter.com/novartis
For Novartis multimedia content, please visit www.novartis.com/news/media-library
For questions about the site or required registration, please contact media.relations@novartis.com
References
1. WHO: http://apps.who.int/iris/bitstream/10665/128038/1/9789241507509_eng.pdf.
2. Non-communicable disease trends and access to care in 7 facilities of the Cameroon Baptist Convention Health Services: a situational analysis. Clinical Research and Education Consultancy, Yaoundé 20163.
# # #
Novartis Media Relations
Central media line: +41 61 324 2200
E-mail: media.relations@novartis.com