NortonLifeLock Offers Virtual Volunteer Opportunities to Power Change
By Kimberly Bishop, Corporate Responsibility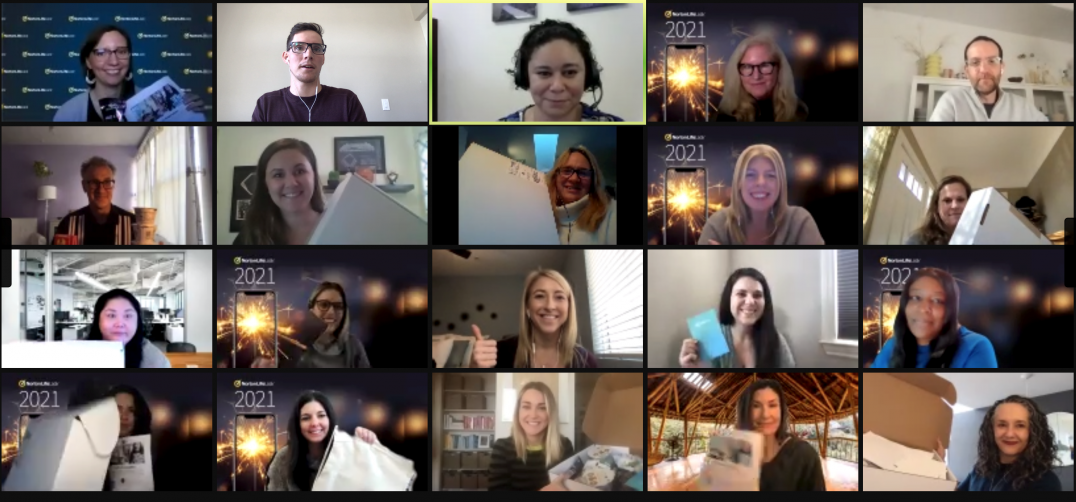 Above: Members of the Marketing, Branding, and Communications Team participate in a virtual team-building volunteer event
NortonLifeLock Blog | Corporate Responsibility
In April of 2020, during the early stages of what has been a long-enduring pandemic, there were people all over the world stepping up to help out in a variety of much-needed ways. Points of Light, the world's largest nonprofit dedicated to accelerating people-powered change, declared April to be "Global Volunteer Month" as a way of recognizing those who were supporting the most vulnerable populations during this time of extreme need.[1]
At NortonLifeLock, we are proud of our year-long culture of giving and excited to celebrate Global Volunteer Month. Though the transition to virtual volunteering in 2020 was challenging, a year later it's amazing to see how our virtual programs have achieved success and been embraced by our employees and leaders. Our virtual volunteering strategy has centered around engaging our leaders through team building opportunities and through joint efforts with our Diversity and Inclusion Communities, allowing these employee resource groups to spearhead opportunities of particular interest.
Our Executives Champion Team Building Events 
In early 2021, I worked with executive leaders to host team building volunteer events. Krista Todd, VP of Marketing and Communications; Whitney Clark, Head of Legal Operations and IP, and Sameer Khera, Chief Information Officer led their teams in events that supported Turn a New Leaf. Turn a New Leaf is dedicated to meeting the urgent and growing needs of people experiencing homelessness, domestic violence, those in need of workforce support, financial literacy, counseling and more. By providing resources for early education, rehousing and advocacy programs, and a multitude of shelters, the organization has become even more important during the pandemic.[2]
Krista, Whitney, and Sameer's teams chose to do an activity called Packs of Inspiration, in partnership with WeHero, an organization that helps run corporate volunteering. The first half of the session was informative and educational, focusing on the issues of food insecurity and homelessness. The second phase was a breakout room where teams put themselves in the shoes of someone facing homelessness to understand the real challenges faced. Afterwards, participants shared their thoughts with their entire team and then packed bags full of food, writing inspiring, uplifting letters to place into each pack. Nearly 70 NortonLifeLock volunteers participated and shipped over 200 packs to food insecure individuals, and WeHero then offset the shipping footprint to ensure all events would be carbon negative.
Of the experience, Sameer said, "Last year has been tough on many communities. We consider ourselves blessed to be able to work from anywhere and have jobs, and the least we can do is to support those who are less fortunate. It was eye opening to realize how many hardships people experiencing homelessness face. It's not just finding a roof above their heads or food, they are under constant threat from a personal safety point of view."
Partnering with Our Employee Resource Groups
Our Corporate Responsibility team also partners with our Diversity and Inclusion Communities (what we call employee resource groups) on joint volunteering efforts. N-Pride, our LGBTQ+ Community, hosted an event to assemble care kits for one•n•ten, a nonprofit dedicated to serving and assisting LGBTQ+ youth ages 14 to 24. We provided items including a journal and list of mental health resources, as well as personalized letters of encouragement and support. Our 15 N-Pride volunteers also heard directly from one•n•ten on issues facing the youth they serve.
In partnership with our WONDER Community (Women Outreach and Development Resources), we hosted numerous Women's Day events, including a career panel in Arizona with Year Up, a Dress for Success event in Dublin, and a United Way Arizona event supporting 40 high school students through a career panel and breakout sessions.
It's exciting to see how NortonLifeLock employees have channeled their passion and dedication, and continued to serve the communities where they live and work through virtual volunteering this year. We hope you'll join us this Global Volunteer Month. Here are a few ways you can get involved:
Participate in National Volunteer Week: In the US and Canada from April 18-24 and in the UK from June 1-7
The United Nations has one of the most developed online volunteering programs. 
There is truly a COVID-safe opportunity out there for everyone and thousands more virtual volunteering opportunities can be found on VolunteerMatch and at Points of Light.
[1] https://www.csrwire.com/press_releases/44194-points-of-light-marks-april-2020-as-first-ever-global-volunteer-month-