Northern Trust Core Aspects: Governance and Ethics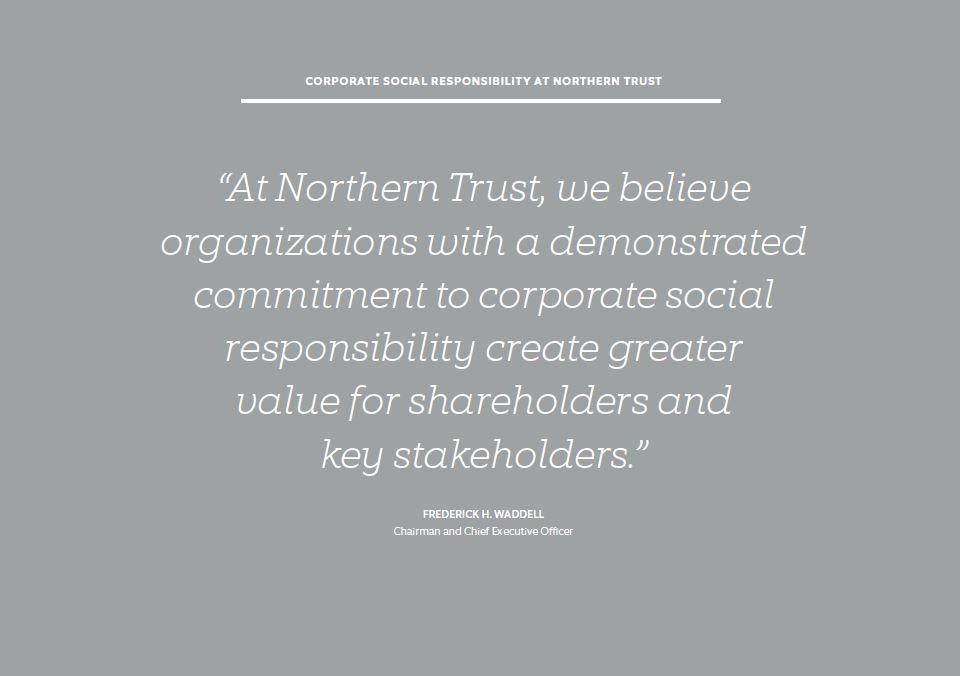 Governance
Connie L. Lindsey, Executive Vice President and Head of Corporate Social Responsibility and Global Diversity & Inclusion, is responsible for the design and execution of a comprehensive CSR strategy. Ms. Lindsey reports directly to Frederick H. Waddell, the Chairman and Chief Executive Officer of Northern Trust Corporation (the "Corporation"). Ms. Lindsey also chairs the Executive Corporate Social Responsibility Council, a group of senior partners throughout the organization that enables the implementation of Northern Trust's CSR strategy through the setting and tracking of goals related to material aspects of our CSR strategy, including sustainability initiatives. 
The Corporation's Board of Directors provides general oversight of Northern Trust's corporate citizenship and social responsibility matters of significance to the Corporation and its subsidiaries. This oversight was facilitated by the Board's Corporate Social Responsibility Committee in 2016, and going forward will be facilitated by the Board's Corporate Governance Committee, which assumed the primary duties, powers and responsibilities of the Corporate Social Responsibility Committee in April 2017. Oversight of certain financial and operational risks associated with climate change and other environmental risk factors is also provided by the Board's Business Risk Committee through its oversight of the Corporation's global risk management framework and risk management policies. 
Ethics
All global partners are expected to adhere to and uphold our core values, exercise the highest ethical judgment and comply with laws that apply to their duties. Partners also must follow all laws and regulations and avoid any situation that may trigger a conflict of interest. We expect partners to treat all information as confidential; breaches of confidentiality obligations may bring disciplinary action. All partners are required to take three courses annually: "Global AML & Sanctions," "Information Security at Northern Trust" and "Standards of Conduct Policy."
All partners are required to certify their compliance with the Code of Business Conduct and Ethics and complete the Standards of Conduct Policy Training course, which contains information related to anti-corruption. Both certification and training were completed by 100% of partners.
Annual anti-corruption training is required for client-facing personnel as well as global marketing, finance, audit, legal and compliance professionals. In addition, we provide expanded anti-corruption training to partners in Europe, the Middle East and Africa (EMEA) and APAC in accordance with regulatory requirements.
Download the full report and learn more about CSR at Northern Trust