Next Generation ESG Strategy: Q&A With Peter Iliopoulos, SVP, Taxation, Sustainability, and Governmental Affairs at Gildan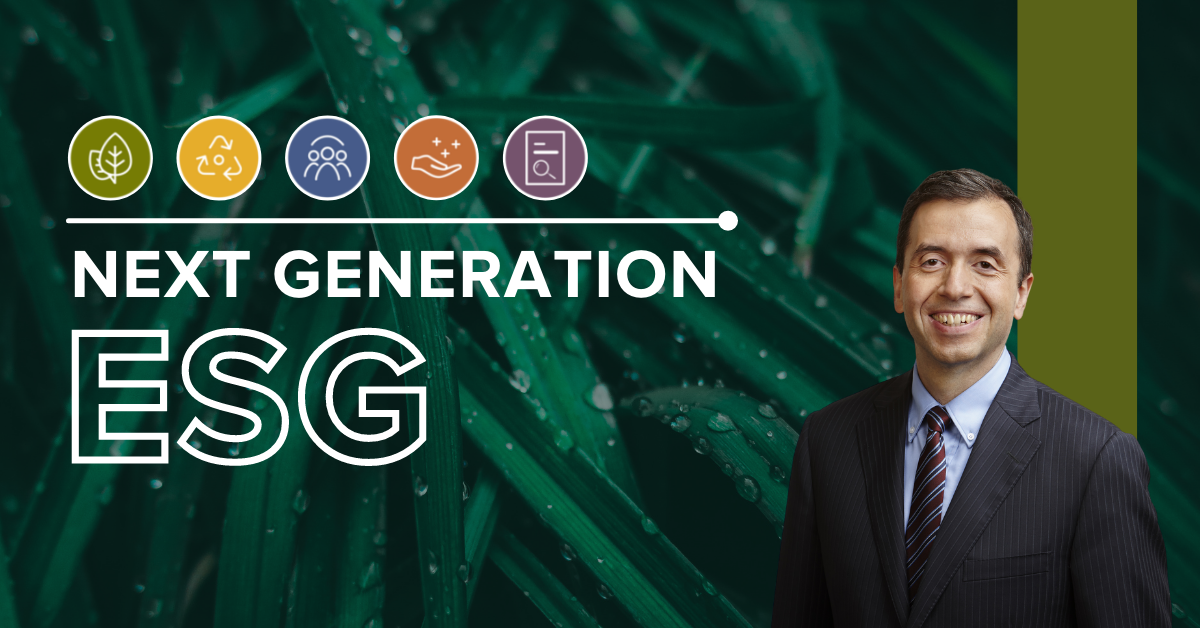 As 2022 begins, Gildan, a leading vertically integrated apparel manufacturing company, has started the new year strongly by announcing its Next Generation ESG strategy and future targets.
Gildan's sustainability journey started earlier than most, with an already 20-year track record of implementing, measuring, monitoring, optimizing, and reporting on their impact. But that's not stopping them from taking their program to the next level. We discussed this with Peter Iliopoulos, Senior Vice-President of Taxation, Sustainability, and Governmental Affairs at Gildan, to learn how the Company has prioritized, standardized, and is now accelerating ESG at every level of the business. Read as he reveals how Gildan's Next Generation ESG strategy came to life:
Q. Can you give us a quick snapshot of what ESG means to Gildan?
Over the last two years, the topic of ESG has been propelled at the forefront of every headline. But truth be told, Gildan has always placed a high priority on operating responsibly, ethically, and transparently. ESG is core to Gildan's long-term business strategy and has long-been a key element of our success. In fact, if you look at Gildan's history, you'll see that this commitment has stood firm for the better part of the last two decades, and since then, we have made some considerable progress in implementing programs and processes that positively impact our people, our environments, and our communities.
Q. Why did the team decide to embark on a new ESG strategy now?
As 2020 was coming to an end, so was our second set of environmental targets. In addition, new technologies and advances in the industry, and changes in our business culminated in a need to develop and push our sustainability approach even further.
Beyond that, we also recognize that despite how much we have already accomplished, we know that we constantly need to continue raising the bar to go further.
We already had over ten years of experience setting goals and targets, so the time was ripe to take another deep look at ESG and redefine our strategy for continued long-term success while aligning with current market conditions and stakeholder expectations.
Q. Can you walk us through how you began assessing your current ESG strategy to develop the new one?  
It all began with our third materiality assessment.
A materiality assessment is the process of identifying, refining, and assessing potential ESG issues that could affect a business or its stakeholders and condensing these into a shortlist of topics that inform a company's future strategy, targets, and reporting.
We kicked off this process to gather valuable insights and started to engage with key internal and external stakeholders, including the Chair of the Corporate Governance and Social Responsibility Committee of our Board of Directors, Gildan's senior leadership across all areas of our business, customers, investors, suppliers, NGOs, and more than 300 employees globally. We also collected insights on Gildan's ESG performance from third-party assessments as part of the process. Finally, we conducted a peer benchmarking analysis of others in our sector to identify new opportunities we had not tackled yet.
Thanks to this assessment, we were able to compile, map out, and prioritize the issues most material to us and our external stakeholders, which eventually allowed us to identify five core areas of focus for our new strategy.
Q. Can you walk us through how you formalized these five areas of focus?
The materiality process allowed us to identify 24 material topics, six of which were new when compared to our last assessment. Based on the level of importance to both stakeholders and the business, 12 of these topics were deemed of high priority and then grouped into five categories:
Climate, energy, and water,
Circularity,
Human capital management, 
Long-term value creation, and
Transparency and disclosure.
The assessment results set the stage for numerous conversations and brainstorming sessions on ESG and its further integration into our business strategy at all levels of the organization. From there, we began the process of what needed to be adjusted and added to formalize Gildan's future ESG approach. This included key concerns over climate change, further incorporating sustainability in our products and packaging, and meaningful enhancements from an employee well-being and community perspective, all of which are now further underpinned by a commitment to robust transparency and disclosure.
Q. ESG has always been a big part of how Gildan operates. Can you explain how ESG is embedded into the overall business strategy?
At Gildan, sustainability is not an afterthought. It works hand-in-hand with every aspect of our operations and is fully integrated into Gildan's long-range planning. We recognized early in our journey that ESG was foundational to how we do business and have functioned with that in mind ever since our beginnings, reimagining and redefining how apparel is made with our vertically integrated supply chain. 
Embedding ESG everywhere at Gildan comes to life in many ways, one of which is through accountability. Individuals across the business, at different levels, and in various departments are accountable for specific ESG KPIs related to their work. We know that this is a key lever in enhancing and fostering the culture of sustainability at Gildan.
Q. Did you face any challenges?
Refining and reinforcing a program at such a large scale with many stakeholders around the world is certainly not an easy task. So, naturally, there were some challenges along the way.
I've been at Gildan since 2002, so I've essentially been along for the ESG journey since its inception. Back then, we were still building the foundational pieces of our program, and the answers to our questions were often pretty straightforward. Today, the decisions on how to meaningfully move the needle aren't so obvious anymore. There is no blueprint telling us what to do or where to go next. We must determine that on our own and pave our way onwards, and in some cases, pave the way for others to follow.
Moving forward, it will not only be about working in existing standards; It will be the time to be true thought leaders in our field and innovate, all while being realistic enough so that these ideas can come to life within our day-to-day operations.
Q. What surprised you the most along this journey?
Personally, I already knew how passionate and committed our workforce was globally on the topic of ethical and responsible practices. Still, throughout the whole process, I was even more pleasantly surprised at how much our employees cared, and the deep and meaningful conversations held at different levels of the organization. Sometimes, I would log into virtual meetings ready to communicate the importance of ESG and sway folks that it was the right thing to do, but the conversation was never about whether we should or shouldn't do it; the discussion was always centered around "how can we get this done?" That had a resounding impact on me, and it just speaks to the power of a strong company culture and collaboration.