New Report Finds Increased Investment in Electric Vehicle Infrastructure Far Outweigh Costs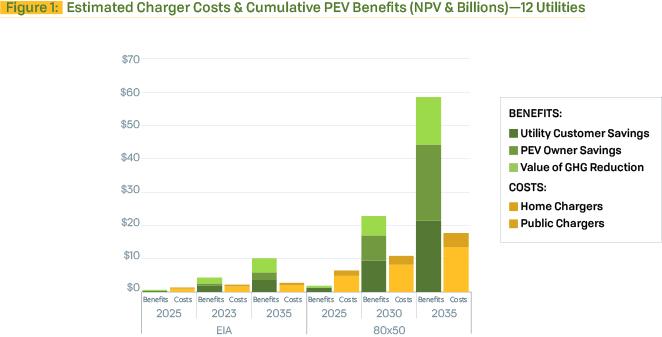 Accelerating the Electric Vehicle Market
November 6, 2017 /3BL Media/ - As automakers continue to bring new electric vehicles to the marketplace, electric utilities are grappling with the challenge of deploying adequate electric vehicle charging infrastructure to ensure that vehicles can be charged reliably. A new analysis released today by the sustainability nonprofit organization Ceres and M.J. Bradley & Associates finds that the benefits of increased investment in electric vehicle charging infrastructure outweigh the costs by more than 3 to 1. 
The analysis titled, Accelerating Investment in Electric Vehicle Charging Infrastructure, comes as the electric vehicle tax credit program is under threat in Washington. The Ceres BICEP Network released a letter today calling on federal lawmakers to protect the tax credit, arguing that eliminating such a tax credit would threaten America's competitiveness in the global marketplace and slow the adoption of electric vehicles in the U.S. 
The analysis evaluates the total need for electric vehicle charging infrastructure – including private chargers at vehicle owners' homes and publicly accessible chargers - to accommodate plug-in electric vehicles (PEV) at 12 of the largest utility service territories in the U.S. The following seven states are included in the analysis: California, Georgia, Maryland, Massachusetts, New York, Ohio and Pennsylvania.
The following 12 electric utility service territories are included in the analysis: Pacific Gas & Electric (CA), Southern California Edison (CA), Georgia Power (GA), Baltimore Gas & Electric (MD), Eversource (MA), National Grid (MA and NY), Consolidated Edison (NY), AEP (OH), Duke Energy (OH), PECO (PA) and PPL Corporation (PA) are the electric utilities covered in the analysis.
"The benefits of transportation electrification would be shared by electric vehicle owners, electric utility customers, and society at large," said Dan Bakal, director of electric vehicles at Ceres. "Utilities are also in a unique position to help build awareness among their customers. They are also well situated to significantly reduce the financial risk to charging station developers – especially in the short term as the PEV market develops – by providing special rate structures for commercial charging stations." 
In the service territories that these utilities serve, where 42 million residential customers have 80 million vehicles, an infrastructure investment of $17.6 billion would yield benefits of $58 billion by 2035, the analysis found. Moreover, after 2035 annual net benefits will increase faster than additional charging infrastructure investments, so cumulative net benefits will continue to increase over time. Further, these investments would be aligned with ambitious yet necessary regional, state and local goals to reduce greenhouse gas emissions by 80 percent by 2050. 
"Properly designed PEV market incentives can advance diverse state and local policy goals at the same time – including energy independence and security, climate change mitigation, air quality improvement, and local economic development," said Michael Bradley, president of M.J. Bradley & Associates. "State and local policymakers should prioritize these policies and programs in the near-term to aid in the transformation of the transportation sector from one that is dominated by petroleum fuels to one that is increasingly powered by electricity."​
In the short term, there are considerable opportunities to grow the market for PEVs. There is a need to build public awareness of how far the technology has come, expand tools for enabling electric vehicle and charger purchases, and address the need for more charging infrastructure to be made available.
"To advance electric vehicle adoption is a collective responsibility amongst all stakeholders. Utilities have an important role in supporting wider electric vehicle adoption, meeting our customers' needs, and achieving the States' GHG emission targets," said Carlos Nouel, vice-president of National Grid's New Energy Solutions team. "This includes helping expand deployment of charging infrastructure, increasing customer awareness and preparing for future electric vehicle integration into the electric distribution system."
Public policies and programs specifically focused on overcoming these barriers will therefore be critical to accelerating the PEV market. 
The recommendations include the following: 
Vehicle purchase incentives. Cash rebates and tax credits for the purchase of electric vehicles, to reduce the upfront costs to the consumer.
Electric vehicle charging infrastructure. Rebates, grants and tax credits to facilitate the purchase and installation of private and public electric vehicle charging infrastructure, and
Utility electric vehicle programs. Solicitation and support for electric utility program proposals including consumer outreach and education, electric vehicle charging rate design, and investment in charging infrastructure.
###
Ceres is a sustainability nonprofit organization working with the most influential investors and companies to build leadership and drive solutions throughout the economy. For more information, visit www.ceres.org and follow @CeresNews.