New Episodes of "Corporate Conversations on Purpose"
Business Leaders Focus on Purpose and ESG Through Different Prisms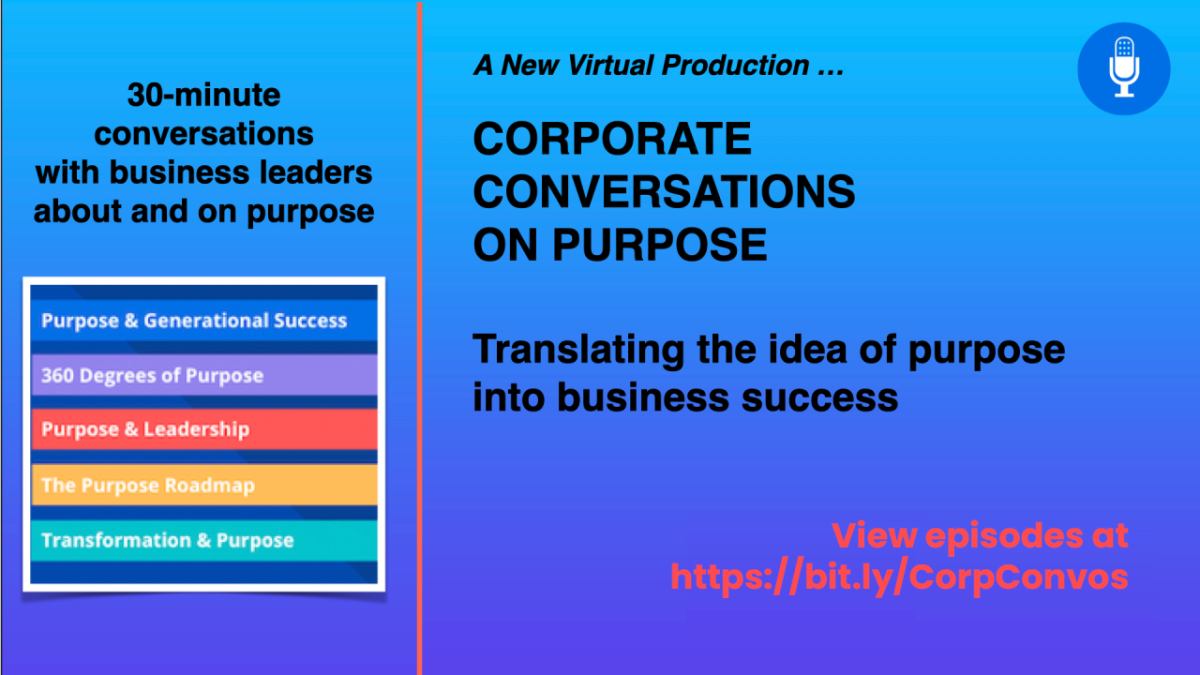 April 28, 2022 /3BL Media/ - Purpose is the new frontier for performance and competition in today's business landscape and failing to adapt means companies will struggle to remain competitive in their markets. 
Phil Preston, CEO of The Business Purpose Project and Lynne Filderman, Founder of Curation On Purpose LLC are pleased to announce the second installment of their virtual production, Corporate Conversations on Purpose, a series of 30-minute virtual conversations with business leaders who offer their expertise and candid insights in navigating purpose-based transformations.
"Purpose impacts corporate strategy, operations and people, and therefore it's important to hear from all parts of the value chain" said Phil Preston, CEO of The Business Purpose Project and co-founder of Corporate Conversations on Purpose, who adds, "We all have an interest in seeing purpose-based transformations succeed."
These conversations are meeting this critical moment in time as no one has all the answers nor is there a single prescribed way of dealing with the rapidly changing business environment and shift to the purpose economy.
All episodes can be found at:
https://businesspurposeproject.com/resources/corporate-conversations-on-purpose/ 
The newest episodes feature:
Brad Gurrie, CEO, Socialsuite
"The Purpose Roadmap: ESG and Purpose Measurement: These are Not Vanity Metrics"
Megan Fielding, Senior Director, Responsible Investing, Nuveen
"360 Degrees of Purpose: How ESG is Shaping Investors' Views (and What IR Teams Need to Know)"
David Harrington, Strategy Consultant, Executive and Non-Executive Director
"Transformation and Purpose: It Takes an Entire Company to Deliver on Purpose"
"In our second round of conversations, we feature some very interesting business leaders who view purpose and ESG through different prisms. Together they cover 'the purpose essentials': engaging an entire company to deliver on purpose; changing investors' views and expectations; and moving beyond vanity metrics to measure ESG and purpose," noted Lynne Filderman, chief curation officer of Curation On Purpose and co-founder of Corporate Conversations on Purpose.
In previously released episodes, we covered a range of topics on and about purpose:
Ben Smithee, CEO and Founder, The Smithee Group
"Purpose & Generational Success: Where Does Purpose Fit into the Equation"
Sarah Downie, CEO, Shared Value Project
"360 Degrees of Purpose: Insights into Corporate Purpose Transformation"
Rik Haslam, Executive Creative Partner, Brandpie
"The Purpose Roadmap: The Difficult but Necessary Work of Being on Purpose"
Tim King, Chief Investment Officer, Melior Investment Management
"Transformation and Purpose: Are Investors Analysing Purpose?"
Christine Holman, Non-Executive Director
"Purpose & Leadership: Do Boards View Purpose Differently than the Rest of Us?"
Whitney Dailey, former SVP at Porter Novelli, now with Allison+Partners
"The Purpose Roadmap: Are Executives Equipped to Deliver On Purpose?
(Not Without Business Intelligence & Proper Tools)"
We are honored to feature partners 3BL Media and AmpSlide. As a news and information distribution platform, 3BL Media, a triple bottom line company, features the purpose-driven content of leading companies and organizations. Ampslide is an innovative platform designed to engage audiences anywhere, anytime–an all-in-one event and content hosting platform maximizing ROI for sales and marketing teams.
Interested in being a featured guest, creating your own in-house conversations or exploring the benefits of sponsorship? Contact us at ask@businesspurposeproject.com