Nestlé Partners with Share Our Strength's No Kid Hungry Campaign to Support School Breakfast Programs
Nestlé leadership, First Lady of Virginia visit Arlington school in continued commitment to nutrition and ending childhood hunger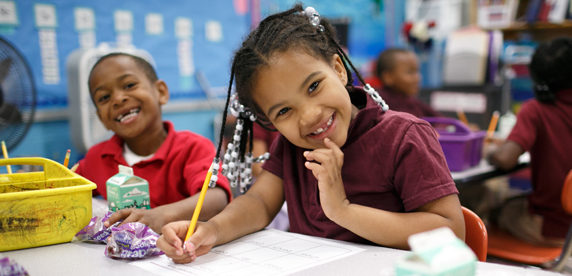 ARLINGTON, Va., December 15, 2017 /3BL Media/ - Nestlé USA today announced its partnership with Share Our Strength to support the organization's school breakfast initiatives as part of its No Kid Hungry campaign. The donation of $250,000 deepens Nestlé's commitment to help children live healthier lives. In the spirit of today's announcement, Nestlé CFO and Chief Transformation Officer Steve Presley will visit a local Arlington elementary school, accompanied by First Lady of Virginia Dorothy McAuliffe, who has long shared the same commitment.
Today's visit to Oakridge Elementary School will raise awareness of the benefits of school breakfast programs. One in seven children in Virginia struggle with hunger, and research demonstrates the importance of providing breakfast to children and youth. Nestlé's support of the No Kid Hungry campaign in Arlington County will ensure that local students in underserved areas have access to a nutritious breakfast and will facilitate important nutrition habits.
This partnership also demonstrates Nestlé's commitment to the Arlington community, where, beginning in early 2018, it will operate its new U.S. headquarters. This support comes months ahead of the company's official relocation.
"Nestlé's commitment to a healthier future starts with ensuring that kids in the communities where we live and work have access to nutritious foods and can build the healthy habits that will serve them throughout their lives," said Steve Presley, Nestlé USA's Chief Financial Officer. "We are eager to become an active community member here in Arlington, which is why we're so excited to begin supporting Share Our Strength's No Kid Hungry campaign even before we've officially moved in."
More than 1,000 schools in Virginia currently have school breakfast programs. First Lady McAuliffe's support has been critical to the No Kid Hungry program's success in Virginia, building strong public-private partnerships to support the organization's initiatives.
"Thanks to our strong public-private partnerships and commitment to evidence-based programs to expand the role of schools as nutrition hubs, Virginia has become a model for the nation in ending childhood hunger," said First Lady Dorothy McAuliffe. "Now more than ever, we are proving the connection between school meals and student success, and providing children with the fuel they need to thrive in and out of the classroom."
Nestlé's partnership with Share Our Strength will help add an additional 10,000 children to the school breakfast program in Virginia and support the program's continued strength.
"Ensuring that all children get to start the day with a nutritious breakfast today means that we're building a more economically competitive workforce for tomorrow," said Tom Nelson, President & CEO at Share Our Strength. "When kids get the food they need to thrive, they grow up smarter, healthier and stronger–and that means a smarter, healthier, stronger Virginia."
Nestlé's effort with Share Our Strength includes support for low-income communities in Cleveland, Ohio and Oakland, Calif., to ensure that as many kids as possible in those areas have access to a healthy start and the tools for healthy nutrition habits.
Nestlé's support of Share Our Strength's No Kid Hungry campaign is part of the company's broader initiative to foster healthy lifestyles for kids and secure a healthy future for the communities in which Nestlé employees live and work.
About Nestlé in the United States
Nestlé in the United States is committed to enhancing quality of life and contributing to a healthier future—for individuals and families, for our thriving and resilient communities, and for the planet. Our diverse portfolio of foods and beverages provides nutritious options for every member of the family, and supports both the first 1000 days of life and healthy aging for people and pets.
Nestlé in the U.S. consists of eight main businesses: Nestlé USA, Nestlé Waters North America, Nestlé Nutrition, Nestlé Professional, Nespresso, Nestlé Health Science, Nestlé Skin Health and Nestlé Purina PetCare Company. Together, these companies operate in more than 120 locations in 47 states and employ over 51,000 people. In the U.S., Nestle product sales topped $27 billion in 2016, making it the largest Nestle market in the world.
Nestlé has been recognized as a member of the MIT Technology Review's "Smartest Companies," the top food company on Fortune's "Change the World" List, and the top food company on the Dow Jones Sustainability Index.
About No Kid Hungry
No child should go hungry in America, but 1 in 5 kids will face hunger this year. Using proven, practical solutions, No Kid Hungry is ending childhood hunger today by ensuring that kids start the day with a nutritious breakfast and families learn the skills they need to shop and cook on a budget. When we all work together, we can make sure kids get the healthy food they need. No Kid Hungry is a campaign of national anti-hunger organization Share Our Strength. Join us at NoKidHungry.org.