National Grid Northeast 80x50 Pathway: THE PATHWAY TO 2030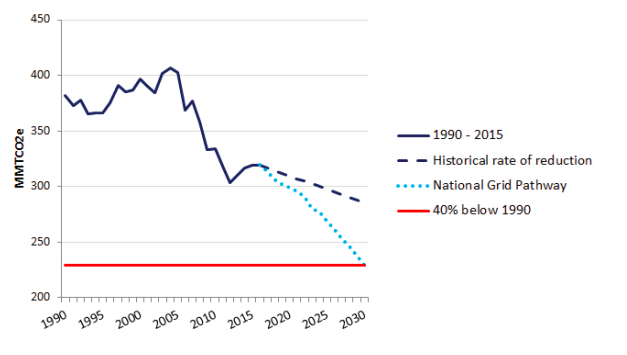 Figure 2: The National Grid Pathway compared to historical progress emissions reduction
The Northeast has taken concrete steps to move toward a clean energy future, including the Regional Greenhouse Gas Initiative, achievement of renewable portfolio standards (RPS) in all states, and nation-leading investments in energy efficiency. But much more will be required. Given the pace of emissions reduction required, strategic planning and a focus on cost-effectiveness have never been more critical.
The Pathway achieves the 40% by 2030 target (see Figure 2) by prioritizing three mutually-reinforcing transitions:
1. Accelerate decarbonization of the electric sector.
2. Transform the light-duty transportation sector through electrification.
3. Transform the heat sector through energy efficiency, electrification, and oil-to-gas conversion
To see the full version of National Grid's Northeast 80x50 Pathway, please visit http://bit.ly/80x2050.  
About National Grid
National Grid (LSE: NG; NYSE: NGG) is an electricity, natural gas, and clean energy delivery company that supplies the energy for more than 20 million people through its networks in New York, Massachusetts, and Rhode Island. It is the largest distributor of natural gas in the Northeast. National Grid also operates the systems that deliver gas and electricity across Great Britain. 
National Grid is transforming its electricity and natural gas networks to support the 21st century digital economy with smarter, cleaner, and more resilient energy solutions. Read more about the innovative projects happening across our footprint in The Democratization of Energy, an eBook written by National Grid's US president, Dean Seavers. 
For more information please visit our website. You can also follow us on Twitter, watch us on YouTube, like us on Facebook, find our photos on Instagram.
###
CONTACT: Media Relations – 781-907-3980
Download the attached file(s):