Mondelēz 2021 Snacking Made Right Report: Innovating & Renovating for Consumers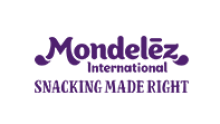 Mondelēz 2021 Snacking Made Right Report
We're committed to innovating and improving our portfolio to keep meeting consumers' evolving tastes and needs. To this end, we have a dedicated team that is focused on unlocking the future of new snacking offerings.
SnackFutures™: Inventing, Investing & Responding to Consumer Concerns for the Environment
Our SnackFutures™ innovation and venture hub continues to drive consumer-centric growth through inventing and investing in emerging brands that are good for people, kind to the planet and deliciously fun.
In 2020 SnackFutures™ launched CoLab, a start-up engagement program designed to fill the venture pipeline, gain insights and build capability that can drive incremental growth and take us into new snacking categories, in particular in the areas of well-being and purpose-driven brands. The first class of nine start-ups resulted in potential investments and elevating our reputation in the start-up community as a CPG 'accelerator' that truly understands the challenges and needs of new brands. The second class is underway and CoLab is set to go global in 2023.
Additionally, the SnackFutures™ team continues on the path to scale two of its own brands with high growth potential and which reflect our commitment to innovation that is good for both people and the planet, as these brands are made from produce that would otherwise be wasted.
Dirt Kitchen snacks, a veggie-centric snack brand has expanded its portfolio and distribution. In 2021 SnackFutures™ applied its investment in the Israeli food tech start-up Torr to create veggie, fruit and nut bars to deliver on the consumer need for bars with no added sugar and a unique combination of real, transparent ingredients. Dirt Kitchen snacks also secured its first national retail chain, expanding throughout California and into key markets in the southwest.
NoCOé, the first mainstream carbon neutral snack brand which launched in Paris with three cracker varieties is adding formats, including a pop chip, to its portfolio to elevate its play in clean, savory snacking. The brand will expand from 100-200 stores across France and also activate direct-to-consumer (DTC).
Improving Our Products
As well as creating new well-being snacks, we also focus on improving the nutrition and ingredients of our existing products. As part of this work, we also collaborate with the International Food & Beverage Alliance (IFBA) on nutrient commitments and incorporate guidance from the World Health Organization (WHO). In essence, this is about reducing or removing what people don't want and adding more of what they do and doing that in partnership with third-party expertise and validation.
Reducing Sodium and Saturated Fat
As part of our ambition to offer more options and help people snack mindfully, we continue to reduce the amount of saturated fat and sodium in our biggest-selling global brands and local jewels. We are also launching new products and line extensions with less saturated fat and salt without sacrificing the quality, flavor or texture people have grown to trust and love in our brands.
Sugar
Sugar plays an important part in many of our snacks, for example giving them great taste and texture. We know some people want to limit their sugar intake as part of reducing calories. This aligns with the WHO and other health agencies' advice to limit added sugar to no more than 10% of daily calories. We have launched and continue to expand options with less sugar.
Whole Grains
Most consumers do not get enough whole grains in their diet, so we try to provide them in our snacks. For example in 2021 we launched new belVita baked bars in Europe and TUC integrale with wholegrains in Italy. We continue to provide over 9 billion servings of whole grains with our products.
Launching Oreo Zero in China
As consumers are becoming more conscious of their health and well-being, controlling sugar intake has gradually become an emerging dietary trend in China.
In 2021, we launched sugar-free Oreo Zero sandwich cookies in the market. The innovative sugar-free recipe retains Oreo's classic delicious taste while achieving zero sugar, giving consumers guilt-free enjoyment. The new offering comes in two flavors: Oreo Zero Classics (classic Oreo flavor) and Oreo Zero Thin (rose flavor).
The Oreo Zero series has maltitol in the recipe to replace traditional sugars like sucrose and glucose. It also adds functional ingredients, such as dietary fiber, in the new series. A portion of these cookies can provide about 9% of recommended daily amount of dietary fiber.
Moreover, to help consumers snack mindfully, the series includes a larger portion-controlled package featuring 11 independent small packs, each with three pieces of Oreo Zero sandwich cookies per pack. It is easy to carry and share and also helps consumers manage their intake while enjoying the delicious snack.