Mondelēz 2021 Snacking Made Right Report: ESG Progress
Mondelēz 2021 Snacking Made Right Report: ESG Progress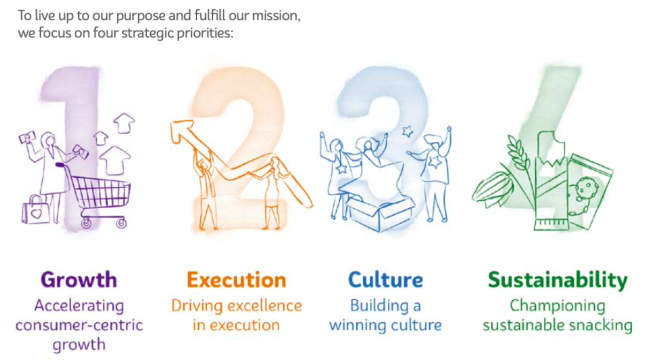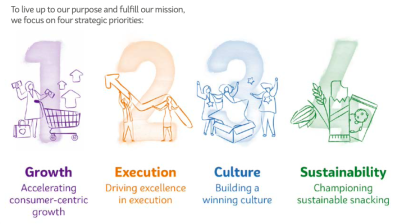 Friday, June 3, 2022 - 10:00am
Our purpose
We empower peple to snack right.
We are driven by our purpose, mission and values. Our purpose is to empower people to snack right. Our mission is to lead the future of snacking by offering the right snack, for the right moment, made the right way. Our values guide how we make snacking right. Across Mondelēz International around the world, we work to:
Love our consumers and our brands
Grow every day
Do what's right
Our ESG progress
We are committed to regularly and transparently reporting our progress.
We track adoption of standards such as those published by the Sustainability Accounting Standards Board (SASB) and the Task Force on Climate-related Financial Disclosures (TCFD), and we disclose alignment indexes to SASB and TCFD on our website. We will continue to consider shareholder feedback as we align our sustainability reporting with evolving standards.
2025 Goals and 2021 Performance & Progress
Snacking Mindfully
Snack Mindfully portion icon on all packs by 2025

2021 Performance and Progress: 18% | On track1

20% snacks net revenue from portion control snacks by 2025

2021 Performance and Progress

:

17% | On track
Colleague & Community Well-being
Child Labor: Child Labor Monitoring & Remediation Systems (CLMRS) cover 100% Cocoa Life communities in West Africa by 2025

2021 Performance and Progress

:

61% | On track

Human Rights: 100% manufacturing sites completed SMETA audit within the past 3 years

2021 Performance and Progress

:

38% | In progress

Human Rights: 100% prioritized supplier sites completed SMETA audit within the past year

2021 Performance and Progress

:

49% | In progress2

DE&I: Double U.S. Black representation in management by 2024 (2020 base of 3.2%)

2021 Performance and Progress

:

5% | On track

DE&I: Double representation of women in executive leadership (defined as MLT+1) roles by 2024 (2018 base of 18%)

2021 Performance and Progress

:

39% | Exceeded

EISD: Spend $1 billion annually with minority- and women-owned businesses by 2024

2021 Performance and Progress

:

$329.3M | In progress3

Severity and Total Accident Rate (TAR): Continued focus to reduce severity 1 safety incidents to zero

2021 Performance and Progress

:

-21% | On track

Employee: By 2022, continue to advance mental and physical well-being (100% of colleagues have access to Employee Assistance Programs)

2021 Performance and Progress

:

100% | Achieved
Sustainable Snacking
Cocoa: 100% cocoa volume for chocolate brands sourced through Cocoa Life by 2025

2021 Performance and Progress

:

75% | On track

Wheat: 100% wheat volume needed for Europe business unit biscuits production grown under Harmony charter by 2022

2021 Performance and Progress

:

91% | On track

Palm Oil: Maintain 100% Palm Oil volume Roundtable on Sustainable Palm Oil (RSPO) certified palm oil

2021 Performance and Progress

:

100% | Achieved

Eggs: 100% cage free eggs globally by 2025 excl. Russia & Ukraine (Russia to be determined & Ukraine by 2027)

2021 Performance and Progress

:

39% | On track

Dairy: Majority of dairy materials purchased from suppliers operating under animal welfare schemes

2021 Performance and Progress

:

74% | On track

GHG emissions: 10% end-to-end CO2e emissions reductions by 2025 (vs. 2018)

2021 Performance and Progress

: In progress | In progress4

Water: 10% absolute water usage reduction in priority sites by 2025 (vs. 2018)

2021 Performance and Progress

:

-6.4% | On track

Waste: 50% reduction in food waste from distribution by 2025 (vs 2018)

2021 Performance and Progress

:

-65% | Exceeded

Waste: 15% food waste reduction in internal manufacturing sites by 2025 (vs. 2018)

2021 Performance and Progress

:

-28% | Exceeded

Less Packaging: 5% recycled plastic content by 2025

2021 Performance and Progress

:

0.5% | On track

Less Packaging: 5% reduction in virgin plastic by 2025

2021 Performance and Progress

:

+4% | In progress5

Less Packaging: 25% reduction in rigid virgin plastic by 2025

2021 Performance and Progress

:

-4% | On track5

Better Packaging: 100% packaging designed to be recyclable by 2025

2021 Performance and Progress

:

95% | On track5
Read more in the Mondelēz 2021 Snacking Made Right Report
1 In March 2021 the SKU baseline definition changed from a fixed # of SKUs to a real time # of SKUs in MDLZ specification System (PLM).
2 Between 2018 and 2020 our SMETA program covered almost 100% of our direct spend(raw materials, packaging and external manufacturing) and all our highest priority suppliers were audited. In 2021, we started a new auditing cycle, using Sedex's Radar risk assessment tool to prioritize suppliers.
3 Based on invoices/accrued spend
4 As part of joining SBTi Business Ambition for 1.5°C, we are currently re-calculating our Scope 3 footprint to capture and reflect the impact of our ongoing mitigation strategies.
5 Indicator covers Nov'20 to Oct'21 period