A Mission of Mentorship
A Mission of Mentorship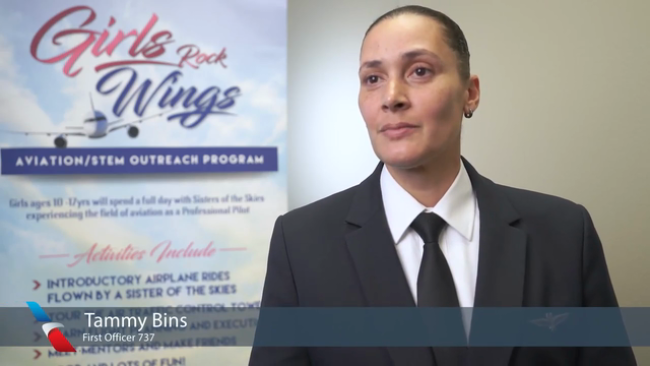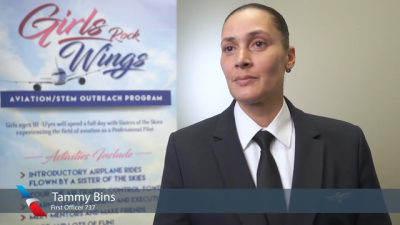 Friday, March 25, 2022 - 2:35pm
In March 2019, a colleague and fellow female pilot at American Airlines introduced First Officer Tammy Binns to Sisters of the Skies (SoS), an organization of professional Black female pilots who are committed to supporting future Black aviators.
"Sisters of the Skies' mission of increasing the number of women of color in aviation through scholarship, mentorship, outreach and professional development was definitely something I knew I wanted to get involved in," Tammy said. "I got thrown into the mix with SoS right away, starting with a Girls Rock Wings event, and have loved every minute of it since. It's the greatest sisterhood I've ever been part of. We truly are a family — a hardworking one."
Tammy currently serves on the organization's mentorship committee and has mentored several young women through both SoS and the American Airlines Cadet Academy. American's first-of-its-kind cadet program helps bridge the gap between a future pilot's dreams and reality by connecting prospective pilots — including those with zero flight experience — with financing opportunities for flight school. Importantly, the program offers the resources, mentorship and support needed to enter the decorated, yet demanding, profession. Since its 2018 launch, about 500 cadets have entered the program, many already working in a flight deck today.
"My goal as a leader and mentor in the pilot space is to show young women of color that they can be their authentic selves and do this job well," Tammy added. "I want to be someone relatable who makes these kids realize that their dreams and goals are achievable. Personally, I didn't even consider a career as a pilot until I was in college. I went to school to get a degree in music and, luckily, an aptitude test led me to pursue flying lessons. Otherwise, I may not be where I am today."
But Tammy admitted that it hasn't always been a smooth ride. She finds that the biggest challenge as a Black female pilot has been ensuring her voice is heard and that she's perceived as an equal on the flight deck. Now, Tammy is using her experiences to help mentor future aviators in their path to becoming professional pilots.
"If you make too much noise, you run the risk of being labeled an angry Black woman, but if you say nothing, you're not demanding the respect you deserve," Tammy explained. "It's a challenging tightrope walk."
Through it all, Tammy is grateful for the opportunities and memories she's made in the past 15 years as part of the American family. One of her fondest memories was having the opportunity to fly her mother for the first time when she worked at American Eagle, American's regional operation.
"My mom was on my flight to Key West, Florida, where I was living at the time," Tammy said. "When we got there and met up on the walk from the plane to the baggage claim, the first thing she said was, 'I think you dropped something back there!' And I had to tell her it was the sound of the landing gear coming down. Of course, she was joking, but I felt such a sense of pride being able to fly my mom that day and share that memory with her."
The path to becoming a pilot at the world's largest airline wasn't easy or quick, but Tammy's passion for mentoring and educating young women across the country sits at the top of her priority list. In between safely flying thousands of people every week, she plans to continue living out her mission to educate and inspire young women of color to pursue a career as a pilot — all while staying true to themselves.
"Pilots don't have to be men, they don't have to be white, they don't have to be straight," Tammy said. "You don't have to sacrifice who you are to get here. It's hard work and there are always obstacles to overcome, but there's a place for passionate students and aviators in this industry if they want to be here."