Mind Fish, the First Fair Trade Certified Canned Tuna Lands in the USA
100% Pole & Line Caught Fair Trade Certified Skipjack Tuna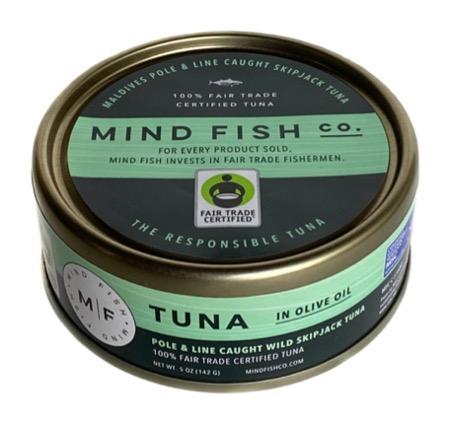 OAKLAND, Calif., August 4, 2021 /3BL Media/ - Mind Fish Co. has launched the first Fair Trade Certified™ canned tuna product available for purchase in the North American market.  Mind Fish partnered with Fair Trade USA® to support a program designed to help restore healthy marine ecosystems, improve livelihoods, and to build resilient coastal communities in the Maldives through their line of Pole and Line Caught Skipjack Tuna products. 
All of Mind Fish's Skipjack Tuna are 100% pole and line caught by day boats and packed in the Maldives ensuring sustainability, traceability, and full transparency of their supply chain.  Illegal fishing and human rights violations are widely-documented in the canned tuna industry, so the introduction of Fair Trade Certified tuna to the US Market is exciting news in the movement for sustainable and ethical seafood.
Mind Fish's environmentally and socially responsible seafood line up includes:
Skipjack Tuna in Spring Water: Fair Trade Certifiedä skipjack tuna by Fair Trade USA®, spring water.
Skipjack Tuna in Olive Oil: Fair Trade Certifiedä skipjack tuna by Fair Trade USA®, olive oil, water, salt.
Fair Trade USA helps ensure fair wages and safe working conditions for the 500+ fishers and 600+ cannery workers in the Maldives.  The fishers and cannery workers decide where to invest the Fair Trade Community Development Funds.  The funds have been used to improve sea safety equipment, install ice and water plants, and build parks for the community.
Mind Fish recognizes that it is critical to protect the oceans in order to protect the livelihoods that depend on it.
Consumers can now have a clear conscience about the sustainability and positive social impact with their Fair Trade Certified™ canned tuna.  Mind Fish products are available for purchase through www.mindfishco.com and Amazon.
About Mind Fish Co.
Mind Fish's mission is to bring awareness to environmentally and socially responsible seafood. Seafood is one of the world's greatest renewable resources and we want people to make better choices in everyday consumption to conserve our highly complex and diverse marine ecosystems and coastal fishing communities.
Source: Mind Fish Co.
Related Links: www.mindfishco.com
About Fair Trade USA  
Fair Trade USA is a tax-exempt 501(c)(3) nonprofit organization and the leading certifier of fair trade products in North America. Its trusted Fair Trade Certified seal on a product signifies that it was made according to rigorous fair trade standards that promote sustainable livelihoods and safe working conditions, protection of the environment, and strong, transparent supply chains. Rather than creating dependency on aid, Fair Trade USA's model empowers farmers, workers, and fishermen to fight poverty and earn additional money to improve its communities. Winner of Fast Company's Social Enterprise of the Year Award and recognized as a leading social venture by the Clinton Global Initiative, the Skoll Foundation, and Ashoka, Fair Trade USA also helps brands and retailers tell its stories of impact and educate consumers about the power of its purchase. The Fair Trade Certified seal represents thousands of products, improving millions of lives, protecting land and waterways in 45 countries and counting. Purchases have sent $740 million to farmers and workers since 1998.  
Facebook: @Fairtradecertified 
Instagram: @fairtradecertified 
Twitter: @FairTradeCert 
For more information:  
Kasi Martin