MilliporeSigma Strengthens Corporate Responsibility Efforts With Nine New Signature Partnerships
New and expanded partnerships accelerate scientific research, science education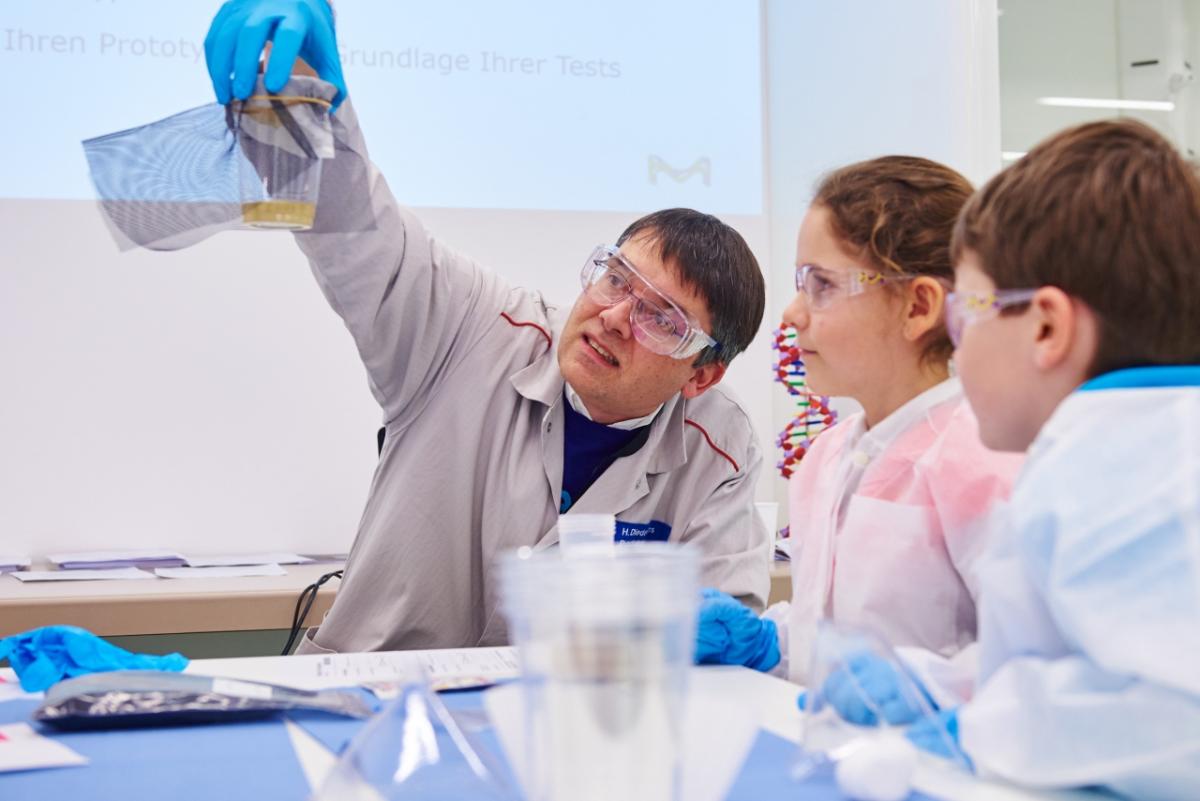 At the Swiss Science Center Technorama, an employee shows science center visitors how to design a water filter as part of the Curiosity Labs™ Water Filtration lesson.
BURLINGTON, Mass., February 22, 2018 /3BL Media/ - Building on its commitment to accelerate scientific research and science education, MilliporeSigma today announced nine new or expanded partnerships with leading nonprofit organizations across the world. These long-term, multi-dimensional partnerships are designed to spark scientific curiosity and passion — paving the road for innovative breakthroughs with demonstrated impact and measurable outcomes.
"We have a long history of supporting innovative research- and education-based organizations, not only through financial investments, but also through the active involvement of our employees," said Udit Batra, CEO, MilliporeSigma. "All of our signature partnerships include skills-based volunteer components, allowing our employees to bring their technical expertise and passion for science to communities around the world."
To support today's scientists in accelerating access to health, MilliporeSigma has announced several partnerships geared toward scientific research.
To spark curiosity in the next generation of scientists, MilliporeSigma has announced the following signature partnerships that focus on the advancement of science education.
For more information on MilliporeSigma's employee and community engagement initiatives, visit the Corporate Responsibility page here.
About the Corporate Responsibility Efforts of the Life Science Business of Merck KGaA, Darmstadt, Germany
Through its corporate responsibility initiatives, the Life Science business of Merck KGaA, Darmstadt, Germany, which operates as MilliporeSigma in the U.S. and Canada, harnesses the collective expertise, passion and energy of employees to minimize its environmental footprint and positively impact communities around the world.
The Life Science business of Merck KGaA, Darmstadt, Germany is uniquely positioned to solve the toughest problems in life science through its efforts aligned with strengths in research, innovation and collaboration with the global scientific community. This helps differentiate its business and provides a competitive edge for its customers, while accelerating access to health for people everywhere. The Life Science business of Merck KGaA, Darmstadt Germany demonstrates its commitment to corporate responsibility through extensive programs in three main areas: Greener Products and Solutions—which includes Design for Sustainability, Green Chemistry, Packaging and Recycling initiatives; Employee and Community Engagement; and Sustainable Operations.
All Merck KGaA, Darmstadt, Germany news releases are distributed by email at the same time they become available on the EMD Group website. If you are a resident of the U.S. or Canada, please go to www.emdgroup.com/subscribe to register again for your online subscription of this service as our newly introduced geo-targeting requires new links in the email. You may later change your selection or discontinue this service.
About the Life Science Business of Merck KGaA, Darmstadt, Germany
The Life Science business of Merck KGaA, Darmstadt, Germany, which operates as MilliporeSigma in the U.S. and Canada, has 20,000 employees and 60 manufacturing sites worldwide, with a portfolio of more than 300,000 products enabling scientific discovery. Udit Batra is the global chief executive officer of MilliporeSigma.
Merck KGaA, Darmstadt, Germany completed its $17 billion acquisition of Sigma-Aldrich in November 2015, creating a leader in the $125 billion global Life Science industry.
Merck KGaA, Darmstadt, Germany is a leading company for innovative and top-quality high-tech products in healthcare, Life Science and performance materials. The company has five businesses – Biopharmaceuticals, Consumer Health, Allergopharma, Life Science and Performance Materials – and generated sales of €15 billion in 2016. Around 50,000 employees work in 66 countries to improve the quality of life for patients, to foster the success of customers and to help meet global challenges.
Merck KGaA, Darmstadt, Germany is the world's oldest pharmaceutical and chemical company – since 1668, the company has stood for innovation, business success and responsible entrepreneurship. Holding an approximately 70 percent interest, the founding family remains the majority owner of the company to this day. The company holds the global rights to the name and the trademark "Merck" internationally except for the United States and Canada, where the company operates as EMD Serono, MilliporeSigma and EMD Performance Materials.